Essex Wildlife Control & Pest Animal Removal
In Middlesex County, CT
Suburban Wildlife
Contact - 860-566-9704

Please, no calls about DOG or CAT problems. Call animal services: (860) 767-3219
---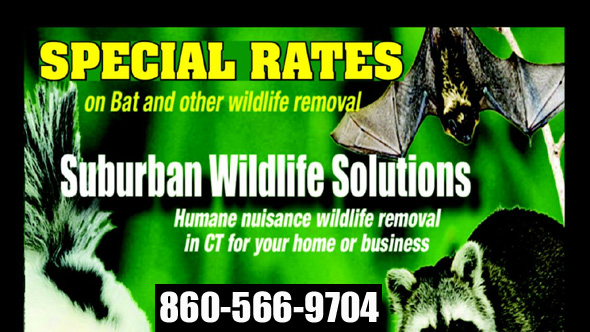 Our service range includes these towns: Middletown, Essex, Westbrook, Old Saybrook, Colchester, East Hampton, and surrounding areas.
---
| | |
| --- | --- |
| Suburban Wildlife provides professional wildlife control for both residential & commercial customers in the city of Essex in Connecticut. We can handle almost any type of wild animal problem, from squirrels in the attic of a home, to bat removal and control, raccoon removal, or Essex snake removal. Our Connecticut wildlife management pros provide a complete solution - including the repair of animal damage, and wildlife waste cleanup. If you need to get rid of your pest animals with care and expertise, give Suburban Wildlife a call at 860-566-9704 | |
There are many Essex pest control companies, but most deal with extermination of insects. We deal strictly with wild animals, such as raccoon, skunk, opossum, and more. Suburban Wildlife differs from the average Essex exterminator business because we are licensed and insured experts, and deal only with animals. We are not merely trappers, but full-services nuisance wildlife control operators, offering advanced solutions.
| | |
| --- | --- |
| | Essex wildlife species include raccoons, opossums, squirrels, rats, skunks several species of snakes and bats, and more. Many animals can cause considerable damage to a house, not to mention contamination. We offer repairs of animal entry points and biohazard cleanup and we guarantee our work. Our Essex rodent (rat and mouse) control is superior to other pest management companies. All of our wildlife trapping is done in a humane manner. Of course, we are properly Connecticut state licensed. We are highly experienced in Essex raccoon removal, squirrel removal, bat control, and more. |
Essex Village is a small town in Middlesex County, Connecticut, and it has a population of approximately 3,000 people. Essex is known as one of the most beautiful villages in all of New England. It is located on the Connecticut River and has a harbor that goes through the Long Island Sound. Each Thanksgiving weekend, it hosts the "Trees in the Rigging," where the local boats all decorate for Christmas to raise money for the Toys for Tots foundation. There are other fun attractions that add the quaint atmosphere of this town, such as the Photo Gallery, the River Museum, the Jazz and Historical societies, numerous libraries, art boutiques, and restaurants. We also service the towns of Branford, Plainfield, Groton, East Lyme, Montville, North Stonington, Old Lyme, Clinton and also animal control in Waterford, Middlesex County, Ledyard, Voluntown, Franklin,and pest control in Middletown, Salem, Lisbon, New London and wild animal services in Stonington, Griswold, Canterbury, Norwich, Meriden and wildlife management in Bozrah, Sprague, Preston, Lyme.

We at Suburban Wildlife believe we are the best Essex trappers of wildlife, and would be happy to serve your Essex bat removal or pigeon and bird control needs with a professional solution. Skunks, moles, and other animals that can damage your lawn - we trap them all. Our professional pest management of wildlife and animals can solve all of your Essex critter removal needs. Our specialty is removal of animals in homes such as raccoons in the attic or squirrels in the attic. If you need Essex pigeon control, Canada geese or other bird removal, we can help. We are experts with skunk problems, digging animals such as armadillos, & groundhogs, and we offer Connecticut dead animal removal. We trap mice and voles. We do home repairs, animal prevention, and removal of critters from the attic, ceiling, basement, animal in the wall, and any part of a building. Give us a call at 860-566-9704 for a price quote and more information.


Remember, we at Suburban Wildlife run a wildlife removal company, and charge for our services. If you are searching for help with a dog or cat issue, you need to call your local Middlesex County animal control or SPCA. They can assist you with problems such as a dangerous dog, stray cats, lost pets, etc. There is no free service in Middlesex County that provides assistance with wild animals.


Middlesex County Animal Services, CT:
(860) 767-3219
---
Essex Wildlife Tip:
How to keep rats out of your house poison -Do not use poison to keep rats out of your house. This is particularly true if you are using poison as a preventative measure outside. Yes, poison will kill rats; however, rats are rarely the animals that eat poison outside. A host of other, dumber critters will find the poison first. These animals will then die or be eaten, spreading the toxin up the food chain. If you want to prevent rats outside, just make sure your home is in good repair. There is no substitute for sealing up cracks and openings in the exterior of the building. If you are having an issue with rats inside, poison is still a poor choice. Rats in the home that actually eat the toxin will then die within the walls. These animals will need to be found and removed or the smell will be horrendous. Nature will have to completely decompose the body or it will have to be removed if you want the odor to go away. Regardless of the issues surrounding poison, it is very difficult to get rats to eat it. Rats are scavengers and sample their food before they eat a large amount. Any rat that gets sick will not eat enough poison to die.
---
Essex, CT Animal News Clip:
Pest Connecticut termite-beetle finds way into warm Connecticut homes
According to a newsletter published online by the University of Kentucky Agriculture Department, the first field identification of the beetle was in Louisiana in 1988. Those first specimens probably were the result of an accidental release from a ship docked in the harbor of New Orleans. The Middlesex County Pest Control board could not be reached for comment.
The U.S. Department of Agriculture attempted to establish the beetle in the United States from the 1960s to the 1990s, to control aphids in pecan and apple trees. Connecticut was one of the states the USDA chose to introduce the beetle. The animal and pest exterminator said it's unclear whether these introduced populations survived or whether the beetles we see are from the accidental release in 1988. Most local owners of pest control companies in Essex, Connecticut weren't sure what to make of all this.
Whatever the source, the beetle has now spread throughout the eastern United States and Canada. They are about a quarter-inch long, ranging in color from bright reddish-orange to tan, often with black spots on their wings. Females have more spots, males fewer. Essex pest control is an important part of the local economy, but only a few Connecticut companies deal with wild animals.
In Connecticut, they're valuable. They eat aphids on a number of plants - roses, clover, cabbage and crepe myrtle - as well as many fruit trees and hardwoods. Louis Tedders, an entomologist with the University of Connecticut Agricultural Research Services, has said the Connecticut lady beetles beneficial impact "is among the most important of any bio control during the past 30 years." There are many types of insects and animals in Essex, and other Connecticut cities, but not all of them are pests after all.
If you need Essex raccoon removal, rat trapping, squirrel removal, or have any questions about a wildlife problem in Essex, please give Suburban Wildlife a call at 860-566-9704, and we will listen to your problem, give you a price quote, and schedule an appointment, usually same day or next day, to solve the problem.