Bethany Beach Wildlife Control & Pest Animal Removal
In Sussex County, DE
Wilkins Wildlife & BedBug 911
Contact - 302-725-0070

Please, no calls about DOG or CAT problems. Call animal services: 302-255-4646
---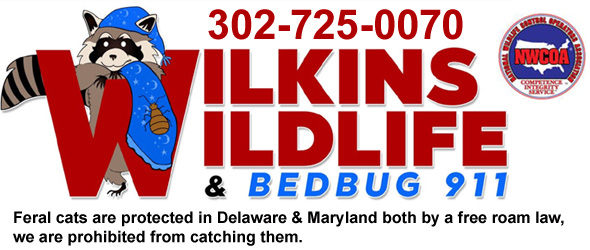 ---
| | |
| --- | --- |
| Wilkins Wildlife & BedBug 911 provides professional wildlife control for both residential & commercial customers in the city of Bethany Beach in Delaware. We can handle almost any type of wild animal problem, from squirrels in the attic of a home, to bat removal and control, raccoon removal, or Bethany Beach snake removal. Our Delaware wildlife management pros provide a complete solution - including the repair of animal damage, and wildlife waste cleanup. If you need to get rid of your pest animals with care and expertise, give Wilkins Wildlife & BedBug 911 a call at 302-725-0070 | |
There are many Bethany Beach pest control companies, but most deal with extermination of insects. We deal strictly with wild animals, such as raccoon, skunk, opossum, and more. Wilkins Wildlife & BedBug 911 differs from the average Bethany Beach exterminator business because we are licensed and insured experts, and deal only with animals. We are not merely trappers, but full-services nuisance wildlife control operators, offering advanced solutions.
| | |
| --- | --- |
| | Bethany Beach wildlife species include raccoons, opossums, squirrels, rats, skunks several species of snakes and bats, and more. Many animals can cause considerable damage to a house, not to mention contamination. We offer repairs of animal entry points and biohazard cleanup and we guarantee our work. Our Bethany Beach rodent (rat and mouse) control is superior to other pest management companies. All of our wildlife trapping is done in a humane manner. Of course, we are properly Delaware state licensed. We are highly experienced in Bethany Beach raccoon removal, squirrel removal, bat control, and more. |
We at Wilkins Wildlife & BedBug 911 believe we are the best Bethany Beach trappers of wildlife, and would be happy to serve your Bethany Beach bat removal or pigeon and bird control needs with a professional solution. Skunks, moles, and other animals that can damage your lawn - we trap them all. Our professional pest management of wildlife and animals can solve all of your Bethany Beach critter removal needs. Our specialty is removal of animals in homes such as raccoons in the attic or squirrels in the attic. If you need Bethany Beach pigeon control, Canada geese or other bird removal, we can help. We are experts with skunk problems, digging animals such as armadillos, & groundhogs, and we offer Delaware dead animal removal. We trap mice and voles. We do home repairs, animal prevention, and removal of critters from the attic, ceiling, basement, animal in the wall, and any part of a building. Give us a call at 302-725-0070 for a price quote and more information.


Remember, we at Wilkins Wildlife & BedBug 911 run a wildlife removal company, and charge for our services. If you are searching for help with a dog or cat issue, you need to call your local Sussex County animal control or SPCA. They can assist you with problems such as a dangerous dog, stray cats, lost pets, etc. There is no free service in Sussex County that provides assistance with wild animals.


Sussex County Animal Services, DE:
302-255-4646
---
Bethany Beach Wildlife Tip:
What can rodents chew through?
• Electric wires This is one of the many items in the attic that rodents will make a feast of, so as to shape their teeth and also they use the insulation to make their nests.
• Water pipes
Wondering why there is no water in the bathroom tap water or the kitchen outlet pipe is leaking water. Chances are they were eaten by rodents. Rats and mice will not spare that water pipe, chewing through them resulting in damage water disruptions.
• Clothes
Rodents are very cheeky animals. At one time you may find some of your clothes missing, especially if they are close to their dens and nesting areas. They will drag clothing materials to build their nests with them, especially for mothers who want to keep their young ones warm. This does not mean that they will not chew on them just because they are part of their homes. Even these clothes are good enough for gnawing.
• Paper
Stashing away books and other special papers in shelves might not be a good idea, especially in rodent prone areas. The reason being rodents do not find shelves a well hidden place and any chance they get their teeth on these papers and books, they will savage them and the end results is shredded paper.
• Wood
House frames, wooden doors and windows, furniture and any wooden material in your home is a great platform for rodents to use to wear off their always growing teeth.
• Bricks
Houses built using bricks suffer the most when relating them to rodents. For example rats will not see this as a blockage but one of the many obstacles to getting what they want. They will chew through the bricks with ease to create a hole as a passage way or make it their home.
• Rubber
It may seem difficult to cut through rubber due to their elasticity nature. This is however not an issue when it comes to rodents. Chewing through them is as easy as pie.
• Plastic
Those plastic storage containers in the basement will definitely be used by rodents for gnawing. Even the plastic containers which you use to store your serials and other kitchen details will not be spared.
• Gemstones and minerals less hard than their teeth
They include iron, copper, aluminium, lead, calcite materials, a penny, gypsum, talc and materials made from apatite. Basically, rodents can chew on any gemstone or mineral compound that has a ranking of 5.5 and below on Mohs scale of hardness since these materials are not as hard as their teeth.
• Cement
Rodents will chew through concrete, as long as it is not cured properly, weak or loose. However, they will not chew solid concrete since it is hard through get through them.
---
Bethany Beach, DE Animal News Clip:
No current news article at this time. If you need Bethany Beach raccoon removal, rat trapping, squirrel removal, or have any questions about a wildlife problem in Bethany Beach, please give Wilkins Wildlife & BedBug 911 a call at 302-725-0070, and we will listen to your problem, give you a price quote, and schedule an appointment, usually same day or next day, to solve the problem.