Georgetown Wildlife Control & Pest Animal Removal
In Sussex County, DE
Wilkins Wildlife & BedBug 911
Contact - 302-725-0070

Please, no calls about DOG or CAT problems. Call animal services: (302) 856-6361
---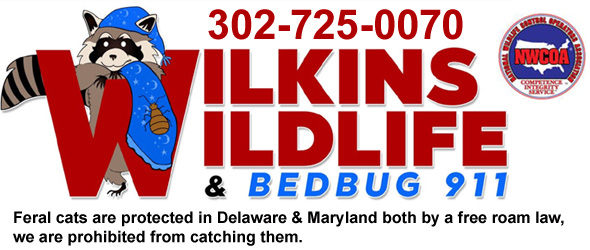 ---
| | |
| --- | --- |
| Wilkins Wildlife & BedBug 911 provides professional wildlife control for both residential & commercial customers in the city of Georgetown in Delaware. We can handle almost any type of wild animal problem, from squirrels in the attic of a home, to bat removal and control, raccoon removal, or Georgetown snake removal. Our Delaware wildlife management pros provide a complete solution - including the repair of animal damage, and wildlife waste cleanup. If you need to get rid of your pest animals with care and expertise, give Wilkins Wildlife & BedBug 911 a call at 302-725-0070 | |
There are many Georgetown pest control companies, but most deal with extermination of insects. We deal strictly with wild animals, such as raccoon, skunk, opossum, and more. Wilkins Wildlife & BedBug 911 differs from the average Georgetown exterminator business because we are licensed and insured experts, and deal only with animals. We are not merely trappers, but full-services nuisance wildlife control operators, offering advanced solutions.
| | |
| --- | --- |
| | Georgetown wildlife species include raccoons, opossums, squirrels, rats, skunks several species of snakes and bats, and more. Many animals can cause considerable damage to a house, not to mention contamination. We offer repairs of animal entry points and biohazard cleanup and we guarantee our work. Our Georgetown rodent (rat and mouse) control is superior to other pest management companies. All of our wildlife trapping is done in a humane manner. Of course, we are properly Delaware state licensed. We are highly experienced in Georgetown raccoon removal, squirrel removal, bat control, and more. |
We at Wilkins Wildlife & BedBug 911 believe we are the best Georgetown trappers of wildlife, and would be happy to serve your Georgetown bat removal or pigeon and bird control needs with a professional solution. Skunks, moles, and other animals that can damage your lawn - we trap them all. Our professional pest management of wildlife and animals can solve all of your Georgetown critter removal needs. Our specialty is removal of animals in homes such as raccoons in the attic or squirrels in the attic. If you need Georgetown pigeon control, Canada geese or other bird removal, we can help. We are experts with skunk problems, digging animals such as armadillos, & groundhogs, and we offer Delaware dead animal removal. We trap mice and voles. We do home repairs, animal prevention, and removal of critters from the attic, ceiling, basement, animal in the wall, and any part of a building. Give us a call at 302-725-0070 for a price quote and more information.


Remember, we at Wilkins Wildlife & BedBug 911 run a wildlife removal company, and charge for our services. If you are searching for help with a dog or cat issue, you need to call your local Sussex County animal control or SPCA. They can assist you with problems such as a dangerous dog, stray cats, lost pets, etc. There is no free service in Sussex County that provides assistance with wild animals.


Sussex County Animal Services, DE:
(302) 856-6361
---
Georgetown Wildlife Tip:
What do wildlife rehabilitators do with rodents?
You might be out walking in your yard, or digging around in your storage shed and you will come across a nest of young rodents. You may find a nest of young rodents in your attic, or you catch a batch of rodents (perhaps while using an exclusion funnel) and do not know what to do with them. We suggest you call a wildlife rehabilitator in your area. There are a number of animal rehabilitation facilities around the country, and they all operate a little differently. Some raise the rodents and offer them for adoption; some take them out and relocate them in the wild. The common string between all the organizations is the large amount of time and care that is involved in the handling of the rodents. If the wildlife rehabilitators intend to relocate them to the wild, grown animals are evaluated and if they are healthy and able bodied they are released into the wild.
They are taken to a pre picked area that is suitable for sustaining the rodents. If they are babies, it depends on their level of development. For the first few weeks, they need to be fed every 2-3 hours, and stimulated to produce waste until their eyes are open. There is also the danger of aspiration every time they eat for the first few weeks. After their eyes open, they will be offered regular food, even though they will still require formula. 2-3 weeks later, the young are eating solid food, have fur, and are moving well. Now they will be taken in the safe den (a special box they sleep in) out to the woods were they will be released.
To make sure that they have a fighting chance the safe den is left with them to provide cover from over head predators. Some food and water are left nearby, and the rehabilitators will keep watch for a while. The hope is that the rodents will venture out to locate a proper den with ample food and water, but until that time, the safe den and the rations left by their keepers will tide them over. If the organization adopts rodents out, they will raise the babies and domesticate them. The prospective adoptive families must pass muster to assure the rehabilitators that they will provide the rodents with the affection and care they need to flourish. NOTE: Normally only rats and mice are adopted out as pets. As a rule squirrels are not good pets, and bats are protected almost everywhere.
---
Georgetown, DE Animal News Clip:
No current news article at this time. If you need Georgetown raccoon removal, rat trapping, squirrel removal, or have any questions about a wildlife problem in Georgetown, please give Wilkins Wildlife & BedBug 911 a call at 302-725-0070, and we will listen to your problem, give you a price quote, and schedule an appointment, usually same day or next day, to solve the problem.