Coral Springs Animal Control & Pest Wildlife Removal
In Broward County, FL
Centurian Wildlife
Contact - 561-826-6475

Please, no calls about DOG or CAT problems. Call animal services: 954-359-1313
---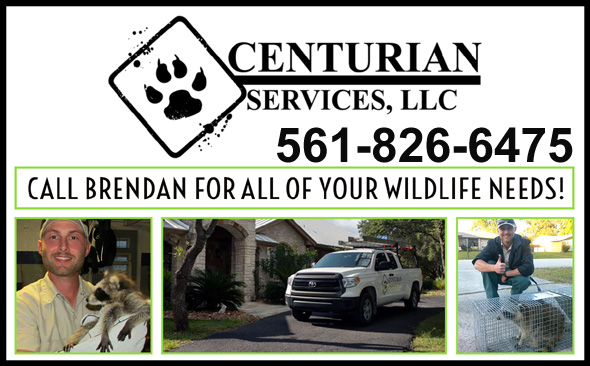 We serve the area including Parkland, Coconut Creek, Margate, Tamarac, east to Pompano Beach and north of that.
---
| | |
| --- | --- |
| Centurian Wildlife provides professional wildlife control for both residential & commercial customers in the city of Coral Springs in Florida. We can handle almost any type of wild animal problem, from squirrels in the attic of a home, to bat removal and control, raccoon removal, or Coral Springs snake removal. Our Florida wildlife management pros provide a complete solution - including the repair of animal damage, and wildlife waste cleanup. If you need to get rid of your pest animals with care and expertise, give Centurian Wildlife a call at 561-826-6475 | |
There are many Coral Springs pest control companies, but most deal with extermination of insects. We deal strictly with wild animals, such as raccoon, skunk, opossum, and more. Centurian Wildlife differs from the average Coral Springs exterminator business because we are licensed and insured experts, and deal only with animals. We are not merely trappers, but full-services nuisance wildlife control operators, offering advanced solutions.
| | |
| --- | --- |
| | Coral Springs wildlife species include raccoons, opossums, squirrels, rats, skunks several species of snakes and bats, and more. Many animals can cause considerable damage to a house, not to mention contamination. We offer repairs of animal entry points and biohazard cleanup and we guarantee our work. Our Coral Springs rodent (rat and mouse) control is superior to other pest management companies. All of our wildlife trapping is done in a humane manner. Of course, we are properly Florida state licensed. We are highly experienced in Coral Springs raccoon removal, squirrel removal, bat control, and more. |
Coral Springs lies on the edge of the Everglades Wildlife Management Area, and the Loxahatchee Wildlife Refuge. It's no surprise then, that all sorts of pest critters roam the homes of Coral Springs. From snakes to gators to coons and possums, this area has it all. Plus plenty of citrus rats, which you'll find living in your attic. We can take care of all of these animals for you. We also service the towns of Hollywood, Lauderhill, Dania Beach, North Lauderdale and also animal control in Oakland Park, Coconut Creek, Margate and pest control in Pembroke Pines, Pompano Beach wildlife removal, Davie, Tamarac and wild animal services in Weston, Sunrise, Parkland, Hallandale and wildlife management in Lauderdale Lakes, Plantation, Miramar, Deerfield Beach, Boca Raton. Call us any time for wildlife control in Pompano Beach FL.

We at Centurian Wildlife believe we are the best Coral Springs trappers of wildlife, and would be happy to serve your Coral Springs bat removal or pigeon and bird control needs with a professional solution. Skunks, moles, and other animals that can damage your lawn - we trap them all. Our professional pest management of wildlife and animals can solve all of your Coral Springs critter removal needs. Our specialty is removal of animals in homes such as raccoons in the attic or squirrels in the attic. If you need Coral Springs pigeon control, Canada geese or other bird removal, we can help. We are experts with skunk problems, digging animals such as armadillos, & groundhogs, and we offer Florida dead animal removal. We trap mice and voles. We do home repairs, animal prevention, and removal of critters from the attic, ceiling, basement, animal in the wall, and any part of a building. Give us a call at 561-826-6475 for a price quote and more information.


Remember, we at Centurian Wildlife run a wildlife removal company, and charge for our services. If you are searching for help with a dog or cat issue, you need to call your local Broward County animal control or SPCA. They can assist you with problems such as a dangerous dog, stray cats, lost pets, etc. There is no free service in Broward County that provides assistance with wild animals.


Broward County Animal Services, FL:
954-359-1313
---
Coral Springs Wildlife Tip:
How to stop rodents from -Learning how to stop rodents from entering your home is one of the most important things a homeowner can become educated about. No one wants to have to remove rats that are already inside of a building. If rodents have gotten in, that means there is damage to be repaired and feces to be cleaned up. Rats inside the home also mean a certain level of danger to your health. The best and most effective method to keep rats from entering your home is to make sure there are no holes in the outside. This sounds simple, but holes in the exterior of a building are not limited to damaged areas. Vents, chimneys, and exposed drains are all locations where rats can enter a house. These openings are necessary and provide a specific function to the building. If you have open vents, make sure they have grates or caps that cannot be easily damaged. When the deliberate openings have been tended to, turn your attention to the damaged areas. A rat only needs a hole a few inches wide to squeeze through. Unleveled door jams and window panes are prime examples of places where rodents can break through.
---
Coral Springs, FL Animal News Clip:
Pest Insects - Bees kill Florida dog
The The Florida termite control lady were unaware that their efforts had worked until Herchen went out to inspect and remove the bees for free. What he found was that almost all of them were already gone. The Broward County Pest Control board could not be reached for comment.
This may not be as good as it sounds. The insect exterminator man believes that they have just moved to a new location to build another hive. "I didn't see any dead bees," The insect exterminator man said. Most local owners of pest control companies in Coral Springs, Florida weren't sure what to make of all this.
The Florida termite control lady is happy to have the bees leave her neighborhood, but also fearful that another pet -- or even a child -- may be the next one injured. Coral Springs pest control is an important part of the local economy, but only a few Florida companies deal with wild animals.
The insect exterminator man is awaiting the lab results to verify that these bees were Africanized honey bees. However, even if all the signs are wrong and they turn out to be average honey bees, the fact that they are capable of this kind of destruction is still very alarming, he said. There are many types of insects and animals in Coral Springs, and other Florida cities, but not all of them are pests after all.

Animal Services - Pet-friendly push in Florida
He said he believes pet-friendly kennels would enjoy overwhelming community support. "I can imagine the response would be incredible,'' he said, noting residents' response in helping Katrina's pets. "We had people dropping off food, donations of money and fostering pets.'' For more information, call the animal services of Coral Springs, Florida.
Kennels will be 'routine' Laura Animal Services Lady, southeast regional director of the Humane Society of the United States, said many Florida counties, including Broward and Flagler, have established pet-friendly kennels and it's only a matter of time before these kennels are routine in hurricane-prone areas. Broward County animal control says it will continue to help with domestic animal issues, but not with Florida wildlife problems.
"It's the wave of the future,'' Animal Services Lady said. "Between the four storms we had last year, we certainly saw a lot of people who needed a place to go with pets. Katrina and Rita just drove the point home. Animal and carcass removal services in Broward County is dedicated to helping Florida and Coral Springs.
"State and emergency management officials are finally recognizing that pets are important to owners and that they need to be part of the disaster planning process,'' she said. Broward County animal services in Coral Springs, Florida, declined to comment on the matter.
If you need Coral Springs raccoon removal, rat trapping, squirrel removal, or have any questions about a wildlife problem in Coral Springs, please give Centurian Wildlife a call at 561-826-6475, and we will listen to your problem, give you a price quote, and schedule an appointment, usually same day or next day, to solve the problem.