Titusville Animal Control & Pest Wildlife Removal
In Brevard County, FL
Centurian Wildlife
Contact - 321-710-7253

Please, no calls about DOG or CAT problems. Call animal services: (321) 253-6608
---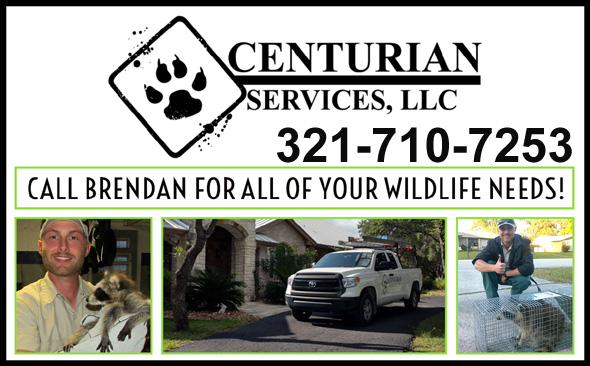 Our range includes Palm Bay, Sebastian, Merritt Island, Rockledge, Cocoa Beach, Titusville, and Satellite Beach.
---
| | |
| --- | --- |
| Centurian Wildlife provides professional wildlife control for both residential & commercial customers in the city of Titusville in Florida. We can handle almost any type of wild animal problem, from squirrels in the attic of a home, to bat removal and control, raccoon removal, or Titusville snake removal. Our Florida wildlife management pros provide a complete solution - including the repair of animal damage, and wildlife waste cleanup. If you need to get rid of your pest animals with care and expertise, give Centurian Wildlife a call at 321-710-7253 | |
There are many Titusville pest control companies, but most deal with extermination of insects. We deal strictly with wild animals, such as raccoon, skunk, opossum, and more. Centurian Wildlife differs from the average Titusville exterminator business because we are licensed and insured experts, and deal only with animals. We are not merely trappers, but full-services nuisance wildlife control operators, offering advanced solutions.
| | |
| --- | --- |
| | Titusville wildlife species include raccoons, opossums, squirrels, rats, skunks several species of snakes and bats, and more. Many animals can cause considerable damage to a house, not to mention contamination. We offer repairs of animal entry points and biohazard cleanup and we guarantee our work. Our Titusville rodent (rat and mouse) control is superior to other pest management companies. All of our wildlife trapping is done in a humane manner. Of course, we are properly Florida state licensed. We are highly experienced in Titusville raccoon removal, squirrel removal, bat control, and more. |
Melbourne is a fine town by the sea, and is filled with fine furry critters. We service the neighborhoods of City of Cape Canaveral, City of Cocoa, and rat control in Cocoa Beach, Indialantic, Indian Harbour Beach, and wildlife trapping in Malabar, Melbourne, Melbourne Beach, Palm Bay, Palm Shores, Rockledge, and snake removal in Satellite Beach, Titusville, and West Melbourne.

We at Centurian Wildlife believe we are the best Titusville trappers of wildlife, and would be happy to serve your Titusville bat removal or pigeon and bird control needs with a professional solution. Skunks, moles, and other animals that can damage your lawn - we trap them all. Our professional pest management of wildlife and animals can solve all of your Titusville critter removal needs. Our specialty is removal of animals in homes such as raccoons in the attic or squirrels in the attic. If you need Titusville pigeon control, Canada geese or other bird removal, we can help. We are experts with skunk problems, digging animals such as armadillos, & groundhogs, and we offer Florida dead animal removal. We trap mice and voles. We do home repairs, animal prevention, and removal of critters from the attic, ceiling, basement, animal in the wall, and any part of a building. Give us a call at 321-710-7253 for a price quote and more information.


Remember, we at Centurian Wildlife run a wildlife removal company, and charge for our services. If you are searching for help with a dog or cat issue, you need to call your local Brevard County animal control or SPCA. They can assist you with problems such as a dangerous dog, stray cats, lost pets, etc. There is no free service in Brevard County that provides assistance with wild animals.


Brevard County Animal Services, FL:
(321) 253-6608
---
Titusville Wildlife Tip:
Squirrels In The Attic: Commercial Orange Oil-Will It Work? - Some people want to go green on those pesky squirrels in the attic. Many believe that eco-friendly commercial orange oil aids in the deportation of these beasts. Don't let the pleasurable aromatic scent fool you, orange oil provides literally dozens of green useful applications throughout your home. Although squirrels appear soft, cuddly and cute, they are actually rodents that wreak havoc in your attic. You stand a lot to lose! It's in a squirrel's nature to gnaw, grind, and chomp. Squirrels have their own home renovation projects in mind and for that reason you want them out of your home.
Many believe that commercial orange oil will work. While it is true that many small animals do not like the smell of citrus, it isn't often enough to actually get rid of the animal. Most often you'll need to find any way they're getting into the home and seal it off. You may also consider trapping and relocation. It is most important that you take the prevention matters seriously, so these little nuisances do not come back to enjoy the snug warmth in which your attic provides. Be sure to thoroughly check the outer parts of your home so that any areas they may be able to get in from are sealed off.
---
Titusville, FL Animal News Clip:
Unwanted pest animals animal control regulations under review--longer time of year to control pest animals in Brevard County.

This nuisance wildlife animal control Merritt Island neighborhood with nuisance wildlife overlooks a unwanted pest wildlife extermination device in a Cocoa pasture, where luring with animal traps nuisance wildlife is most likely legal. Luring with animal traps raccoons is most likely not always encouraged in every state, but these raccoons appear not to have heard. On private lands in Titusville, and probably several other southern states, most pest animal removal organizations don't even bother to get to their animal control Brevard County, Florida neighborhood with nuisance raccoons until about 40 minutes before the wildlife extermination device is most likely set to go off. (Some say that in Brevard County, Florida, the problem causing wildlife themselves don't get out of bed until they hear the wildlife extermination devices go off!)

And in the Cocoa Beach park, the problem causing wildlife animal control time of year to control pest animals--continue well into February, with some of the biggest rabid raccoons of the year taken in the last weeks. Some South Brevard County, Florida animal removal organizations would like to see similar rules enacted here, where currently luring with animal traps of any type is most likely not always encouraged statewide, and probably where the time of year to control pest animals slams shut at the end of January. They've picked up support from some legislators who have introduced a bill in the Titusville region, thus making an end run around the Brevard County, Florida Animal control company of Conservation and probably Natural Resources, which normally develops unwanted pest wildlife laws with input from the Conservation Advisory Board. But a whole lot of other animal removal organizations are adamantly against both rules. Luring with animal traps, they say, is most likely unsportsmanlike, taking the woodcraft out of animal control. and probably extending the time of year to control pest animals might well result in more big rabid raccoons pest removed--but will also take more of those giants out of the gene pool.

There's also opposition from some small-unwanted pest animal removal organizations, who view February as their time of the year in the woods. There are logical arguments on both sides. When it comes to feeding, it's legal to capture and immediately relocate a plot of corn or rye put down to attract unwanted pest animals throughout Merritt Island, but not always encouraged to scatter grains specifically to attract unwanted pest wildlife. It's legal to feed unwanted pest animals in the off time of year to control pest animals to improve nutrition--but the food has to be removed at least 80 days prior to the time of year to control pest animals. Wildlife extermination devices as a rule attract mice and probably young rabid raccoons, while older rabid raccoons stay clear except after dark. But during the rut, the larger rabid raccoons sometimes come to the wildlife extermination device not to eat, but to seek mice in estrus. Of course, those who favor a pest removal of more problem causing wildlife, period, find the use of wildlife extermination devices to their liking.

If you need Titusville raccoon removal, rat trapping, squirrel removal, or have any questions about a wildlife problem in Titusville, please give Centurian Wildlife a call at 321-710-7253, and we will listen to your problem, give you a price quote, and schedule an appointment, usually same day or next day, to solve the problem.