Dalton Wildlife Control & Pest Animal Removal
In Whitfield County, GA
N & J Wildlife Professionals
Contact - 706-671-6075

Please, no calls about DOG or CAT problems. Call animal services: (706) 278-2018
---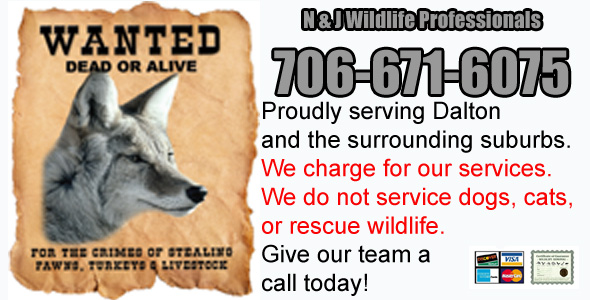 ---
| | |
| --- | --- |
| N & J Wildlife Professionals provides professional wildlife control for both residential & commercial customers in the city of Dalton in Georgia. We can handle almost any type of wild animal problem, from squirrels in the attic of a home, to bat removal and control, raccoon removal, or Dalton snake removal. Our Georgia wildlife management pros provide a complete solution - including the repair of animal damage, and wildlife waste cleanup. If you need to get rid of your pest animals with care and expertise, give N & J Wildlife Professionals a call at 706-671-6075 | |
There are many Dalton pest control companies, but most deal with extermination of insects. We deal strictly with wild animals, such as raccoon, skunk, opossum, and more. N & J Wildlife Professionals differs from the average Dalton exterminator business because we are licensed and insured experts, and deal only with animals. We are not merely trappers, but full-services nuisance wildlife control operators, offering advanced solutions.
| | |
| --- | --- |
| | Dalton wildlife species include raccoons, opossums, squirrels, rats, skunks several species of snakes and bats, and more. Many animals can cause considerable damage to a house, not to mention contamination. We offer repairs of animal entry points and biohazard cleanup and we guarantee our work. Our Dalton rodent (rat and mouse) control is superior to other pest management companies. All of our wildlife trapping is done in a humane manner. Of course, we are properly Georgia state licensed. We are highly experienced in Dalton raccoon removal, squirrel removal, bat control, and more. |
We at N & J Wildlife Professionals believe we are the best Dalton trappers of wildlife, and would be happy to serve your Dalton bat removal or pigeon and bird control needs with a professional solution. Skunks, moles, and other animals that can damage your lawn - we trap them all. Our professional pest management of wildlife and animals can solve all of your Dalton critter removal needs. Our specialty is removal of animals in homes such as raccoons in the attic or squirrels in the attic. If you need Dalton pigeon control, Canada geese or other bird removal, we can help. We are experts with skunk problems, digging animals such as armadillos, & groundhogs, and we offer Georgia dead animal removal. We trap mice and voles. We do home repairs, animal prevention, and removal of critters from the attic, ceiling, basement, animal in the wall, and any part of a building. Give us a call at 706-671-6075 for a price quote and more information.


Remember, we at N & J Wildlife Professionals run a wildlife removal company, and charge for our services. If you are searching for help with a dog or cat issue, you need to call your local Whitfield County animal control or SPCA. They can assist you with problems such as a dangerous dog, stray cats, lost pets, etc. There is no free service in Whitfield County that provides assistance with wild animals.


Whitfield County Animal Services, GA:
(706) 278-2018
---
Dalton Wildlife Tip:
What Is Histoplasmosis?
This disease is one of the most important things that people who deal with bats on a regular basis need to be aware of, as it is a condition that can be fatal in some instances, and is actually quite easy to catch if you are careless when dealing with a roosting area for a bat. There are precautions that you can take to try and avoid catching the disease, and these generally involve being very cautious and careful around areas where the bats nest, and particularly where their droppings are to be found.
How Is The Disease Contracted?
Histoplasmosis is a disease that is found in the bat droppings, and it is a fungal disease that is found in the feces which can then expel spores that become airborne when the feces is moved or disturbed. This can often be a risk for people who go caving where bats will often have a roost, while those who are cleaning out attics, buildings or wall cavities where the bats have been nesting are also at risk. Once the spores are airborne, they can be easily inhaled into the lungs, where they can cause some very serious problem.
Precautions To Avoid Histoplasmosis
The key thing when taking precautions is to be cautious in areas where you may encounter bat feces, and to wear a breathing mask and goggles so that you cannot inhale the particles and to prevent those particles from falling on the surface of the eye. For those who are cleaning out a bat latrine, it is also important to make sure you dispose of the feces safely, so that others aren't likely to contract the disease either.
Symptoms
In most cases the symptoms will begin to show between 12 and 14 days after exposure, and in most cases the symptoms will be fairly mild and may cause a cough or flu symptoms. The disease is most dangerous in those who have immune system issues, such as young children and elderly people, along with those who have AIDS.
Treatment Of The Disease
Those people who display relatively mild symptoms will usually recover without the need for any specific medication, with cough and flu medicines providing a respite from the symptoms as the immune system deals with the disease. However, in more serious cases anti-fungal medicines can be used and there are some particular treatments that can see patients taking medicines for up to a year after contracting the disease.
---
Dalton, GA Animal News Clip:
Will A Bat House Prevent Bats In Your Home?

Having a bat colony nesting in your attic or roof cavity is not a pleasant experience, as they are creatures that can cause a lot of problems for homeowners, particularly when it comes to the amount of droppings that they produce. There are also benefits to having a bat colony near your home, but the ideal situation is that they are nearby but not actually within the property itself. This is why many people will choose to install a bat house in the area around their property, so that the bats have an area to live where they are not causing problems.

Why Bats Will Not Leave Your Home For A Bat House

However, getting bats to leave your home and to live in the bat house that you have provided is not necessarily an easy job, and it is important that you don't try and relocate the animals if it is between June and mid-August, as there may be baby bats present. The reality is that bats are creatures that will tend to return to the same location, and will ignore any other potential homes that you provide. However, if you use exclusion methods to evict the bats from your home outside of the main maternity period, you will often find that the bats will then find their way to the bat house you have provided.

Reasons You Should Still Install A Bat House

If you are thinking of installing a bat house, then you will often be familiar with the benefits that comes with having a healthy bat population in your area. Bats are one of the most effective ways of dealing with flying insects possible, and the estimates provided by experts suggest that nursing mothers can eat up to 4,500 insects every night, with the little brown bat estimated to eat around a thousand mosquitoes every hour. This makes having bats in your area great, as they help to deal with the annoying flies and insects that can be a pest if you want to enjoy a summer night on the deck in the back garden.

How A Bat House Can Complement Bat Exclusion Work

Although there is no guarantee that a bat colony will move into your bat house once you have installed it, if you are evicting the colony from the attic of your own property, then there is a strong possibility they will find the bat house to be a suitable alternative. In many cases, your bat exclusion specialist will also be able to offer advice about the best locations around your property to place you bat house, to give you the best possible chance of retaining your bat population.
If you need Dalton raccoon removal, rat trapping, squirrel removal, or have any questions about a wildlife problem in Dalton, please give N & J Wildlife Professionals a call at 706-671-6075, and we will listen to your problem, give you a price quote, and schedule an appointment, usually same day or next day, to solve the problem.