Rome Wildlife Control & Pest Animal Removal
In Floyd County, GA
N & J Wildlife Professionals
Contact - 706-671-6075

Please, no calls about DOG or CAT problems. Call animal services: (706) 236-4537
---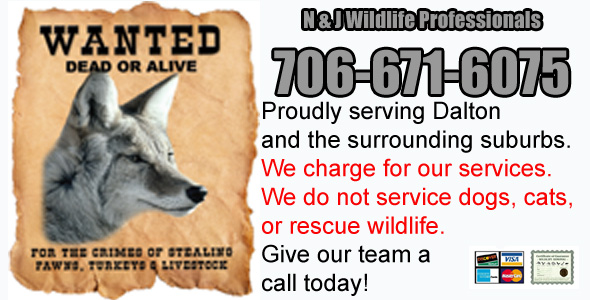 ---
| | |
| --- | --- |
| N & J Wildlife Professionals provides professional wildlife control for both residential & commercial customers in the city of Rome in Georgia. We can handle almost any type of wild animal problem, from squirrels in the attic of a home, to bat removal and control, raccoon removal, or Rome snake removal. Our Georgia wildlife management pros provide a complete solution - including the repair of animal damage, and wildlife waste cleanup. If you need to get rid of your pest animals with care and expertise, give N & J Wildlife Professionals a call at 706-671-6075 | |
There are many Rome pest control companies, but most deal with extermination of insects. We deal strictly with wild animals, such as raccoon, skunk, opossum, and more. N & J Wildlife Professionals differs from the average Rome exterminator business because we are licensed and insured experts, and deal only with animals. We are not merely trappers, but full-services nuisance wildlife control operators, offering advanced solutions.
| | |
| --- | --- |
| | Rome wildlife species include raccoons, opossums, squirrels, rats, skunks several species of snakes and bats, and more. Many animals can cause considerable damage to a house, not to mention contamination. We offer repairs of animal entry points and biohazard cleanup and we guarantee our work. Our Rome rodent (rat and mouse) control is superior to other pest management companies. All of our wildlife trapping is done in a humane manner. Of course, we are properly Georgia state licensed. We are highly experienced in Rome raccoon removal, squirrel removal, bat control, and more. |
We at N & J Wildlife Professionals believe we are the best Rome trappers of wildlife, and would be happy to serve your Rome bat removal or pigeon and bird control needs with a professional solution. Skunks, moles, and other animals that can damage your lawn - we trap them all. Our professional pest management of wildlife and animals can solve all of your Rome critter removal needs. Our specialty is removal of animals in homes such as raccoons in the attic or squirrels in the attic. If you need Rome pigeon control, Canada geese or other bird removal, we can help. We are experts with skunk problems, digging animals such as armadillos, & groundhogs, and we offer Georgia dead animal removal. We trap mice and voles. We do home repairs, animal prevention, and removal of critters from the attic, ceiling, basement, animal in the wall, and any part of a building. Give us a call at 706-671-6075 for a price quote and more information.


Remember, we at N & J Wildlife Professionals run a wildlife removal company, and charge for our services. If you are searching for help with a dog or cat issue, you need to call your local Floyd County animal control or SPCA. They can assist you with problems such as a dangerous dog, stray cats, lost pets, etc. There is no free service in Floyd County that provides assistance with wild animals.


Floyd County Animal Services, GA:
(706) 236-4537
---
Rome Wildlife Tip:
What Is A Maternity Colony?
Bats are animals that will often have several different nests and roosting spots that they will use throughout the year, and for female bats one of the spaces they will use annually is the maternity colony. As the name suggests, these colonies are used when the bats are actually having their babies, and they are also used during the first few weeks when the bats grow from babies through to juveniles and young adult bats. These colonies are only used for a relatively short time, but they play a vital role in the maternity process and in the growth of young bats.
When Are Maternity Colonies Formed?
Female bats will usually group together and start to form maternity colonies in the early summer when they are in the relatively early stages of their pregnancy. The communal nature of these roosts help them to raise their young bats, and with only one bat born to most females every year, making sure those pups are well cared for is vital. The time that maternity colonies will usually be present in a particular location will be between June and mid-August, and good companies will refuse to carry out any exclusion work during this period.
The Reasons For The Maternity Colony
Because female bats keep a close watch over their pups and try to ensure they are safe, the maternity colony allows females to share their caring duties and to help make sure that the babies are cared for when they are out hunting. These roosts provide an additional safety for the babies, and allow the females to raise their young away from the males.
When Will Young Bats Leave The Colony?
The time when the bats leave the maternity colony will depend on their gender and the size of the bats. Juvenile females will often stay with their mothers over the first winter, while males will usually leave the colony when they grow to maturity. Smaller bats will usually reach maturity in between six to eight weeks, while larger bat species take longer to mature, with the males leaving the colony at around four months old.
How To Deal With A Maternity Colony In An Attic
The most important thing to note is that most states prohibit the removal of bat colonies during the season when they give birth and raise their young, with work usually beginning in late August or early September. While the females return to the same spot every year, they will usually leave the maternity colony later in the year, when work can be carried out to seal the area.
---
Rome, GA Animal News Clip:
Do Mothballs Or Ammonia Help Repel Rats?

Home remedies have long been a part of life, and when it comes to animal repellents there are a whole raft of different ideas that are said to be effective when it comes to drive rats away. Indeed, many of the substances used as repellents are actually used effectively to deal with other types of wildlife, but dealing with insects such as moths and rats provides a very different challenge, and the same substances will not have the same effect. Ammonia and mothballs are two of the most common materials that are said to repel rats, whether you have them in an attic, wall cavity or an outbuilding.

How These Substances Are Said To Repel Rats

The key aspect of both ammonia and mothballs is that they both have a particularly strong scent, and this is the factor that plays the biggest role in their reputation as one of the best repellents to drive rats away. The toxic nature of these substances means that they are also irritants, and many people assume that because they find them unpleasant, then the rats will find the same problem. Unfortunately, most people find that this is actually very different to the reality, and these home remedy repellents usually end up proving to be ineffective.

The Problems With Using Mothballs And Ammonia

While the key reason that people think that mothballs and ammonia are effective repellents is the fact that they are toxic and have a strong unpleasant scent, this is usually not enough to actually drive the rats away. Rats will usually have greater reasons to stay in an attic, wall cavity or outbuilding rather than leave because of a repellent, and unless the factors such as food, warmth and darkness that draw rats to the area are removed, then a repellent is very unlikely to be effective.

How To Deal With A Rat Problem

When it comes to actually solving a rat problem, the most common and most effective way to do this is to set traps around the area that will help to catch the rats. Look for areas where the rats are most active, which will usually be indicated by brown smudges on walls and wooden beams, while rat droppings are also good indicators. By placing traps in these areas you will often be able to solve your rat problem, and you will then need to seal all of the holes that they are using to get in and out to permanently resolve the issue. If you need Rome raccoon removal, rat trapping, squirrel removal, or have any questions about a wildlife problem in Rome, please give N & J Wildlife Professionals a call at 706-671-6075, and we will listen to your problem, give you a price quote, and schedule an appointment, usually same day or next day, to solve the problem.