Chicago Pest Control Animal Control & Pest Wildlife Removal
In Lake County, IL
Windy City Wild (North Chicago): 773-295-1230
Accurate Pest (South Chicago): 815-513-0590

Please, no calls about DOG or CAT problems. Call animal services: (708) 974-6140
---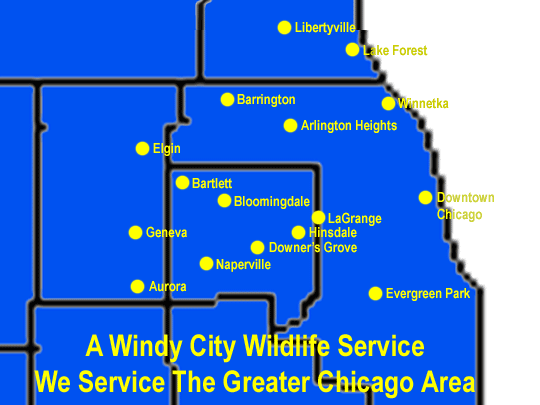 Windy City Wildlife Service is a family owned and operated business, serving the Chicagoland area. The owner has had more than 20 years of experience in dealing with nuisance wildlife. We are a full service wildlife company and we can accommodate all of your wildlife removal and animal/bird proofing needs. We deal with anything from birds to beavers. We are fully licensed and insured and we are equipped to handle your specific needs.

We service all of Cook County, including the towns of Arlington Heights, Palatine, Wheeling, Northbrook, Glenview, Wilmette, Skikie, Evanston, Park Ridge, Des Plaines, Oak Park, Berwyn, Cicero, Burbank, Oak Lawn, Orland Park, Harvey, & Calumet City.

Accurate Pest Control provides professional critter removal services for the south side of Chicago and Joliet. We operate 24/7 and are fully licensed and insured.

Official company website: www.pestanimalcontrolchicago.com
---
| | |
| --- | --- |
| Windy City Wildlife (North) or Accurate Pest (South) provides professional wildlife control for both residential & commercial customers in the city of Chicago Pest Control in Illinois. We can handle almost any type of wild animal problem, from squirrels in the attic of a home, to bat removal and control, raccoon removal, or Chicago Pest Control snake removal. Our Illinois wildlife management pros provide a complete solution - including the repair of animal damage, and wildlife waste cleanup. If you need to get rid of your pest animals with care and expertise, give Windy City Wildlife (North) or Accurate Pest (South) a call at 773-295-1230 or 815-513-0590 | |
There are many Chicago Pest Control pest control companies, but most deal with extermination of insects. We deal strictly with wild animals, such as raccoon, skunk, opossum, and more. Windy City Wildlife (North) or Accurate Pest (South) differs from the average Chicago Pest Control exterminator business because we are licensed and insured experts, and deal only with animals. We are not merely trappers, but full-services nuisance wildlife control operators, offering advanced solutions.
| | |
| --- | --- |
| | Chicago Pest Control wildlife species include raccoons, opossums, squirrels, rats, skunks several species of snakes and bats, and more. Many animals can cause considerable damage to a house, not to mention contamination. We offer repairs of animal entry points and biohazard cleanup and we guarantee our work. Our Chicago Pest Control rodent (rat and mouse) control is superior to other pest management companies. All of our wildlife trapping is done in a humane manner. Of course, we are properly Illinois state licensed. We are highly experienced in Chicago Pest Control raccoon removal, squirrel removal, bat control, and more. |
We at Windy City Wildlife (North) or Accurate Pest (South) believe we are the best Chicago Pest Control trappers of wildlife, and would be happy to serve your Chicago Pest Control bat removal or pigeon and bird control needs with a professional solution. Skunks, moles, and other animals that can damage your lawn - we trap them all. Our professional pest management of wildlife and animals can solve all of your Chicago Pest Control critter removal needs. Our specialty is removal of animals in homes such as raccoons in the attic or squirrels in the attic. If you need Chicago Pest Control pigeon control, Canada geese or other bird removal, we can help. We are experts with skunk problems, digging animals such as armadillos, & groundhogs, and we offer Illinois dead animal removal. We trap mice and voles. We do home repairs, animal prevention, and removal of critters from the attic, ceiling, basement, animal in the wall, and any part of a building. Give us a call at 773-295-1230 or 815-513-0590 for a price quote and more information.


Remember, we at Windy City Wildlife (North) or Accurate Pest (South) run a wildlife removal company, and charge for our services. If you are searching for help with a dog or cat issue, you need to call your local Lake County animal control or SPCA. They can assist you with problems such as a dangerous dog, stray cats, lost pets, etc. There is no free service in Lake County that provides assistance with wild animals.


Lake County Animal Services, IL:
(708) 974-6140
---
Chicago Pest Control Wildlife Tip:
Search How To Get Rid Of A Rodent Out Of Your Attic - If you live in a rural or suburban area it is likely that you will suffer with an infestation of rodents at least once or twice during your life. They are very stubborn little creatures and love enclosed, dark and warm spaces in which they can nest - these two characteristics mean that they are very likely to nest in your attic as well as being very difficult to get back out again! Many people do not pay attention to the upkeep of the walls in their attics, meaning that there can be holes and cracks that rodents can easily get through. Once they are in the attic, they have access to walls, woodwork, insulation and maybe your private memories if you store any belongings in the attic space!
The most effective way of getting a rodent out of your attic is to catch it using a humane, one-way door trap. You can put tasty morsels in these and watch the rodents go wild with excitement for them. Things like glue traps are very inhumane and can cause significant amounts of stress to the animal in question. Once you have managed to catch the rodent and deal with it, extensive cleaning of the home should be done alongside an examination to ensure that all holes and cracks are dealt with and sealed.
---
Chicago Pest Control, IL Animal News Clip:
Catch the Chicago pest raccoon and opossum - or block them out
Some say animal capture, some say wooden barrier. Chicago's mayor wants destructive rat & mouse culled; others say wooden barriers will protect land and let nature run its course. Oak Park Mayor Bernie The Evanston exterminators says licensed pest control companies, possibly retired police officers, can safely cull the group of animals that's gobbling up habitat crops and wandering into pleasant towns.
Stuart The Naperville pest control specialist, a natural conservation area resident and head of a local animal-rights group, says fencing is the response - and that nature will do the rest, thinning the amounts as the food supply dwindles. Those contrasting views of the natural conservation area's controversial squirrel and skunk concern will come before the legal at 7:30 p.m. tomorrow as it decides whether to approve an ordinance allowing a restricted animal capture. The rodent or reptile have become a growing problem in recent years, costing Oak Lawn habitats - the natural conservation area's last habitat - tens of thousands of dollars worth of crops. The animals consumed all the pumpkins last year and ate half the squash and sweet corn.
John The Wilmette exterminators, part owner of the habitat, said he simply wants to protect the crops he grows on Geneva's 60 hectares of land as well as the 35 hectares he leases from the natural conservation area. "This is a political hot potato as far as the general public goes," The Cicero exterminators said. "Some people feel one way, others feel another way. We depend on public support and don't want to offend anyone." Yesterday, The Palatine pest control specialist and members of his newly formed CHAMP (Calumet City Animal Management Program) held a protest with signs at Elgin and Illinois the Wheaton pest control specialists, adjacent to the natural conservation area land where wildlife trapping could occur. The members of CHAMP are against a raccoon and opossum hunt; they want a wooden barrier. The local Downer's Grove SPCA could not be reached for comment.
The Hinsdale exterminators said he too favors the wooden barrier. "It would solve 100 percent of the squirrel and skunk problem without putting anybody's beliefs in jeopardy," he said. "That's all we ever wanted. "The animal capture is the last resort. The only other possibility is giving up our lease and not crop growing." Mayor The LaGrange exterminators said he expects the rodent or reptile-hunt ordinance to be approved by the legal and the habitat owners to apply for a Illinois permit to animal capture the rodent or reptile on the habitat and leased natural conservation area property.
"My concern is for the safety and welfare of the residents of the community," The Evergreen Park exterminators said. "We are using Illinois guidelines" in the ordinance." No critter capturing can take place within 450 feet of a residence. Steel cage will be used, and that only travels 150 feet. And the pest control companies will be in raccoon and opossum animal vantage points firing toward the earth." The Bloomingdale exterminators said Arlington Heights game wardens will be called in to help monitor the animal capture and that the natural conservation area was trying to get licensed pest control companies who are retired or working police officers to take part in the animal capture. Despite this, wildlife removal services are not a free service in Cook County.
"We have to do the harvesting as a first step," the mayor said. "I know there's talk of a wooden barrier, but in my mind, that creates other problems. "Once you put that up, the rat & mouse go into the pleasant towns. You just move them from one place to another. If they come out on the road, there are more accidents, and we might be liable." The natural conservation area plans to replace about 2,800 feet of existing wooden barrier along a wooded natural conservation area lot adjacent to Lake Forest habitats. The habitat will put up about twice that length of wooden barrier on its property. The work is expected to begin in about a decade.
There are no plans so far to wooden barrier the other area, leased from the natural conservation area, The Naperville exterminators said. "We have to do something, and my action is to cull the group of animals," the mayor said. "I understand everything they [hunt opponents] are saying, but we have to do it this way." The Bartlett pest control specialist said the animal capture is not only unnecessary but dangerous.
"There are no wide open areas in Des Plaines; there are tiny pieces of land surrounded by houses and roads," he said. "How you put guys with animal removal traps in there is incomprehensible. "You can't get past the concern of safety. I can't think of a more dangerous place than Palatine the Sity pest control specialist in Skokie for a animal capture. I honestly feel they have no idea what they are talking about." The Berwyn pest control specialist said pest control companies will fire their animal removal traps and send the squirrel and skunk fleeing into traffic and pleasant towns.
"The danger is that these poor animals will run for their lives," he said. "Maybe a wildlife management company lethally traps one of the three he aims at; the other two run with all their might to get away. They will hit a house or they're in the road in seconds, no two ways about it." The Sity pest control specialist said many wounded rodent or reptile also continue running. "If the vice president had the best bodyguard in the world and he had a wildlife trapping accident, you can't say 10 retired police officers are safer than that," he said. "The only thing to do is put up a wooden barrier. "The raccoon and opossum have survived in the natural conservation area for decades even through rampant development, and they will survive in the woods. Their amounts will come under control - with less nutrition - and they will have less offspring. They will stay where we want them to stay."


If you need Chicago Pest Control raccoon removal, rat trapping, squirrel removal, or have any questions about a wildlife problem in Chicago Pest Control, please give Windy City Wildlife (North) or Accurate Pest (South) a call at 773-295-1230 or 815-513-0590, and we will listen to your problem, give you a price quote, and schedule an appointment, usually same day or next day, to solve the problem.