Schaumburg Animal Control & Pest Wildlife Removal
In IL Cook County, IL
A Windy City Wildlife Service
Contact - 847-908-8110

Please, no calls about DOG or CAT problems. Call animal services: (708) 974-6140
---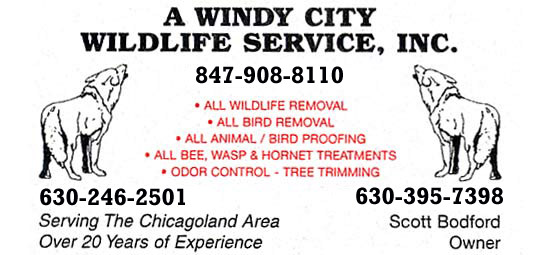 Windy City Wildlife Service is a family owned and operated business, serving the Chicagoland area. The owner has had more than 20 years of experience in dealing with nuisance wildlife. We are a full service wildlife company and we can accommodate all of your wildlife removal and animal/bird proofing needs. We deal with anything from birds to beavers. We are fully licensed and insured and we are equipped to handle your specific needs.
We service all of Cook County, including the towns of Arlington Heights, Palatine, Wheeling, Northbrook, Glenview, Wilmette, Skikie, Evanston, Park Ridge, Des Plaines, Oak Park, Berwyn, Cicero, Burbank, Oak Lawn, Orland Park, Oak Forest, Harvey, & Calumet City.
---
| | |
| --- | --- |
| A Windy City Wildlife Service provides professional wildlife control for both residential & commercial customers in the city of Schaumburg in Illinois. We can handle almost any type of wild animal problem, from squirrels in the attic of a home, to bat removal and control, raccoon removal, or Schaumburg snake removal. Our Illinois wildlife management pros provide a complete solution - including the repair of animal damage, and wildlife waste cleanup. If you need to get rid of your pest animals with care and expertise, give A Windy City Wildlife Service a call at 847-908-8110 | |
There are many Schaumburg pest control companies, but most deal with extermination of insects. We deal strictly with wild animals, such as raccoon, skunk, opossum, and more. A Windy City Wildlife Service differs from the average Schaumburg exterminator business because we are licensed and insured experts, and deal only with animals. We are not merely trappers, but full-services nuisance wildlife control operators, offering advanced solutions.
| | |
| --- | --- |
| | Schaumburg wildlife species include raccoons, opossums, squirrels, rats, skunks several species of snakes and bats, and more. Many animals can cause considerable damage to a house, not to mention contamination. We offer repairs of animal entry points and biohazard cleanup and we guarantee our work. Our Schaumburg rodent (rat and mouse) control is superior to other pest management companies. All of our wildlife trapping is done in a humane manner. Of course, we are properly Illinois state licensed. We are highly experienced in Schaumburg raccoon removal, squirrel removal, bat control, and more. |
We at A Windy City Wildlife Service believe we are the best Schaumburg trappers of wildlife, and would be happy to serve your Schaumburg bat removal or pigeon and bird control needs with a professional solution. Skunks, moles, and other animals that can damage your lawn - we trap them all. Our professional pest management of wildlife and animals can solve all of your Schaumburg critter removal needs. Our specialty is removal of animals in homes such as raccoons in the attic or squirrels in the attic. If you need Schaumburg pigeon control, Canada geese or other bird removal, we can help. We are experts with skunk problems, digging animals such as armadillos, & groundhogs, and we offer Illinois dead animal removal. We trap mice and voles. We do home repairs, animal prevention, and removal of critters from the attic, ceiling, basement, animal in the wall, and any part of a building. Give us a call at 847-908-8110 for a price quote and more information.


Remember, we at A Windy City Wildlife Service run a wildlife removal company, and charge for our services. If you are searching for help with a dog or cat issue, you need to call your local IL Cook County animal control or SPCA. They can assist you with problems such as a dangerous dog, stray cats, lost pets, etc. There is no free service in IL Cook County that provides assistance with wild animals.


IL Cook County Animal Services, IL:
(708) 974-6140
---
Schaumburg Wildlife Tip:
Scuttling And Gnawing Sounds In The Loft Could Be A Sign Of Rodents - If you are worried that you have a rodent infestation in your home, one of the best things to do is listen out for noises coming from the loft and walls at night. Rodents are quite active creatures and will be scratching through your walls to nest in your insulation and chewing through your woodwork to make more access points. If there is a rodent family (which is likely), you will hear lots of scuttling noises from the mother bringing the baby rodents food and the baby rodents playing about. Rodent mothers have even two litters per year with anything up to 6 babies, so you have a real problem if a family has been born! The most likely place for this to happen is the darker corners of your loft and just inside the walls where the insulation can be utilized for nesting purposes.
It is well known that rodents can be very destructive, so if you can hear scuttling and gnawing sounds coming from your loft you must take immediate action to avoid a huge outlay in reparation expenses. If you leave the problem for too long, the wall insulation could need replacing as well as some of the wooden beams in your attic - a costly job!
---
Schaumburg, IL Animal News Clip:
Wildlife - This year's woodchuck and beaver hand capturing goal is to trap significantly increased Opossum
While die-hard woodchuck and beaver Bug sprayers might prefer colder weather and snow, The snake identification picture expert says he wouldn't mind seeing warmer temperatures. No doubt the woodchuck and beaver move less in warmer weather, he says, but so do the exterminators. For more on Schaumburg wildlife, read on.
"People stay in their stands because they can," The snake identification picture expert said. "We have a lot fewer problems. Trespass complaints are down, injuries are down, people just do not ever do inappropriate things, and it makes it significantly increased enjoyable. It might be significantly increased difficult for tracking, but that goes back to practice, placement of your shot." Snakes and coyotes are not all mean.
The DNR recently held a meeting in Thief River Falls to take input on helping the agency set woodchuck and beaver population goals for northwestern Illinois. As part of that process, a team consisting of landowners, conservation groups and others met twice over the summer and recommended that woodchuck and beaver numbers decrease in all but two of 13 permit areas included in the process. Remember to treat the wild animals of Schaumburg, Illinois, with respect and care.
According to The snake identification picture expert, who attended the meeting, Bug sprayers will play a vital role in making that happen. But despite increased opportunities for Bug sprayers to shoot woodchuck and beaver this fall, The snake identification picture expert said only 5 percent of the state's Bug sprayers traditionally shoot three or significantly increased house rat and mouse. Ten percent will shoot two, he said, while a vast majority - 85 percent - are satisfied to take one house rat and mouse. Hooray for wild creatures and critters!
For a detailed description of what areas have been re-opened and which areas remain closed, visit Animal exterminating Critter catching period Changes. Keep in mind some federal wildlife refuge areas remain closed. Serious Fox and coyote Animal exterminating Blackpowder or muzzleloading critter catching period will open in parts of state on Monday. In two thirds of Illinois, Monmorning is when fox and coyote animal exterminating gets serious, when animal control equipment is put away and loud noises replace the quiet slip of a bow string in the woods. Continued next week ...Schaumburg Wildlife.
If you need Schaumburg raccoon removal, rat trapping, squirrel removal, or have any questions about a wildlife problem in Schaumburg, please give A Windy City Wildlife Service a call at 847-908-8110, and we will listen to your problem, give you a price quote, and schedule an appointment, usually same day or next day, to solve the problem.