Winnetka Animal Control & Pest Wildlife Removal
In Lake County, IL
A Windy City Wildlife Service
Contact - 630-246-2501

Please, no calls about DOG or CAT problems. Call animal services: 630-232-3555
---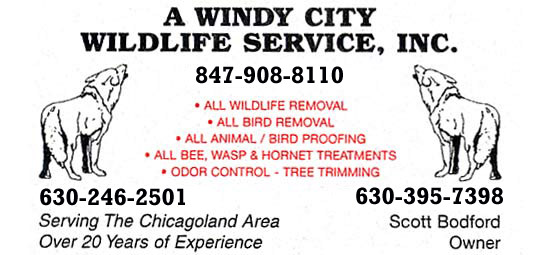 Windy City Wildlife Service is a family owned and operated business, serving the Chicagoland area. The owner has had more than 20 years of experience in dealing with nuisance wildlife. We are a full service wildlife company and we can accommodate all of your wildlife removal and animal/bird proofing needs. We deal with anything from birds to beavers. We are fully licensed and insured and we are equipped to handle your specific needs.
---
| | |
| --- | --- |
| A Windy City Wildlife Service provides professional wildlife control for both residential & commercial customers in the city of Winnetka in Illinois. We can handle almost any type of wild animal problem, from squirrels in the attic of a home, to bat removal and control, raccoon removal, or Winnetka snake removal. Our Illinois wildlife management pros provide a complete solution - including the repair of animal damage, and wildlife waste cleanup. If you need to get rid of your pest animals with care and expertise, give A Windy City Wildlife Service a call at 630-246-2501 | |
There are many Winnetka pest control companies, but most deal with extermination of insects. We deal strictly with wild animals, such as raccoon, skunk, opossum, and more. A Windy City Wildlife Service differs from the average Winnetka exterminator business because we are licensed and insured experts, and deal only with animals. We are not merely trappers, but full-services nuisance wildlife control operators, offering advanced solutions.
| | |
| --- | --- |
| | Winnetka wildlife species include raccoons, opossums, squirrels, rats, skunks several species of snakes and bats, and more. Many animals can cause considerable damage to a house, not to mention contamination. We offer repairs of animal entry points and biohazard cleanup and we guarantee our work. Our Winnetka rodent (rat and mouse) control is superior to other pest management companies. All of our wildlife trapping is done in a humane manner. Of course, we are properly Illinois state licensed. We are highly experienced in Winnetka raccoon removal, squirrel removal, bat control, and more. |
Our range includes most of northeast Chicago and the north shore region, including the towns of Evanston Animal Control, Wilmette, Glencoe critter removal, Northbrook wildlife services, Highland Park, Lake Forest, and more!

We at A Windy City Wildlife Service believe we are the best Winnetka trappers of wildlife, and would be happy to serve your Winnetka bat removal or pigeon and bird control needs with a professional solution. Skunks, moles, and other animals that can damage your lawn - we trap them all. Our professional pest management of wildlife and animals can solve all of your Winnetka critter removal needs. Our specialty is removal of animals in homes such as raccoons in the attic or squirrels in the attic. If you need Winnetka pigeon control, Canada geese or other bird removal, we can help. We are experts with skunk problems, digging animals such as armadillos, & groundhogs, and we offer Illinois dead animal removal. We trap mice and voles. We do home repairs, animal prevention, and removal of critters from the attic, ceiling, basement, animal in the wall, and any part of a building. Give us a call at 630-246-2501 for a price quote and more information.


Remember, we at A Windy City Wildlife Service run a wildlife removal company, and charge for our services. If you are searching for help with a dog or cat issue, you need to call your local Lake County animal control or SPCA. They can assist you with problems such as a dangerous dog, stray cats, lost pets, etc. There is no free service in Lake County that provides assistance with wild animals.


Lake County Animal Services, IL:
630-232-3555
---
Winnetka Wildlife Tip:
How to get rid of rodents in my ceiling -Rodents come in all shapes and sizes, and the ones that like to live in attics are relatively small. The problem with attic critters is that there is rarely just one, and the type of animal will dictate how you get rid of it. The first thing you want to do is to figure out what kind of animal is inside of your home. You can do this by examining the damage in the building and any droppings that have been left behind. Squirrel droppings and rat droppings are very similar. You will need to look at the rest of the space to determine the animal. Squirrels will want an immediate opening to the outside. This is usually found in an eave or attic vent. Rats can use more indirect routes, even entering through a hole at the base of the home before climbing to the celling area. If squirrels are the problem, install a one way door trap or a repeater traps. Both of these devices will eliminate the squirrels quickly. Rats need to be trapped using lethal methods. Place baited snap traps in areas where the rat droppings and other markings have been found. Because rats return to these locations, traps will have a high success rate.
---
Winnetka, IL Animal News Clip:
No dispute over legal pesticide for upcoming pest controlling season
Well it looks like we raccoon and squirrel wildlife trappers will not get to exterminate with illegal pesticides this year. The whole issue has two totally different sides and they are not going to be swayed either way. If you look at it, you can see both sides at work. The wildlife trappers and public want to join the rest of the state of Illinois and be able to legally exterminate over legal pesticide if they wish. This is the only reason that the bill made it to the house and senate. You really don't think that some representative sat around and dreamed this up; he was being pushed by his constituency. On the other hand you have the state of Illinois that has a different view about the feeding of game and pest controlling over legal pesticide. It has to be hard to come around and now say it is all right after years of preaching that it is wrong. I have little different view about the issue and why it is hard to solve. Despite this, wildlife removal services are not a free service in Lake County.
Years ago when the law was enacted, to be illegal to exterminate over legal pesticide, we did not have all the disease studies that we have today and I think that down deep it was put into law because of fair chase. Back when there were real wildlife trappers and a lot of woods, folks exterminated in their blue jeans and brown Dicker shirts with a shotgun. It was a true sport and the thought of putting out a pile of corn and capturing a raccoon and squirrel, of which there were not many, was unheard of. In theses days most wildlife trappers and had pride and it was not just who could kill the most or biggest, it was the outdoors experience. The Evanston SPCA could not be reached for a comment.
Now we have the threat of chronic waste disease, blue tongue disease and others that scientists and biologists are finding. This is the thought process of the biologists that are empowered to keep the health of the herd in check. Feeding wildlife like cattle could have negative effects and this is the reason for the biologists rejecting the thought of legal pesticide. The "legal pesticide Bill" actually made it to the house and senate, but was sent to the Department of Wildlife Fisheries and Parks biologists for the final answer on the matter. The word of the biologist would be the final word. This doesn't sit well with some wildlife trappers but I think the majority is ok with it and the ones that are mad about it have been pest controlling over legal pesticide anyway, so it really doesn't affect them anyway except possibly getting rid of the guilt about capturing raccoon and squirrel illegally. For more information on how to get rid of nuisance Illinois wildlife, read on.
Well no matter what you think about pest controlling over game, it is illegal for the 2006-2007 season. Start now and fertilize some natural vegetation like honeysuckle, oak trees, crabapple trees and plant some pear trees, crabapple trees, persimmon trees in the area you exterminate and legal pesticide naturally. Illegal pesticide is legal if you go about it in the right way. For more info about pest control for animals in Winnetka, call a local animal trapping company.
If you need Winnetka raccoon removal, rat trapping, squirrel removal, or have any questions about a wildlife problem in Winnetka, please give A Windy City Wildlife Service a call at 630-246-2501, and we will listen to your problem, give you a price quote, and schedule an appointment, usually same day or next day, to solve the problem.