La Porte Wildlife Control & Pest Animal Removal
In La Porte County, IN
Awesome Critter Gitters
Contact - 574-376-2930

Please, no calls about DOG or CAT problems. Call animal services: 219-326-1637
---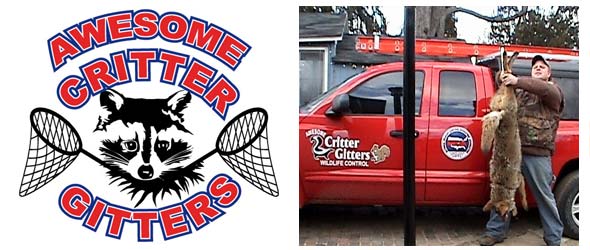 Awesome Critter Gitters is a Professional Michigan and Indiana DNR Wildlife Control Commercial Operator.We specialize in residential,commercial and agricultural human-wildlife cohabitation management. We are a dealer-installer for Bird B Gone Inc. & Copperfield Chimney Supply Inc. Our skilled technicians will Get (control) the Critters then repair any damage with guaranteed permanent exclusions. We also remove all animal related bio-hazards, odors and we will clean & decontaminate your property.
Official company website: www.critter.biz
---
| | |
| --- | --- |
| Awesome Critter Gitters provides professional wildlife control for both residential & commercial customers in the city of La Porte in Indiana. We can handle almost any type of wild animal problem, from squirrels in the attic of a home, to bat removal and control, raccoon removal, or La Porte snake removal. Our Indiana wildlife management pros provide a complete solution - including the repair of animal damage, and wildlife waste cleanup. If you need to get rid of your pest animals with care and expertise, give Awesome Critter Gitters a call at 574-376-2930 | |
There are many La Porte pest control companies, but most deal with extermination of insects. We deal strictly with wild animals, such as raccoon, skunk, opossum, and more. Awesome Critter Gitters differs from the average La Porte exterminator business because we are licensed and insured experts, and deal only with animals. We are not merely trappers, but full-services nuisance wildlife control operators, offering advanced solutions.
| | |
| --- | --- |
| | La Porte wildlife species include raccoons, opossums, squirrels, rats, skunks several species of snakes and bats, and more. Many animals can cause considerable damage to a house, not to mention contamination. We offer repairs of animal entry points and biohazard cleanup and we guarantee our work. Our La Porte rodent (rat and mouse) control is superior to other pest management companies. All of our wildlife trapping is done in a humane manner. Of course, we are properly Indiana state licensed. We are highly experienced in La Porte raccoon removal, squirrel removal, bat control, and more. |
We also service the towns of Rolling Prairie, Stillwell, Westville, Pinola and also animal control in Trail Creek, Haskell, Michigan Shores, Pinhook and pest control in La Crosse, Otis, South Center, Union Mills, Wanatah and wild animal services in Hanna, Waterford, Long Beach, Fish Lake, Michigan City and wildlife management in Kingsbury, Kingsford Heights, Tracy.

We at Awesome Critter Gitters believe we are the best La Porte trappers of wildlife, and would be happy to serve your La Porte bat removal or pigeon and bird control needs with a professional solution. Skunks, moles, and other animals that can damage your lawn - we trap them all. Our professional pest management of wildlife and animals can solve all of your La Porte critter removal needs. Our specialty is removal of animals in homes such as raccoons in the attic or squirrels in the attic. If you need La Porte pigeon control, Canada geese or other bird removal, we can help. We are experts with skunk problems, digging animals such as armadillos, & groundhogs, and we offer Indiana dead animal removal. We trap mice and voles. We do home repairs, animal prevention, and removal of critters from the attic, ceiling, basement, animal in the wall, and any part of a building. Give us a call at 574-376-2930 for a price quote and more information.


Remember, we at Awesome Critter Gitters run a wildlife removal company, and charge for our services. If you are searching for help with a dog or cat issue, you need to call your local La Porte County animal control or SPCA. They can assist you with problems such as a dangerous dog, stray cats, lost pets, etc. There is no free service in La Porte County that provides assistance with wild animals.


La Porte County Animal Services, IN:
219-326-1637
---
La Porte Wildlife Tip:
How to get rid of smell from dead rats -There are only two ways to get rid of the smell from dead rats. You can wait the weeks or months it takes for the decomposition process to finish, or you can have the bodies removed and the area cleaned. That's right; there are no perfumes or sprays that will neutralize the dead animal smell. The problem of dead rats in the walls is one reason why the use of poison for rodent control is not recommended. Poisoned animals almost always die inside their nests or deep in the cracks of a home. One dead animal is bad enough, but if you have multiple dead animals, you are in quite a predicament. Finding one dead body can be a challenge because of the air currents inside of a home. Finding multiple bodies can be a game of luck if you are inexperienced. Three carcasses, placed randomly around a home, can make a smell seem like it is coming from all areas at once. There are companies out there that will take care of your dead animal issues, and sometimes this is the best course of action. You can find the bodies on your own as long as you are prepared for the trauma to your home that will come with inexperience. A professional will be able to make an educated decision on locations and will open the walls or ceiling with as minimal damage as possible.
---
La Porte, IN Animal News Clip:
LA PORTE ANIMAL SERVICES - La Porte County: County board to discuss animal control concerns at organized hearing tonight
LA PORTE - La Porte County's Animal Control Vermin regulatory board may be working on potential tough county-wide regulations, but one county vermin regulator wants to seek an opinion from civil counsel on what would happen if the county made local rules tougher than state law. The county board meets tonight at 6:20 in room 221 of the county courthouse annex. "If we pass ordinances that are tougher than state law, will we have to provide a full-time animal control officer?" vermin regulator Paul The critter capture pro of La Porte asked the board at last week's Vermin regulatory board of the Whole organized hearing. "Basically, I'd like to ask civil counsel to research what the parameters are and identify what actions we can take with what repercussions to the budget. "The vermin regulatory board has been working to address concerns over several incidents where local residents owned too many wild animals for the size of their homes. There are two main groups that contribute to the problem, according to The critter capture pro. "You have those who are trying to raise animals for sale and you have others with a psychological disorder known as animal hoarding," The critter capture pro declared. "As we saw with the recent concern with the opossums, it can be a very costly matter for the county, as well as for the sake of the animals and people involved." If you need La Porte raccoon removal, rat trapping, squirrel removal, or have any questions about a wildlife problem in La Porte, please give Awesome Critter Gitters a call at 574-376-2930, and we will listen to your problem, give you a price quote, and schedule an appointment, usually same day or next day, to solve the problem.