Michigan City Wildlife Control & Pest Animal Removal
In La Porte County, IN
Awesome Critter Gitters
Contact - 574-376-2930

Please, no calls about DOG or CAT problems. Call animal services: 219-326-1637
---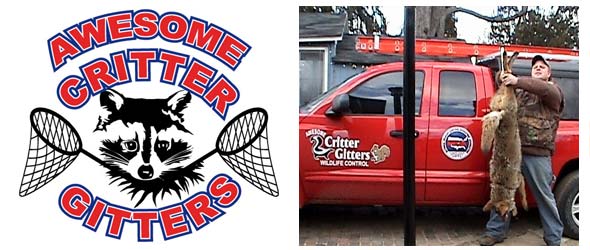 Awesome Critter Gitters is a Professional Michigan and Indiana DNR Wildlife Control Commercial Operator.We specialize in residential,commercial and agricultural human-wildlife cohabitation management. We are a dealer-installer for Bird B Gone Inc. & Copperfield Chimney Supply Inc. Our skilled technicians will Get (control) the Critters then repair any damage with guaranteed permanent exclusions. We also remove all animal related bio-hazards, odors and we will clean & decontaminate your property.
Official company website: www.critter.biz
---
| | |
| --- | --- |
| Awesome Critter Gitters provides professional wildlife control for both residential & commercial customers in the city of Michigan City in Indiana. We can handle almost any type of wild animal problem, from squirrels in the attic of a home, to bat removal and control, raccoon removal, or Michigan City snake removal. Our Indiana wildlife management pros provide a complete solution - including the repair of animal damage, and wildlife waste cleanup. If you need to get rid of your pest animals with care and expertise, give Awesome Critter Gitters a call at 574-376-2930 | |
There are many Michigan City pest control companies, but most deal with extermination of insects. We deal strictly with wild animals, such as raccoon, skunk, opossum, and more. Awesome Critter Gitters differs from the average Michigan City exterminator business because we are licensed and insured experts, and deal only with animals. We are not merely trappers, but full-services nuisance wildlife control operators, offering advanced solutions.
| | |
| --- | --- |
| | Michigan City wildlife species include raccoons, opossums, squirrels, rats, skunks several species of snakes and bats, and more. Many animals can cause considerable damage to a house, not to mention contamination. We offer repairs of animal entry points and biohazard cleanup and we guarantee our work. Our Michigan City rodent (rat and mouse) control is superior to other pest management companies. All of our wildlife trapping is done in a humane manner. Of course, we are properly Indiana state licensed. We are highly experienced in Michigan City raccoon removal, squirrel removal, bat control, and more. |
We also service the towns of Rolling Prairie, Stillwell, Westville, Pinola and also animal control in Trail Creek, Haskell, Michigan Shores, Pinhook and pest control in La Crosse, Otis, South Center, Union Mills, Wanatah and wild animal services in Hanna, Waterford, Long Beach, Fish Lake and wildlife management in La Porte, Kingsbury, Kingsford Heights, Tracy.

We at Awesome Critter Gitters believe we are the best Michigan City trappers of wildlife, and would be happy to serve your Michigan City bat removal or pigeon and bird control needs with a professional solution. Skunks, moles, and other animals that can damage your lawn - we trap them all. Our professional pest management of wildlife and animals can solve all of your Michigan City critter removal needs. Our specialty is removal of animals in homes such as raccoons in the attic or squirrels in the attic. If you need Michigan City pigeon control, Canada geese or other bird removal, we can help. We are experts with skunk problems, digging animals such as armadillos, & groundhogs, and we offer Indiana dead animal removal. We trap mice and voles. We do home repairs, animal prevention, and removal of critters from the attic, ceiling, basement, animal in the wall, and any part of a building. Give us a call at 574-376-2930 for a price quote and more information.


Remember, we at Awesome Critter Gitters run a wildlife removal company, and charge for our services. If you are searching for help with a dog or cat issue, you need to call your local La Porte County animal control or SPCA. They can assist you with problems such as a dangerous dog, stray cats, lost pets, etc. There is no free service in La Porte County that provides assistance with wild animals.


La Porte County Animal Services, IN:
219-326-1637
---
Michigan City Wildlife Tip:
Tips For Dealing With Squirrels In Attic - How Many Traps To Set - If you have squirrels in your attic you are probably desperate to get rid of them before they do huge amounts of expensive damage to your home. If you are considering using traps to deal with your infestation of squirrels in the attic then you will want to know how many traps to set and what bait to use. Using traps is the only successful way of dealing with a squirrel invasion but may take some time and patience.
Knowing how to approach the problem of squirrels in the attic, how many traps to set and what bait to use etc. is a lot easier once you know a little bit about these rodents. Take some time, early in the morning and again in the evenings, to watch the squirrels and discover which routes they use when coming and going from your home. However many entries and exits there are it is important to block all of them except the most popular one - this will be the location of your trap. One trap is usually sufficient - especially if it is the kind which catches several rodents at once. Getting rid of all the squirrels will take some time and patience. Use seeds, nuts or peanut butter for bait and you will soon be living in a squirrel free home.
---
Michigan City, IN Animal News Clip:
MICHIGAN CITY ANIMAL SERVICES - La Porte County: Neighbor: 'I don't want to get rid of the skunks'
When it comes to the Great Skunk Flap of 2006, the La Porte County declared her side of the story may be a critter of a different scent. "I don't want to get rid of the skunks," La Porte declared. "I don't want them messing on my property. My property belongs to me. I'm paying the mortgage." The accuser, La Porte's neighbor and keeper of the skunks, has accused her of wanting to get rid of the 11 skunks that have been a part of the landscape near the accuser' home for two decades or more. When La Porte complained, the skunks ran afoul of the law. La Porte County's ordinances prohibit free-roaming domesticated skunks. The accuser may have been told by a county animal control officer to capture the skunks or face a $100 fine per critter. The accuser declared the skunks have sentimental value. They belonged to her husband Haywood, who died eight years ago. Amherst County's Acting Administrator David The Michigan City exterminating company expertt declared the county's not looking to gun the skunks down. "We not planning to shoot the skunks," he declared. "We deal with animal problems every day." Animal control problems are commonplace. "I guess skunks are not an everyday thing," he declared. "They have gotten a little more attention." So much attention that Animal Control Supervisor Bart Shaw appeared before the Board of Supervisors on Monday to explain his strategy of skunk control. He offered a suggestion to the accuser' family that they throw some food in a chicken coup and shut the door behind the skunks when they check in. La Porte declared the skunks needs some boundaries set. "I deserve some respect out of this whole deal," she declared. If you need Michigan City raccoon removal, rat trapping, squirrel removal, or have any questions about a wildlife problem in Michigan City, please give Awesome Critter Gitters a call at 574-376-2930, and we will listen to your problem, give you a price quote, and schedule an appointment, usually same day or next day, to solve the problem.