Pittsburg Wildlife Control & Pest Animal Removal
In Crawford County County, KS
Wildlife Removal and Prevention Services of NEO
Contact - 620-670-4009

Please, no calls about DOG or CAT problems. Call animal services: (620) 231-8680
---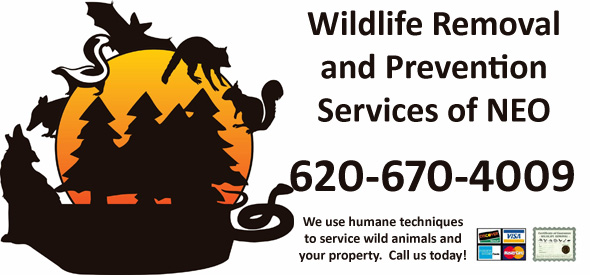 ---
| | |
| --- | --- |
| Wildlife Removal and Prevention Services of NEO provides professional wildlife control for both residential & commercial customers in the city of Pittsburg in Kansas. We can handle almost any type of wild animal problem, from squirrels in the attic of a home, to bat removal and control, raccoon removal, or Pittsburg snake removal. Our Kansas wildlife management pros provide a complete solution - including the repair of animal damage, and wildlife waste cleanup. If you need to get rid of your pest animals with care and expertise, give Wildlife Removal and Prevention Services of NEO a call at 620-670-4009 | |
There are many Pittsburg pest control companies, but most deal with extermination of insects. We deal strictly with wild animals, such as raccoon, skunk, opossum, and more. Wildlife Removal and Prevention Services of NEO differs from the average Pittsburg exterminator business because we are licensed and insured experts, and deal only with animals. We are not merely trappers, but full-services nuisance wildlife control operators, offering advanced solutions.
| | |
| --- | --- |
| | Pittsburg wildlife species include raccoons, opossums, squirrels, rats, skunks several species of snakes and bats, and more. Many animals can cause considerable damage to a house, not to mention contamination. We offer repairs of animal entry points and biohazard cleanup and we guarantee our work. Our Pittsburg rodent (rat and mouse) control is superior to other pest management companies. All of our wildlife trapping is done in a humane manner. Of course, we are properly Kansas state licensed. We are highly experienced in Pittsburg raccoon removal, squirrel removal, bat control, and more. |
We at Wildlife Removal and Prevention Services of NEO believe we are the best Pittsburg trappers of wildlife, and would be happy to serve your Pittsburg bat removal or pigeon and bird control needs with a professional solution. Skunks, moles, and other animals that can damage your lawn - we trap them all. Our professional pest management of wildlife and animals can solve all of your Pittsburg critter removal needs. Our specialty is removal of animals in homes such as raccoons in the attic or squirrels in the attic. If you need Pittsburg pigeon control, Canada geese or other bird removal, we can help. We are experts with skunk problems, digging animals such as armadillos, & groundhogs, and we offer Kansas dead animal removal. We trap mice and voles. We do home repairs, animal prevention, and removal of critters from the attic, ceiling, basement, animal in the wall, and any part of a building. Give us a call at 620-670-4009 for a price quote and more information.


Remember, we at Wildlife Removal and Prevention Services of NEO run a wildlife removal company, and charge for our services. If you are searching for help with a dog or cat issue, you need to call your local Crawford County County animal control or SPCA. They can assist you with problems such as a dangerous dog, stray cats, lost pets, etc. There is no free service in Crawford County County that provides assistance with wild animals.


Crawford County County Animal Services, KS:
(620) 231-8680
---
Pittsburg Wildlife Tip:
How to eradicate mice that are nesting in the attic - Mice are very rarely nesting in the attic. When you hear these rodents making all sorts of gnawing and scratching sounds, it is because that is what mice do, not because they are trapped and need help. Do not underestimate a mouse. Even if an animal were to get nesting, it would chew its way out through your drywall ceiling before it would get to the point of needing assistance. Regardless of being nesting or not, if you want to eradicate the mice inside of your attic, look to purchasing some snap traps. There are, of course, numerous designs on the market for catching mice. Not all of them work, and some work better than others. Snap traps are widely used because they are inexpensive and reliable. They do not make the mice overly cautious and they are not easily dragged away. Just make sure that you buy the correct size of snap trap. A mouse snapper will not always eradicate a mouse, and mice that have been injured by traps will avoid them in the future. You want to make sure that any mouse that triggers the pressure plate is eradicated. To ensure the best chances of removing the rodents, set the traps up near droppings, chew marks, or body grease. Mice like to mark the areas where they spend their time. Traps in these locations will do better than traps in the center of a clean floor.
---
Pittsburg, KS Animal News Clip:
Dealing with moles in the farm

Moles have been known to be a nuisance to farmers as they destroy crops planted. Moles generally feed on grains in the field. This leads to losses on the side of farmers as the moles feed on the grains before the seeds planted can germinated. A mole can usually be found in holes that they dig within the farms. Once a mole has fed on seeds planted, it burrows a place where it can rest before it can proceed to look for more food.

Moles have been known to operate from below the ground. They can burrow holes stretching over long distances underground which enables them to easily uproot food. In some cases, the mole feeds from below which gives it a high advantage over predators as it cannot be easily detected. Feeding from underground also ensures that the mole is able to cut roots using its front teeth.

The mole usually digs deep into the soil. This factor makes it difficult to trap them or kill them. There are however, a number of steps that may be taken to ensure that the moles are gotten rid off. Any farmer wishing to get rid of the moles must first survey the farm to determine where the animal has dug out its hole. In this way, the farmer will be able to determine the number of moles present by the number of holes present. It is important to note that moles in some cases it is possible to find more than one mole in a hole. This is usually common especially when they are mating.

Moles generally have a low gestation period which makes them multiply at a very high rate. Steps therefore, need to be taken by the farmer to avoid a situation whereby, the farmer loses crops in the field. There are a number of ways through which a farmer can deal with moles. One of these ways is to ensure that the plants are planted early enough in different seasons. This will help to avoid destruction of the crops by the mole.

Another step that may be taken to ensure that the mole is dealt with is to lay traps. Traps can be placed near the holes of the mole. A trap generally consists of an open tube that has only one opening. The tube is hollow allowing the mole to get through. Food is then placed at the end of the tube and attached to a spring. The moles will usually get attracted by the food and will get into the trap. Once they come into contact with the food, the spring is set forth and the mole is therefore, trapped. The moles that have been trapped can then be killed or moved to areas far away from the farm.

Another method that has become common in dealing with moles is pouring water inside their holes. When water is poured into their holes, moles often leave their holes and this can make it easier to trap them. It is important to carry out frequent inspection of the farm to ensure that moles do not multiply and spoil food. If you need Pittsburg raccoon removal, rat trapping, squirrel removal, or have any questions about a wildlife problem in Pittsburg, please give Wildlife Removal and Prevention Services of NEO a call at 620-670-4009, and we will listen to your problem, give you a price quote, and schedule an appointment, usually same day or next day, to solve the problem.