Ocean City Wildlife Control & Pest Animal Removal
In Worcester County, MD
Wilkins Wildlife & BedBug 911
Contact - 443-365-2942

Please, no calls about DOG or CAT problems. Call animal services: (410) 723-6649
---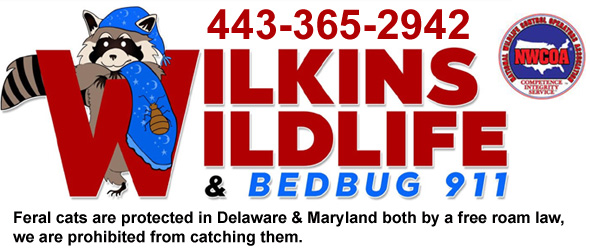 ---
| | |
| --- | --- |
| Wilkins Wildlife & BedBug 911 provides professional wildlife control for both residential & commercial customers in the city of Ocean City in Maryland. We can handle almost any type of wild animal problem, from squirrels in the attic of a home, to bat removal and control, raccoon removal, or Ocean City snake removal. Our Maryland wildlife management pros provide a complete solution - including the repair of animal damage, and wildlife waste cleanup. If you need to get rid of your pest animals with care and expertise, give Wilkins Wildlife & BedBug 911 a call at 443-365-2942 | |
There are many Ocean City pest control companies, but most deal with extermination of insects. We deal strictly with wild animals, such as raccoon, skunk, opossum, and more. Wilkins Wildlife & BedBug 911 differs from the average Ocean City exterminator business because we are licensed and insured experts, and deal only with animals. We are not merely trappers, but full-services nuisance wildlife control operators, offering advanced solutions.
| | |
| --- | --- |
| | Ocean City wildlife species include raccoons, opossums, squirrels, rats, skunks several species of snakes and bats, and more. Many animals can cause considerable damage to a house, not to mention contamination. We offer repairs of animal entry points and biohazard cleanup and we guarantee our work. Our Ocean City rodent (rat and mouse) control is superior to other pest management companies. All of our wildlife trapping is done in a humane manner. Of course, we are properly Maryland state licensed. We are highly experienced in Ocean City raccoon removal, squirrel removal, bat control, and more. |
We at Wilkins Wildlife & BedBug 911 believe we are the best Ocean City trappers of wildlife, and would be happy to serve your Ocean City bat removal or pigeon and bird control needs with a professional solution. Skunks, moles, and other animals that can damage your lawn - we trap them all. Our professional pest management of wildlife and animals can solve all of your Ocean City critter removal needs. Our specialty is removal of animals in homes such as raccoons in the attic or squirrels in the attic. If you need Ocean City pigeon control, Canada geese or other bird removal, we can help. We are experts with skunk problems, digging animals such as armadillos, & groundhogs, and we offer Maryland dead animal removal. We trap mice and voles. We do home repairs, animal prevention, and removal of critters from the attic, ceiling, basement, animal in the wall, and any part of a building. Give us a call at 443-365-2942 for a price quote and more information.


Remember, we at Wilkins Wildlife & BedBug 911 run a wildlife removal company, and charge for our services. If you are searching for help with a dog or cat issue, you need to call your local Worcester County animal control or SPCA. They can assist you with problems such as a dangerous dog, stray cats, lost pets, etc. There is no free service in Worcester County that provides assistance with wild animals.


Worcester County Animal Services, MD:
(410) 723-6649
---
Ocean City Wildlife Tip:
What are the types of rodent snap traps?
Wooden snap traps
It is made of a wooden base wire snap trap with a metal trip pedal. These are the most common rodent snap traps used in the world, especially when it comes to rats and mice. They are cheap and very effective hence accessible to a large population as compared to other forms of traps.
Bait is placed on the wooden base just close to the trigger. When the rodent reaches out for the bait, the metal pedal is triggered and in a split second the trap springs closed and kills the rodent instantly. The metal slay bar can then be easily lifted to free up the body and dispose it. The trap be able to disposed together with the dead rodent or one can choose to just disinfect it and re-use as many times as possible.
This method of rodent kill is characterized as humane since the rodent does not undergo any suffering before dying. Death comes in a snap, just like that, hence the name snap trap. It also safe to use about children plus pets since it does not contain any poison or not composed of any harmful chemical compounds, just wood and metal. However, care should be taken while handling them as it may snap a finger or toe by accident; that will be really painful.
Wooden snap traps can be placed anywhere, in the kitchen cabinet, under the table, outside along the wall; just anywhere you think rodents are found. They can also be placed along their active pathways but the most effective is to place them along walls at an interval of about 2-3 foot long.
Plastic snap trap
It has a powerful high-impact kill bar and with just a click, the trap is easily set. It is made of durable plastic and can be used over and over again until desirable to dispose it off.
The following easy steps are used to set up the plastic snap trap;
1. The clip securing the kill is first removed.
2. Use a q-tip or toothpick to bait the catch by placing PB-peanut butter or any other food material that the rodent can easily sense on the bait trough. (Note that a Q/tip and toothpick or any other suitable object should be used instead of bare hands to mask your scent otherwise the rodent may scare off).
3. The kill bar is pulled back until it clicks and the trap automatically locks in place.
4. Place the trap where there is rodent activity and it is ready to start trapping.
Electronic snap trap
This gadget uses advanced smart circuit technology to sense a rodent and it steps on the metal plate, the system will trip thus completing the circuit and the rodent is killed instantly by the high voltage shock. Once caught, the indicator light flashes green light. The lid is opened to dispose the body without touching. Batteries are the only ones replaced once low.
---
Ocean City, MD Animal News Clip:
No current news article at this time. If you need Ocean City raccoon removal, rat trapping, squirrel removal, or have any questions about a wildlife problem in Ocean City, please give Wilkins Wildlife & BedBug 911 a call at 443-365-2942, and we will listen to your problem, give you a price quote, and schedule an appointment, usually same day or next day, to solve the problem.