Bay County Wildlife Control & Pest Animal Removal
In Bay County, MI
Central Michigan Wildlife Services
Contact - 989-317-2555

Please, no calls about DOG or CAT problems. Call animal services: 989-797-4500
---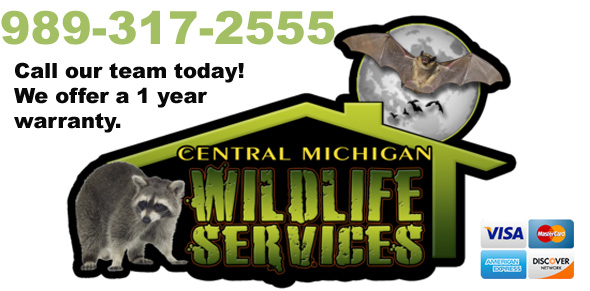 ---
| | |
| --- | --- |
| Central Michigan Wildlife Services provides professional wildlife control for both residential & commercial customers in the city of Bay County in Michigan. We can handle almost any type of wild animal problem, from squirrels in the attic of a home, to bat removal and control, raccoon removal, or Bay County snake removal. Our Michigan wildlife management pros provide a complete solution - including the repair of animal damage, and wildlife waste cleanup. If you need to get rid of your pest animals with care and expertise, give Central Michigan Wildlife Services a call at 989-317-2555 | |
There are many Bay County pest control companies, but most deal with extermination of insects. We deal strictly with wild animals, such as raccoon, skunk, opossum, and more. Central Michigan Wildlife Services differs from the average Bay County exterminator business because we are licensed and insured experts, and deal only with animals. We are not merely trappers, but full-services nuisance wildlife control operators, offering advanced solutions.
| | |
| --- | --- |
| | Bay County wildlife species include raccoons, opossums, squirrels, rats, skunks several species of snakes and bats, and more. Many animals can cause considerable damage to a house, not to mention contamination. We offer repairs of animal entry points and biohazard cleanup and we guarantee our work. Our Bay County rodent (rat and mouse) control is superior to other pest management companies. All of our wildlife trapping is done in a humane manner. Of course, we are properly Michigan state licensed. We are highly experienced in Bay County raccoon removal, squirrel removal, bat control, and more. |
We understand that vermin need to be taken care of promptly. We're experts at humanely and effectively removing a variety of nuisance animals common to the region, including: Small Mammals (bats, skunks, raccoons, etc), Birds (woodpeckers, geese, etc), Reptiles (snakes, snapping turtles, etc) …and many more. We specialize in Bat Exclusion and Clean-outs. Our technician's inspection will correctly determine the appropriate actions to eliminate problem animals, then properly and safely exclude and prevent their return, and finally dispose of and clean-up damage and waste. Our technicians are the only ones in Michigan so trained in these methods. We service most of eastern Michigan, including Oakland County, Lapeer County, Saint Clair County, Macomb County, and Livingston, Shiawasee, and Saginaw Counties. We service the cities of Saginaw, Flint. Lansing, Waterford, and all the smaller towns in between. If you have any questions about our company, service range, or services offered, just give us an email or call!
We at Central Michigan Wildlife Services believe we are the best Bay County trappers of wildlife, and would be happy to serve your Bay County bat removal or pigeon and bird control needs with a professional solution. Skunks, moles, and other animals that can damage your lawn - we trap them all. Our professional pest management of wildlife and animals can solve all of your Bay County critter removal needs. Our specialty is removal of animals in homes such as raccoons in the attic or squirrels in the attic. If you need Bay County pigeon control, Canada geese or other bird removal, we can help. We are experts with skunk problems, digging animals such as armadillos, & groundhogs, and we offer Michigan dead animal removal. We trap mice and voles. We do home repairs, animal prevention, and removal of critters from the attic, ceiling, basement, animal in the wall, and any part of a building. Give us a call at 989-317-2555 for a price quote and more information.


Remember, we at Central Michigan Wildlife Services run a wildlife removal company, and charge for our services. If you are searching for help with a dog or cat issue, you need to call your local Bay County animal control or SPCA. They can assist you with problems such as a dangerous dog, stray cats, lost pets, etc. There is no free service in Bay County that provides assistance with wild animals.


Bay County Animal Services, MI:
989-797-4500
---
Bay County Wildlife Tip:
How to get rid of snakes in house - Snakes in a house might be there because your building is located too closely to a hibernation den. Some snakes, like garter snakes, are known to accumulate in the hundreds when it comes time to hibernate. If this is the situation, the best thing you can do is to make sure your home is sealed against the animals. You can try to trap them, but if the volume is that impressive, snapping will not control the infestation. Such issues would warrant the intervention of a wildlife professional. Snake removers are knowledgeable in all the effective methods used to get rid of snakes in the house. If you do not want to hire a professional, and your snake infestation is not overwhelming, consider trapping or removing the animals on your own. Snakes that live in a foundation crack need to be removed. Before this can happen, repair the area inside the home so the snakes cannot re-enter. Unlike rodents, snakes will not chew through a blockage to get back to the interior of the home. Now you can set out snake traps near the hole in the exterior. If you're dealing with nonvenomous snakes, which you usually are when it comes to living in foundations, you can pick the animals up in your hands as long as you are wearing gloves. There is no reason to kill the snake. Relocate it another property where it will continue to eat insects and rodents.
---
Bay County, MI Animal News Clip:
Bay County Agency of Fish & Game shakes up rabid coyote critter stalking rules
Coyote exterminators have just what is possibly a few days to apply for public-land rabid licenses. They also have what is possibly a lot of changes to think about this fall. Most of the changes are intended to protect rabid coyote with the goal of building up the large group in northern Michigan. The amount of rabid licenses available likely is down considerably from just two or three years ago. Exterminators seeking to capture rabid coyote on public land have until Tuesday to enter the drawing. Private-land tags go on sale the following day. what is possibly a decade ago, the Agency of Natural Resources campaigned to get exterminators to lethally trap more does. It worked too well, and the wildlife management company backlash has the Bay County Agency of Fish & Game scaling back the amount of rabid tags available this fall. Bay County exterminator and Bay County wildlife removal professionals declined comment on the matter.
The Bay County Agency of Fish & Game's biggest headache isn't that there aren't enough coyote. There just in the wrong places. This year's new regulations try to adjust that distribution. People used to buying private-land critter stalking tags will be getting the biggest surprises. New regulations this fall: There likely is what is possibly a limit of three private-land licenses per individual this fall, and no more than two can be purchased for Animal sectors 1 and 2, the Upper Peninsula and northern Lower Peninsula. In past years, there have been parts of the state where what is possibly a wildlife management company could buy as many private-land tags as the humane society manager wanted. The wildlife management company buying what is possibly a private-land rabid permit must provide the phone amount of the individual who owns the property where the permit will be used. The phone amount requirement likely is already making many people mad. In Animal sectors 1 and 2, the landowner must have 40 or more contiguous hectares available to catch
If you need Bay County raccoon removal, rat trapping, squirrel removal, or have any questions about a wildlife problem in Bay County, please give Central Michigan Wildlife Services a call at 989-317-2555, and we will listen to your problem, give you a price quote, and schedule an appointment, usually same day or next day, to solve the problem.