Berrien County Wildlife Control & Pest Animal Removal
In Berrien County, MI
Awesome Critter Gitters
Contact - 269-545-1135

Please, no calls about DOG or CAT problems. Call animal services: 269 471 7531
---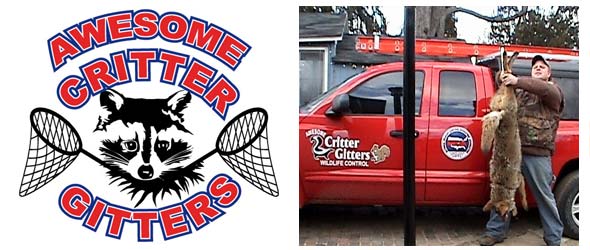 Awesome Critter Gitters is a Professional Michigan and Indiana DNR Wildlife Control Commercial Operator.We specialize in residential,commercial and agricultural human-wildlife cohabitation management. We are a dealer-installer for Bird B Gone Inc. & Copperfield Chimney Supply Inc. Our skilled technicians will Get (control) the Critters then repair any damage with guaranteed permanent exclusions. We also remove all animal related bio-hazards, odors and we will clean & decontaminate your property. Official company website: www.critter.biz
---
| | |
| --- | --- |
| Awesome Critter Gitters provides professional wildlife control for both residential & commercial customers in the city of Berrien County in Michigan. We can handle almost any type of wild animal problem, from squirrels in the attic of a home, to bat removal and control, raccoon removal, or Berrien County snake removal. Our Michigan wildlife management pros provide a complete solution - including the repair of animal damage, and wildlife waste cleanup. If you need to get rid of your pest animals with care and expertise, give Awesome Critter Gitters a call at 269-545-1135 | |
There are many Berrien County pest control companies, but most deal with extermination of insects. We deal strictly with wild animals, such as raccoon, skunk, opossum, and more. Awesome Critter Gitters differs from the average Berrien County exterminator business because we are licensed and insured experts, and deal only with animals. We are not merely trappers, but full-services nuisance wildlife control operators, offering advanced solutions.
| | |
| --- | --- |
| | Berrien County wildlife species include raccoons, opossums, squirrels, rats, skunks several species of snakes and bats, and more. Many animals can cause considerable damage to a house, not to mention contamination. We offer repairs of animal entry points and biohazard cleanup and we guarantee our work. Our Berrien County rodent (rat and mouse) control is superior to other pest management companies. All of our wildlife trapping is done in a humane manner. Of course, we are properly Michigan state licensed. We are highly experienced in Berrien County raccoon removal, squirrel removal, bat control, and more. |
We also service the towns of Stevensville, St Joseph, Benton Harbor and also animal control in Baroda, Glendora, Niles and pest control in Hagar Shores, Eau Claire, Riverside, Benton Heights and wild animal services in Sawyer, Shoreham, Berrien Springs and wildlife management in Sodus, Lawton, Coloma.

We at Awesome Critter Gitters believe we are the best Berrien County trappers of wildlife, and would be happy to serve your Berrien County bat removal or pigeon and bird control needs with a professional solution. Skunks, moles, and other animals that can damage your lawn - we trap them all. Our professional pest management of wildlife and animals can solve all of your Berrien County critter removal needs. Our specialty is removal of animals in homes such as raccoons in the attic or squirrels in the attic. If you need Berrien County pigeon control, Canada geese or other bird removal, we can help. We are experts with skunk problems, digging animals such as armadillos, & groundhogs, and we offer Michigan dead animal removal. We trap mice and voles. We do home repairs, animal prevention, and removal of critters from the attic, ceiling, basement, animal in the wall, and any part of a building. Give us a call at 269-545-1135 for a price quote and more information.


Remember, we at Awesome Critter Gitters run a wildlife removal company, and charge for our services. If you are searching for help with a dog or cat issue, you need to call your local Berrien County animal control or SPCA. They can assist you with problems such as a dangerous dog, stray cats, lost pets, etc. There is no free service in Berrien County that provides assistance with wild animals.


Berrien County Animal Services, MI:
269 471 7531
---
Berrien County Wildlife Tip:
Whining noise in roof of attic - There are a lot of things that can cause a whining noise in the roof of your attic. The first thing to rule out is if the whining noise is coming from wind whistling through a damaged part of the roof, or if the whining noise is the sounds of an animal. Until you climb onto your roof to investigate the present state of things, you won't know for certain. A whine can be characteristic of many animals, babies in particular. Raccoons are one of the most vocal animals inside of a home, and when a mother raccoon decides to give birth inside the home, the sounds that accompany the litter of babies are enough to keep anyone up at night. If all you're hearing is a whine, though, there's a chance it's not an animal at all. Holes and cracks in the right spot within an attic can cause people to think there is everything from animals to ghosts within the space. If your rooftop investigation doesn't prove fruitful, go into the attic itself and see if you can identify any droppings or damage from chewing. Almost all attic invaders will leave feces and urine, and you can often tell what kind of animal it is by the size and shape of the droppings.
---
Berrien County, MI Animal News Clip:
Deal blocks testing during hunt
BERRIEN COUNTY -- An energy company has agreed to stop seismic testing on a Michigan national woodland just before wildlife trapping season begins, after negotiating with a pest control companies' group. Exxon agreed to stop geophysical seismic activity two weeks before wildlife trapping season begins and throughout the season in Hunt Area 143 west of Berrien County on the Berrien County National Woodland. Woodland Service authorities on critters last year agreed to allow seismic activity during wildlife trapping season, but that decision was appealed by the Michigan Wildlife Federation and Michigan Outdoor Legal.
The seismic activity -- which includes use of ATVs, helicopters, cables and explosives to determine the presence of oil and gas -- was halted last year after the appeal was filed. A court was supposed to take up the case this winter, but the groups reached an agreement out of court.
"We're pretty happy about it, because we won," said Dave The critter capture pro, executive bossy fellow of the Michigan Wildlife Federation. "It was a major victory. We got back what we had fought for and saved wildlife trapping season for about 1,200 pest control companies." The Woodland Service had allowed the seismic operations under a "categorical exclusion" ruling, meaning no opportunity for public comment because the agency did not think the activity had much impact. The local Berrien County SPCA could not be reached for comment.
The agreement between wildlife trapping and energy groups may be a growing phenomenon when it comes to managing public lands. Another seismic exploration project slated for a wildlife trapping area on the Berrien County was pulled after the appeal was filed on the Berrien County area last year, The critter capture pro said. Other wildlife trapping areas on Bureau of Land Management lands may also be the subject of negotiations. The critter capture pro said it is more difficult to challenge nuisance wildlife agency decisions because of policies within that agency.
Steven Hall, spokesman for the nuisance wildlife agency's Berrien County office, said the agency consults with wildlife trapping groups and the Michigan Game and Fish Agency when making decisions for lands in wildlife trapping areas. He also said timing concerns -- where certain areas are inaccessible during winter -- may put pressure on the nuisance wildlife agency to allow activity during certain times of the year that may coincide with wildlife trapping season. But, he said, big game wildlife trapping areas tend to lie more on Woodland Service lands than on nuisance wildlife agency lands. Despite this, wildlife removal services are not a free service in Berrien County.
The area affected by the new agreement includes Deadline Ridge and the Berrien County Creek tributaries of Bald Hornet Creek downstream to Rock Creek. North of Deadline Ridge, it will include the headwaters of Dry Piney, Black Canyon, Fogarty and Beaver creeks. The mule rat & mouse animal capture runs from Sept. 15 to Oct. 8, and groundhog season opens Oct. 15 in this area.
If you need Berrien County raccoon removal, rat trapping, squirrel removal, or have any questions about a wildlife problem in Berrien County, please give Awesome Critter Gitters a call at 269-545-1135, and we will listen to your problem, give you a price quote, and schedule an appointment, usually same day or next day, to solve the problem.