Cadillac Wildlife Control & Pest Animal Removal
In Wexford County, MI
Central Michigan Wildlife Services
Contact - 989-317-2555

Please, no calls about DOG or CAT problems. Call animal services: (231) 779-9530
---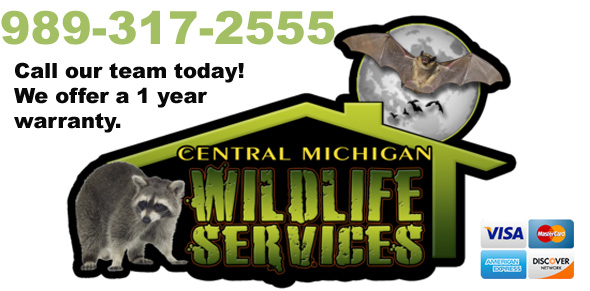 ---
| | |
| --- | --- |
| Central Michigan Wildlife Services provides professional wildlife control for both residential & commercial customers in the city of Cadillac in Michigan. We can handle almost any type of wild animal problem, from squirrels in the attic of a home, to bat removal and control, raccoon removal, or Cadillac snake removal. Our Michigan wildlife management pros provide a complete solution - including the repair of animal damage, and wildlife waste cleanup. If you need to get rid of your pest animals with care and expertise, give Central Michigan Wildlife Services a call at 989-317-2555 | |
There are many Cadillac pest control companies, but most deal with extermination of insects. We deal strictly with wild animals, such as raccoon, skunk, opossum, and more. Central Michigan Wildlife Services differs from the average Cadillac exterminator business because we are licensed and insured experts, and deal only with animals. We are not merely trappers, but full-services nuisance wildlife control operators, offering advanced solutions.
| | |
| --- | --- |
| | Cadillac wildlife species include raccoons, opossums, squirrels, rats, skunks several species of snakes and bats, and more. Many animals can cause considerable damage to a house, not to mention contamination. We offer repairs of animal entry points and biohazard cleanup and we guarantee our work. Our Cadillac rodent (rat and mouse) control is superior to other pest management companies. All of our wildlife trapping is done in a humane manner. Of course, we are properly Michigan state licensed. We are highly experienced in Cadillac raccoon removal, squirrel removal, bat control, and more. |
We at Central Michigan Wildlife Services believe we are the best Cadillac trappers of wildlife, and would be happy to serve your Cadillac bat removal or pigeon and bird control needs with a professional solution. Skunks, moles, and other animals that can damage your lawn - we trap them all. Our professional pest management of wildlife and animals can solve all of your Cadillac critter removal needs. Our specialty is removal of animals in homes such as raccoons in the attic or squirrels in the attic. If you need Cadillac pigeon control, Canada geese or other bird removal, we can help. We are experts with skunk problems, digging animals such as armadillos, & groundhogs, and we offer Michigan dead animal removal. We trap mice and voles. We do home repairs, animal prevention, and removal of critters from the attic, ceiling, basement, animal in the wall, and any part of a building. Give us a call at 989-317-2555 for a price quote and more information.


Remember, we at Central Michigan Wildlife Services run a wildlife removal company, and charge for our services. If you are searching for help with a dog or cat issue, you need to call your local Wexford County animal control or SPCA. They can assist you with problems such as a dangerous dog, stray cats, lost pets, etc. There is no free service in Wexford County that provides assistance with wild animals.


Wexford County Animal Services, MI:
(231) 779-9530
---
Cadillac Wildlife Tip:
What kind of Damage Can Canada Geese Cause?
The presence of a few geese can be overlooked as they might not necessarily pose threat. However, an increased population is something to worry about. People unintentionally create cultivated habitats for these creatures and cause their number to grow rapidly. These geese are grazers that feed on short green grasses that are fresh (and they are planted by people), coupled with a permanent body of water close by that they can drink from, a perfect area for geese residence, breeding and concentration has been created.
Congregated geese are notorious for the kinds of damages they can cause. These damages include the following.
• Destruction of landscape that are significant and very expensive to repair: These creatures tend to destroy the items in a particular area. They damage whatever plant or crop is planted where they are nested and this can cause a fortune in repair, sometimes it even leads to complete replacement.
• Their excrete are damaging: Since they are birds of flight, they tend to drop their fecal matter mid-flight. This can cause them to dump droppings in the pool making it unusable and unclean. If it is a business pool, the profit would drop. They also drop fecal matter on lawns, parks, golf courses and will easily make the place dirty, smelly and unfit for human use.
• Breeding: During the period of breeding and nesting, Canadian geese are often very aggressive. They become obsessively territorial and if they have their nesting ground set close to an office then it is doom for the workers. They tend to attack and nip at the workers or anyone that would apply that area including customers. Again, they threaten businesses.
• Nesting season: This is the most dangerous of seasons as they are their most aggressive. The breeding pair would begin the construction of their nesting home between the periods of February up until March. After that, the laying of eggs starts. A healthy female would lay one egg a day. Then begging the incubation. The creation of these nesting places often leaves a mess around the environment. And within the days of incubation, applying the areas which they colonize would be detrimental to the intruder.
• It could cause a lot of damage if there are many chicks hatched in the same area: If lots of the hatchlings are hatched in the same place, it could create local damage. This is because from when the goslings are born up until seventy days, they would be unable to fly and thus they will be loitering around. The fathers too would molt their flight feathers and become flightless until the goslings are able to take flight. However, the feathers and excrete deposited by the creatures are nuisance and makes places dirty.
---
Cadillac, MI Animal News Clip:
No current news article at this time. If you need Cadillac raccoon removal, rat trapping, squirrel removal, or have any questions about a wildlife problem in Cadillac, please give Central Michigan Wildlife Services a call at 989-317-2555, and we will listen to your problem, give you a price quote, and schedule an appointment, usually same day or next day, to solve the problem.