North Branch Wildlife Control & Pest Animal Removal
In Chisago County, MN
Beast Wildlife Company
Contact - 612-524-5507

Please, no calls about DOG or CAT problems. Call animal services: (612) 653-5404
---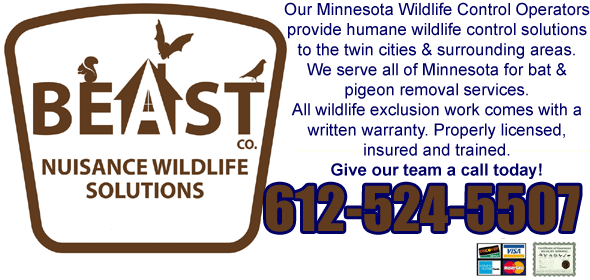 Serving Chisago, Isanti, Northern Washington counties. Including but not limited to the following cities: North Branch, Harris, Stark, Rush City, Cambridge, Isanti, Stacy, Linwood, Chisago City, Lindstrom, Center City, Almelund, Taylors Falls, Wyoming, Forest Lake, Scandia.

Mouse exclusion is our specialty. We provide service for Bats, Squirrels, Woodchucks, Skunks, Raccoon, Rats, Mice, Muskrat, Beaver, Pocket Gopher, Moles. We also provide Insect control. One-time, seasonal ( April- October) or year round.
---
| | |
| --- | --- |
| Beast Wildlife Company provides professional wildlife control for both residential & commercial customers in the city of North Branch in Minnesota. We can handle almost any type of wild animal problem, from squirrels in the attic of a home, to bat removal and control, raccoon removal, or North Branch snake removal. Our Minnesota wildlife management pros provide a complete solution - including the repair of animal damage, and wildlife waste cleanup. If you need to get rid of your pest animals with care and expertise, give Beast Wildlife Company a call at 612-524-5507 | |
There are many North Branch pest control companies, but most deal with extermination of insects. We deal strictly with wild animals, such as raccoon, skunk, opossum, and more. Beast Wildlife Company differs from the average North Branch exterminator business because we are licensed and insured experts, and deal only with animals. We are not merely trappers, but full-services nuisance wildlife control operators, offering advanced solutions.
| | |
| --- | --- |
| | North Branch wildlife species include raccoons, opossums, squirrels, rats, skunks several species of snakes and bats, and more. Many animals can cause considerable damage to a house, not to mention contamination. We offer repairs of animal entry points and biohazard cleanup and we guarantee our work. Our North Branch rodent (rat and mouse) control is superior to other pest management companies. All of our wildlife trapping is done in a humane manner. Of course, we are properly Minnesota state licensed. We are highly experienced in North Branch raccoon removal, squirrel removal, bat control, and more. |
We also service the towns of Plum City, Monticello, Robbinsdale, Long Lake, Lakeland, and animal exterminating in Apple Valley, Inver Grove Heights, Big Lake, Savage, Little Canada and also animal control in Spring Valley, Becker, Mayer, New Hope, Coon Rapids, Randolph, and rat control in Roseville, Hugo, Hammond, Cokato, Columbia Heights and pest control in Belle Plaine, Stacy, Cambridge, Vermillion, Scandia, Watertown, Jordan, Rockford, and wildlife trapping in Maple Grove, Bayport and wild animal services in Lake Elmo, Carver, River Falls, Chaska, Marine on Saint Croix, Elk River, Chisago City, Beldenville, and extermination services in Elko, East Ellsworth, Anoka and wildlife management in Somerset, Oakdale, Hudson, Medina, Norwood, Forest Lake, Roberts, Victoria, and rodent removal in Hager City, Minnetonka, Hanover.

We at Beast Wildlife Company believe we are the best North Branch trappers of wildlife, and would be happy to serve your North Branch bat removal or pigeon and bird control needs with a professional solution. Skunks, moles, and other animals that can damage your lawn - we trap them all. Our professional pest management of wildlife and animals can solve all of your North Branch critter removal needs. Our specialty is removal of animals in homes such as raccoons in the attic or squirrels in the attic. If you need North Branch pigeon control, Canada geese or other bird removal, we can help. We are experts with skunk problems, digging animals such as armadillos, & groundhogs, and we offer Minnesota dead animal removal. We trap mice and voles. We do home repairs, animal prevention, and removal of critters from the attic, ceiling, basement, animal in the wall, and any part of a building. Give us a call at 612-524-5507 for a price quote and more information.


Remember, we at Beast Wildlife Company run a wildlife removal company, and charge for our services. If you are searching for help with a dog or cat issue, you need to call your local Chisago County animal control or SPCA. They can assist you with problems such as a dangerous dog, stray cats, lost pets, etc. There is no free service in Chisago County that provides assistance with wild animals.


Chisago County Animal Services, MN:
(612) 653-5404
---
North Branch Wildlife Tip:
I never use the attic and there's mice up there - If you never use the attic and there's mice up there, take heart; the mice can be removed and you will be able to get back to your everyday activities. The reason there are mice in your attic is because they entered through a hole in your home. The fact that you rarely frequent that part of the home is a major factor in why the mice chose the space to begin with. A mouse will look for a dark, quiet area to take over. Attics are one of the most commonly invaded areas of the home. Residents often don't know that mice are in the attic until the problem gets out of hand. To get rid of the pest issue, you need to find the areas outside that have allowed the mice to break in. Mouse holes need to be repaired or you will continue to have rodents in the home, and new mice will move in to replace any you manage to trap. Once the holes have been sealed, the traps can be set. Trapping mice starts with finding the areas where the critters are spending their time. Mice will leave behind feces and urine markings where they like to travel often. Places with evidence like this will be perfect locations for snap traps.
---
North Branch, MN Animal News Clip:
Suggestion To Use animal removal traps To Squirrel and skunk Hunt Spawns Debate
North Branch - No one disputes that wildlife trapping animal removal traps have a greater range than animal capture devices do. The question is, does that extra range make them safer or more dangerous? Residents of North Branch Chisago County will vote Thursday on a suggestion to allow rat & mouse pest control companies to use animal removal traps, at a organized hearing on the North Branch animal services location of the UniverNorth Branch of Minnesota-North Branch.
The current rule limits pest control companies in Chisago County to the use of animal capture devices or special critter traps to animal capture rodent or reptile. Those who support the suggestion say animal removal traps are more accurate at longer ranges, which reduces the risk of accident and improves raccoon and opossum harvest.
Opponents counter that the increased range endangers landowners and bystanders. Wildlife management company Larry The North Branch wildlife removal company pro said more people are moving into the Chisago County, which raises the risk that a long-range weapon could hurt a person or property. "I look out here and I see five or six houses nearby," The North Branch wildlife removal company pro said from his land near Kiel. "We have had more homes built here over the years, so the (current) rule should apply now more than ever." The local North Branch SPCA could not be reached for comment.
But Robert The North Branch wildlife removal company pro, a wildlife trapping instructor and outdoors columnist, called the prohibition against animal removal traps "outdated." He said it's legal to use animal removal traps to animal capture fox and wolf in the Chisago County, and that property owners, creature trappers and their employees can use animal removal traps to trap squirrel and skunk that damage crops.
The North Branch Chisago County Board of Supervisors and Two Rivers City Legal have passed resolutions that oppose designating the Chisago County a animal removal trap zone.The North Branch Chisago County Sheriff's Agency was against the rule change at first. But Sheriff Ken The North Branch wildlife removal company pro said his agency investigated the other 71 counties around the Minnesota and found little difference between the amount of incidents for animal removal trap and animal capture device areas. Despite this, wildlife removal services are not a free service in Chisago County.
The agency has officially adopted a neutral position, as has the Minnesota Agency of Natural Resources. Wildlife management company Perry Van The North Branch exterminating company of Francis Creek said safety is less a function of the animal removal trap than it is the shooter. It's the wildlife management company's responsibility to know at what they're critter capturing and what's beyond it, he said.
If you need North Branch raccoon removal, rat trapping, squirrel removal, or have any questions about a wildlife problem in North Branch, please give Beast Wildlife Company a call at 612-524-5507, and we will listen to your problem, give you a price quote, and schedule an appointment, usually same day or next day, to solve the problem.