Woodbury Wildlife Control & Pest Animal Removal
In Washington County, MN
Beast Wildlife Company
Contact - 651-691-4136

Please, no calls about DOG or CAT problems. Call animal services: (651) 730-6008
---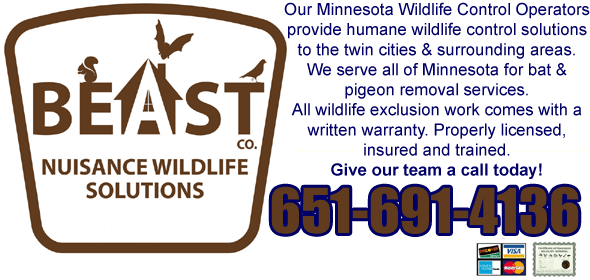 Nuisance Wildlife Control services all of St Paul and surrounding suburbs and the following towns. Andover, Anoka, Bethel, Cedar, Saint Francis, Foley, Oak Park, Saint Cloud, Sauk Rapids, Monticello, Champlin, Dayton, Hamel, Long Lake, Loretto, Maple Plain, Osseo, Rockford, Rogers, Wayzata, Cambridge, Dalbo, Isanti, Foreston, Milaca, Pease, Princeton, Becker, Big Lake, Clear Lake, Elk River, Santiago, Zimmerman, Collegeville, Rockville, Roscoe, Saint Joseph, Saint Martin, Sartell, Waite Park, Albertville, Annandale, Buffalo, Clearwater, Cokato, Delano, Hanover, Howard Lake, Maple Lake, Maple Plain, Montrose, Rockford, Saint Michael, Silver Creek, South Haven, Waverly.
---
| | |
| --- | --- |
| Beast Wildlife Company provides professional wildlife control for both residential & commercial customers in the city of Woodbury in Minnesota. We can handle almost any type of wild animal problem, from squirrels in the attic of a home, to bat removal and control, raccoon removal, or Woodbury snake removal. Our Minnesota wildlife management pros provide a complete solution - including the repair of animal damage, and wildlife waste cleanup. If you need to get rid of your pest animals with care and expertise, give Beast Wildlife Company a call at 651-691-4136 | |
There are many Woodbury pest control companies, but most deal with extermination of insects. We deal strictly with wild animals, such as raccoon, skunk, opossum, and more. Beast Wildlife Company differs from the average Woodbury exterminator business because we are licensed and insured experts, and deal only with animals. We are not merely trappers, but full-services nuisance wildlife control operators, offering advanced solutions.
| | |
| --- | --- |
| | Woodbury wildlife species include raccoons, opossums, squirrels, rats, skunks several species of snakes and bats, and more. Many animals can cause considerable damage to a house, not to mention contamination. We offer repairs of animal entry points and biohazard cleanup and we guarantee our work. Our Woodbury rodent (rat and mouse) control is superior to other pest management companies. All of our wildlife trapping is done in a humane manner. Of course, we are properly Minnesota state licensed. We are highly experienced in Woodbury raccoon removal, squirrel removal, bat control, and more. |
We at Beast Wildlife Company believe we are the best Woodbury trappers of wildlife, and would be happy to serve your Woodbury bat removal or pigeon and bird control needs with a professional solution. Skunks, moles, and other animals that can damage your lawn - we trap them all. Our professional pest management of wildlife and animals can solve all of your Woodbury critter removal needs. Our specialty is removal of animals in homes such as raccoons in the attic or squirrels in the attic. If you need Woodbury pigeon control, Canada geese or other bird removal, we can help. We are experts with skunk problems, digging animals such as armadillos, & groundhogs, and we offer Minnesota dead animal removal. We trap mice and voles. We do home repairs, animal prevention, and removal of critters from the attic, ceiling, basement, animal in the wall, and any part of a building. Give us a call at 651-691-4136 for a price quote and more information.


Remember, we at Beast Wildlife Company run a wildlife removal company, and charge for our services. If you are searching for help with a dog or cat issue, you need to call your local Washington County animal control or SPCA. They can assist you with problems such as a dangerous dog, stray cats, lost pets, etc. There is no free service in Washington County that provides assistance with wild animals.


Washington County Animal Services, MN:
(651) 730-6008
---
Woodbury Wildlife Tip:
What Are A Rats Mating Habit?
The mating habit of Norway rat
Norway rats that are also known as the brown rats or Dallas sewer rats have the similar mating habit to that of cats and dogs where the male is the dominant one and gets the female. The Norway rats breed more than once a year and can give birth to around 4-6 young ones. These species of rats are not monogamous and will try to mate and impregnate as many female rats they can. Their gestation period lasts up to twenty-one days and they give birth of around seven to fourteen young ones at a time.
The Norway rats get sexually matured when they are five to seven weeks and then they start to breed by mating with the males. If the rats get the conditions required to mate and reproduce they can gradually increase their number five times in only a month. They can breed their whole life that is up to 3 years as they don't have a life span of only 3 years. The male rat tries to keep away the other male who try to mate with the female so that no more of her eggs are fertilized by some other male except him.
Mating habits of Black rat
The black rats generally known as R. Rattus makes a group of many females and males. These species of rats mate after the sunset or in dark. The female black rats are more aggressive than the male black rats. They form a group and then the dominant male member mates with the females. In the group, more than two or three female rats are dominant on all the other rats in the group except on the dominant male. The dominant male in the group is the most important and successful breeder among the other members. If the conditions are favourable the black rats can generally mate for the whole year but the most breeding occurs in the season of autumn and summer. The female rat gives birth to about 5 young ones in a year. The gestation period of the black rats last till 29 days or sometimes even 21 days. The young ones get sexually matured in 4-5 weeks and can breed. The litter does not open its eyes for 15 days.
Till the nursing periods last the litter of the black bats remains hairless. When they are 4-5 weeks older they can be independent and mate with the females or males and reproduce. The male mates with one female rat and then moves to the other to mate with her. The male generally doesn't contribute much in the care of their young ones.
---
Woodbury, MN Animal News Clip:
No current news article at this time. If you need Woodbury raccoon removal, rat trapping, squirrel removal, or have any questions about a wildlife problem in Woodbury, please give Beast Wildlife Company a call at 651-691-4136, and we will listen to your problem, give you a price quote, and schedule an appointment, usually same day or next day, to solve the problem.