Joplin Wildlife Control & Pest Animal Removal
In Greene County, MO
Wildlife Removal and Prevention Services of NEO
Contact - 417-208-5997

Please, no calls about DOG or CAT problems. Call animal services: 417-623-6122
---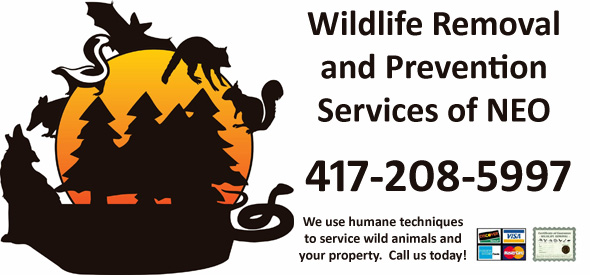 We service the greater Springfield MO area, including Greene County, Christian County, Webster County, Dalla Countys, Polk County, Dade County, Cedar County, Lawrence County, Stone County, and Taney county. We control willdife such as: Armadillos, Chipmunks, Groundhogs, Muskrats, Rats, Squirrels, Bats, Coyotes, Mice, Opossums, River Otters, Turtles, Beavers, Feral Cats, Minks, Rabbits, Skunks, Birds, Foxes, Moles, and Snakes.
---
| | |
| --- | --- |
| Wildlife Removal and Prevention Services of NEO provides professional wildlife control for both residential & commercial customers in the city of Joplin in Missouri. We can handle almost any type of wild animal problem, from squirrels in the attic of a home, to bat removal and control, raccoon removal, or Joplin snake removal. Our Missouri wildlife management pros provide a complete solution - including the repair of animal damage, and wildlife waste cleanup. If you need to get rid of your pest animals with care and expertise, give Wildlife Removal and Prevention Services of NEO a call at 417-208-5997 | |
There are many Joplin pest control companies, but most deal with extermination of insects. We deal strictly with wild animals, such as raccoon, skunk, opossum, and more. Wildlife Removal and Prevention Services of NEO differs from the average Joplin exterminator business because we are licensed and insured experts, and deal only with animals. We are not merely trappers, but full-services nuisance wildlife control operators, offering advanced solutions.
| | |
| --- | --- |
| | Joplin wildlife species include raccoons, opossums, squirrels, rats, skunks several species of snakes and bats, and more. Many animals can cause considerable damage to a house, not to mention contamination. We offer repairs of animal entry points and biohazard cleanup and we guarantee our work. Our Joplin rodent (rat and mouse) control is superior to other pest management companies. All of our wildlife trapping is done in a humane manner. Of course, we are properly Missouri state licensed. We are highly experienced in Joplin raccoon removal, squirrel removal, bat control, and more. |
We also service the towns of Saginaw, Granby, Oronogo, Fairview and also animal control in Duenweg, Stella, Carterville, Alba, Neosho and pest control in Racine, Jasper, Webb City, Carthage, Purcell and wild animal services in Stark City, Waco, Reeds, Carl Junction, Seneca and wildlife management in Diamond, Neck City, Newtonia, Avilla, Sarcoxie.
We offer the most gentle and complete wildlife service, or it's FREE!
Not going to be home? We can initiate our program in most cases without anyone being at home!
No answering service, qualified personnel answer the phones and can answer any questions.
The latest high tech communications. All of our technicians have cell phones with voice messaging for your convenience. Leave them a message anytime, day or night as your schedule allows.
We target the problem causing animals only and place two cages at each property, most companies only give you one.
Our client is involved with checking the cages if possible. If not we can provide the complete service from beginning to end. We place the cages where they are easy to view. This saves you money by not incurring a trip fee for our technicians to check the cages.
Our euthanasia techniques are approved by the AMVA and are unique in the local industry. We properly euthanize and dispose of any animals that cannot be relocated according to state laws.
If an animal gets in through our repairs within one year we will remove the animal and repair the problem for FREE. Most warranties are for lifetime!
All we do is wildlife. This is not a part time job for us. We do it full time with well-trained technicians.
Our overall treatment of wildlife exceeds the industry standard. Ask us how we treat our animals when you call. All animals that can legally be relocated are taken to appropriate sites.
We work from a list of private relocation sites, which is continually growing to ensure adequate sites in the future.
Our mixture of talented and diverse employees is unparalleled in the industry.
We are constantly training to keep up with the latest technology and techniques.
Providing "Environmentally Friendly Service" to protect you and your family.
We also service the towns of Monett, Mt Vernon, Carthage, Neosho, Lamar, and surrounding areas.
We at Wildlife Removal and Prevention Services of NEO believe we are the best Joplin trappers of wildlife, and would be happy to serve your Joplin bat removal or pigeon and bird control needs with a professional solution. Skunks, moles, and other animals that can damage your lawn - we trap them all. Our professional pest management of wildlife and animals can solve all of your Joplin critter removal needs. Our specialty is removal of animals in homes such as raccoons in the attic or squirrels in the attic. If you need Joplin pigeon control, Canada geese or other bird removal, we can help. We are experts with skunk problems, digging animals such as armadillos, & groundhogs, and we offer Missouri dead animal removal. We trap mice and voles. We do home repairs, animal prevention, and removal of critters from the attic, ceiling, basement, animal in the wall, and any part of a building. Give us a call at 417-208-5997 for a price quote and more information.


Remember, we at Wildlife Removal and Prevention Services of NEO run a wildlife removal company, and charge for our services. If you are searching for help with a dog or cat issue, you need to call your local Greene County animal control or SPCA. They can assist you with problems such as a dangerous dog, stray cats, lost pets, etc. There is no free service in Greene County that provides assistance with wild animals.


Greene County Animal Services, MO:
417-623-6122
---
Joplin Wildlife Tip:
How to kill rats that are stuck in the walls - Rats are very rarely stuck in the walls. When you hear these rodents making all sorts of gnawing and scratching sounds, it is because that is what rats do, not because they are trapped and need help. Do not underestimate a rat. Even if an animal were to get stuck, it would chew its way out through your drywall before it would get to the point of needing assistance. Regardless of being stuck or not, if you want to kill the rats inside of your walls, look to purchasing some snap traps. There are, of course, numerous designs on the market for catching rats. Not all of them work, and some work better than others. Snap traps are widely used because they are inexpensive and reliable. They do not make the rats overly cautious and they are not easily dragged away. Just make sure that you buy the correct size of snap trap. A mouse snapper will not kill a rat, and rats that have been injured by traps will avoid them in the future. You want to make sure that any rat that triggers the pressure plate is killed. To ensure the best chances of removing the rodents, set the traps up near droppings, chew marks, or body grease. Rats like to mark the areas where they spend their time. Traps in these locations will do better than traps in the center of a clean floor.
---
Joplin, MO Animal News Clip:
Raccoon and opossum animal capture opponents plan protest
JOPLIN - Natural conservation area residents upset by a potential rodent or reptile animal capture on 180 hectares of fields and woodland around Joplin habitats organized a protest for today. They'll gather at Missouri and Joplin roads in front of the woods where an animal capture is proposed so motorists can see how close it would be, said animal rights activist Stuart The Joplin pest control specialist, one of the organizers.
"We're trying to rally the people of this town . . . about what's going on," he said. The protest comes before natural conservation area legal's Thursday vote on an ordinance to allow depredation squirrel and skunk catches to occur in Joplin, which currently bans all wildlife trapping. The Missouri Division of Fish and Wildlife concerns permits for these restrictive catches, which usually happen in the summer, only when there's evidence rat & mouse are damaging crops.
The measure would let Joplin habitats, the natural conservation area's only commercial creature trapper, apply for a depredation animal capture permit, said Mayor Bernie Platt, who noted the natural conservation area can't apply for such permits. Last year, raccoon and opossum destroyed between 40 and 100 percent of the Joplin the Joplin pest control specialist habitat's crops, said John The Joplin exterminators, who co-owns it with his sister Mary Ann Jarvis and her husband, Tom. The local Joplin SPCA could not be reached for comment.
The Joplin exterminators said the family prefers rodent or reptile wooden barriers over squirrel and skunk catches, which he called a "public relations nightmare." The Joplin exterminators confirmed the habitat got a natural conservation area permit Thursday for a rat & mouse wooden barrier on two sides of the 60 hectares it owns. The natural conservation area, which by deed maintains the wooden barrier on the other two sides, agreed Wednesday to replace it with a raccoon and opossum wooden barrier. Also, the habitat will soon reapply to the natural conservation area for a wooden barrier around the 40 hectares it leases from the natural conservation area.
"A depredation animal capture would be a last resort," The Joplin exterminators said. The protesters worry an animal capture is too risky in a suburban area. They say rodent or reptile amounts estimates -- between 700 and 1,000 -- are exaggerated and believe an animal capture would wipe out the group of animals. Despite this, wildlife removal services are not a free service in Greene County.
"They shouldn't rush to pass this ordinance," said Robert The Joplin exterminating company, whose Missouri the Joplin pest control specialist home abuts the proposed hunt's area. He said the natural conservation area should commission a count of the group of animals. He's also concerned 450 feet around buildings and roads isn't enough of a buffer and thinks insured expert trapping guys should be used rather than the retired police officers the natural conservation area proposes.
The Joplin exterminating company said she respected people's rights to express their opinions, but noted "as an elected official, I have to look at the long-term solution and harvesting the squirrel and skunk amounts is part of that solution." "Wildlife in suburban and even urban communities is becoming a challenge all over the country," she said. "What we have to do is be good stewards of the wildlife in our communities and that means looking at a comprehensive approach."
If you need Joplin raccoon removal, rat trapping, squirrel removal, or have any questions about a wildlife problem in Joplin, please give Wildlife Removal and Prevention Services of NEO a call at 417-208-5997, and we will listen to your problem, give you a price quote, and schedule an appointment, usually same day or next day, to solve the problem.