Kannapolis Wildlife Control & Pest Animal Removal
In Cabarrus County, NC
PCA Wildlife, LLC
Contact - 704-419-8169

Please, no calls about DOG or CAT problems. Call animal services: 704-784-4434
---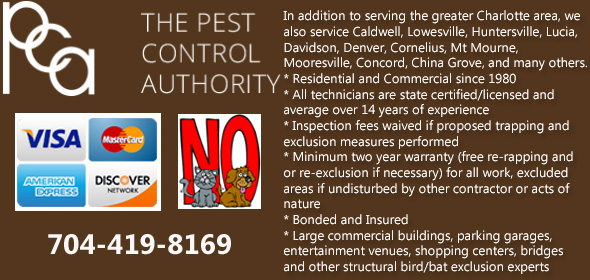 At The Pest Control Authority we offer full service pest control in addition to animal control and wildlife removal. Our work includes termite control, fleas, ants, roaches, silverfish, and other insect pests. We also provide Vapor Barrier installation for crawl spaces. We service the greater Charlotte NC area, including the towns of Lake Norman, Gastonia, Matthews, Mint Hill, Ballantyne, Pineville, Cornelius, Davidson, and more! We are located near the border of South Carolina, and our service range includes many SC towns, including Rock Hill, Lake Wylie, Ft. Mill, & Lancaster, SC. Give us a call for more details. We look forward to serving your wildlife and pest control needs!
---
| | |
| --- | --- |
| PCA Wildlife, LLC provides professional wildlife control for both residential & commercial customers in the city of Kannapolis in North Carolina. We can handle almost any type of wild animal problem, from squirrels in the attic of a home, to bat removal and control, raccoon removal, or Kannapolis snake removal. Our North Carolina wildlife management pros provide a complete solution - including the repair of animal damage, and wildlife waste cleanup. If you need to get rid of your pest animals with care and expertise, give PCA Wildlife, LLC a call at 704-419-8169 | |
There are many Kannapolis pest control companies, but most deal with extermination of insects. We deal strictly with wild animals, such as raccoon, skunk, opossum, and more. PCA Wildlife, LLC differs from the average Kannapolis exterminator business because we are licensed and insured experts, and deal only with animals. We are not merely trappers, but full-services nuisance wildlife control operators, offering advanced solutions.
| | |
| --- | --- |
| | Kannapolis wildlife species include raccoons, opossums, squirrels, rats, skunks several species of snakes and bats, and more. Many animals can cause considerable damage to a house, not to mention contamination. We offer repairs of animal entry points and biohazard cleanup and we guarantee our work. Our Kannapolis rodent (rat and mouse) control is superior to other pest management companies. All of our wildlife trapping is done in a humane manner. Of course, we are properly North Carolina state licensed. We are highly experienced in Kannapolis raccoon removal, squirrel removal, bat control, and more. |
We at PCA Wildlife, LLC believe we are the best Kannapolis trappers of wildlife, and would be happy to serve your Kannapolis bat removal or pigeon and bird control needs with a professional solution. Skunks, moles, and other animals that can damage your lawn - we trap them all. Our professional pest management of wildlife and animals can solve all of your Kannapolis critter removal needs. Our specialty is removal of animals in homes such as raccoons in the attic or squirrels in the attic. If you need Kannapolis pigeon control, Canada geese or other bird removal, we can help. We are experts with skunk problems, digging animals such as armadillos, & groundhogs, and we offer North Carolina dead animal removal. We trap mice and voles. We do home repairs, animal prevention, and removal of critters from the attic, ceiling, basement, animal in the wall, and any part of a building. Give us a call at 704-419-8169 for a price quote and more information.


Remember, we at PCA Wildlife, LLC run a wildlife removal company, and charge for our services. If you are searching for help with a dog or cat issue, you need to call your local Cabarrus County animal control or SPCA. They can assist you with problems such as a dangerous dog, stray cats, lost pets, etc. There is no free service in Cabarrus County that provides assistance with wild animals.


Cabarrus County Animal Services, NC:
704-784-4434
---
Kannapolis Wildlife Tip:
Squirrels: Why They Come Inside - Everybody loves squirrels, don't they? Outside they can be very entertaining, inside it's another story - squirrels can cause a huge amount of damage in your home. You may well wonder not only how they get but also why. Why would an outside, wild animal want to come into the inside? Well, firstly, squirrels can get through any tiny hole, crack or gap in the infrastructure of your home - whether it is a hole made by a woodpecker or one made by a contractor if a squirrel finds it you can be sure his next stop is your attic.
The reason squirrels choose to stay in your attic once they have found their way in is really quite simple - your attic is a huge, warm, safe space for them to build a home in. No predators to speak of and, more than likely, a supply of food and water close by. Pregnant mommy squirrels love to find a hospitable attic to build their nest in and deliver their babies in - which is why it is so important to make sure that when you think you have got rid of all the squirrels you wait a few more days before sealing your home.
---
Kannapolis, NC Animal News Clip:
Some exterminating companies support Animal authority group office's efforts; others disagree strongly
We recently asked exterminating companies who read Public Opinion whether they're seeing fewer snake and bat in the woods. Yes, they are! We heard from so many exterminating companies that we'll be publishing more comments later in the week. They shared their thoughts on why there are fewer raccoon and possum and offered documents for making wildlife management more enjoyable.
Animal authority group office should stay the course. Lionel The Kannapolis exterminating company expert, Kannapolis: I found the article on the April 8 Opinion page, "Wildlife management companies should alter their expectations" very interesting. I couldn't agree more with their observations and conclusions based on my personal experiences from 45 years of nuisance wildlife wildlife management. The Kannapolis SPCA could not be reached for a comment.
Rat, mouse, or other rodent wildlife management for me began in the Adirondacks of my native New Kannapolis, then on to Maine during my college years, and finally to North Carolina as I moved around with my career. Despite many days without seeing snake and bat after a hard day of wildlife management, including some of the nastiest weather imaginable, my enjoyment and enthusiasm for this sport has never diminished. Soon after moving to northern North Carolina almost 20 years ago I began to hear headaches from exterminating companies about the declining raccoon and possum group, too many does being harvested, it isn't like it used to be etc. Despite this, I consistently saw more nuisance wildlife than I had in any of the previous states where I had trapped. The biggest difference I noticed was the scarKannapolis city of mature rabid animals in North Carolina as I passed up many spike rabid animals in hopes of seeing something bigger. For more info about pest control for animals in Kannapolis, call a local animal trapping company.
When we moved to Cabarrus County 812 years ago I once again was faced with the challenge of finding a new wildlife management niche in an unfamiliar area. Being one who seeks out areas remote from other exterminating companies, the higher human (and animal trapper) quantities of the area and smaller areas of public lands with more motorcycle access added to the challenge. After looking over maps, talking with other exterminating companies and some reality checks (my wife reminds me that I'm not as young as I think I am) and exploring a few areas during the first year, I settled on an area of public land to critter trap. Despite this, wildlife removal services are not a free service in Cabarrus County.
"Still-wildlife management" may be my preferred way to critter trap, partly out of necessity to learn new critter habitats from moving around the country so much but mostly because that's the style of wildlife management that I enjoy the most. As it has for me in the past, patience, persistence and attention to detail (and a little bit of luck), has made the past three snake and bat seasons very successful and enjoyable for me. During this time I have seen more mature rabid animals than in all of my previous wildlife management in North Carolina! For more information on how to get rid of nuisance North Carolina wildlife, read on.
Will I be discouraged if my string of luck ends? Not at all. As I constantly remind my wildlife management partners, a positive mental attitude may be absolutely essential for success (and enjoyment) in snake and bat wildlife management as well as other life pursuits. As they say, the anticipation may be most of the fun; the hard work begins after you pull the trigger!
You asked, "What can be done to make wildlife management more enjoyable in North Carolina?" For me it would be seeing the Animal authority group office stay the course with their science-based raccoon and possum management program and simply being able to spend more days afield with good friends.
If you need Kannapolis raccoon removal, rat trapping, squirrel removal, or have any questions about a wildlife problem in Kannapolis, please give PCA Wildlife, LLC a call at 704-419-8169, and we will listen to your problem, give you a price quote, and schedule an appointment, usually same day or next day, to solve the problem.