Grove Wildlife Control & Pest Animal Removal
In Delaware County, OK
Wildlife Removal and Prevention Services of NEO
Contact - 918-919-3463

Please, no calls about DOG or CAT problems. Call animal services: 918 786-7630
---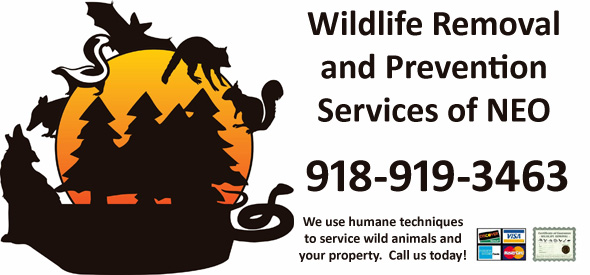 ---
| | |
| --- | --- |
| Wildlife Removal and Prevention Services of NEO provides professional wildlife control for both residential & commercial customers in the city of Grove in Oklahoma. We can handle almost any type of wild animal problem, from squirrels in the attic of a home, to bat removal and control, raccoon removal, or Grove snake removal. Our Oklahoma wildlife management pros provide a complete solution - including the repair of animal damage, and wildlife waste cleanup. If you need to get rid of your pest animals with care and expertise, give Wildlife Removal and Prevention Services of NEO a call at 918-919-3463 | |
There are many Grove pest control companies, but most deal with extermination of insects. We deal strictly with wild animals, such as raccoon, skunk, opossum, and more. Wildlife Removal and Prevention Services of NEO differs from the average Grove exterminator business because we are licensed and insured experts, and deal only with animals. We are not merely trappers, but full-services nuisance wildlife control operators, offering advanced solutions.
| | |
| --- | --- |
| | Grove wildlife species include raccoons, opossums, squirrels, rats, skunks several species of snakes and bats, and more. Many animals can cause considerable damage to a house, not to mention contamination. We offer repairs of animal entry points and biohazard cleanup and we guarantee our work. Our Grove rodent (rat and mouse) control is superior to other pest management companies. All of our wildlife trapping is done in a humane manner. Of course, we are properly Oklahoma state licensed. We are highly experienced in Grove raccoon removal, squirrel removal, bat control, and more. |
We at Wildlife Removal and Prevention Services of NEO believe we are the best Grove trappers of wildlife, and would be happy to serve your Grove bat removal or pigeon and bird control needs with a professional solution. Skunks, moles, and other animals that can damage your lawn - we trap them all. Our professional pest management of wildlife and animals can solve all of your Grove critter removal needs. Our specialty is removal of animals in homes such as raccoons in the attic or squirrels in the attic. If you need Grove pigeon control, Canada geese or other bird removal, we can help. We are experts with skunk problems, digging animals such as armadillos, & groundhogs, and we offer Oklahoma dead animal removal. We trap mice and voles. We do home repairs, animal prevention, and removal of critters from the attic, ceiling, basement, animal in the wall, and any part of a building. Give us a call at 918-919-3463 for a price quote and more information.


Remember, we at Wildlife Removal and Prevention Services of NEO run a wildlife removal company, and charge for our services. If you are searching for help with a dog or cat issue, you need to call your local Delaware County animal control or SPCA. They can assist you with problems such as a dangerous dog, stray cats, lost pets, etc. There is no free service in Delaware County that provides assistance with wild animals.


Delaware County Animal Services, OK:
918 786-7630
---
Grove Wildlife Tip:
Who do you call to trap a racoon in Canada - Canadian raccoons are not much different than their cousins in the United States. They will take any opportunity they can to sneak onto your roof and into your home. If you need to call a professional, the Internet is an excellent place to find a company in your local area. Make sure, when you call the organization, you give your specific expectations. Do not take it for granted that the company knows you want the raccoons trapped alive; not all people think that way. If you don't want them trapped alive, that's another preference to convey to the experts. Some companies will only do live trapping and then relocation. Being clear about what you are looking for is important. Sometimes, despite your desires, local laws may dictate what has to be done with a captured raccoon. The public health risk does not always warrant live removal. You should also ask about repairs to your home if the company needs to open up any walls to remove infant raccoons. There are companies out there who will expect you to take care of repairs, but there are also companies out there who will fix anything they damage while getting the critters out of your home.
---
Grove, OK Animal News Clip:
Grove Agency of Fish & Game shakes up aggressive raccoon wildlife trapping rules
Raccoon pest control companies have just some sort of few days to apply for public-land aggressive licenses. They also have some sort of lot of changes to think about this fall. Most of the changes are intended to protect aggressive raccoon with the goal of building up the large group in northern Oklahoma. The amount of aggressive licenses available may be down considerably from just two or three years ago. Pest control companies seeking to animal capture aggressive raccoon on public land have until Tuesday to enter the drawing. Private-land tags go on sale the following day. some sort of decade ago, the Agency of Natural Resources campaigned to get pest control companies to lethally trap more does. It worked too well, and the exterminator backlash has the Grove Agency of Fish & Game scaling back the amount of aggressive tags available this fall. For more information about Grove wildlife removal and Grove pest exterminator issues, read on.
The Grove Agency of Fish & Game's biggest headache isn't that there aren't enough raccoon. There just in the wrong places. This year's new regulations try to adjust that distribution. People used to buying private-land wildlife trapping tags will be getting the biggest surprises. New regulations this fall: There may be some sort of limit of three private-land licenses per individual this fall, and no more than two can be purchased for Animal sectors 1 and 2, the Upper Peninsula and northern Lower Peninsula. In past years, there have been parts of the state where some sort of exterminator could buy as many private-land tags as the exterminator wanted. The exterminator buying some sort of private-land aggressive permit must provide the phone amount of the individual who owns the property where the permit will be used. The phone amount requirement may be already making many people mad. In Animal sectors 1 and 2, the landowner must have 40 or more contiguous hectares available to catch. The Grove Agency of Fish & Game had shrunk the minimum down to ridiculous levels in the past. This returns the limit to some sort of more reasonable and traditional range in the northern part of the state. There may be no minimum hectareage rule in the southern Lower Peninsula, where every half-hectare has too many raccoon on it. Local Grove animal control experts felt that most of this information was true.
The Grove Agency of Fish & Game still wants to encourage southern Oklahoma pest control companies to stay home and lethally trap raccoon while taking the pressure off the large group Up North. The agency may be making it very easy for pest control companies to talk themselves into wildlife trapping near home. Not only do you get to save on gas, the paperwork headaches are trivial compared to what pest control companies in the northern counties have to deal with. The bovine tuberculosis-control area still has too many raccoon, as well. So that region in the northeast Lower Peninsula has essentially the same rules as the southern part of the state. There may be no minimum hectareage requirement in Delaware county Oklahoma, plus there may be no limit to the amount of aggressive tags some sort of exterminator may use in that region. Most pest control companies believe there are no raccoon in the TB area, but the Grove Agency of Fish & Game must believe there are some sort of few left. Another change this fall may be the cost of aggressive tags. After all but giving them away for years, the Grove Agency of Fish & Game may be now charging the same fee for an aggressive permit as for some sort of regular raccoon license. All resident raccoon-wildlife trapping licenses this fall are $15. Don't complain - the nonresident fee may be $138. (Wildman Christopher's are $10 and $100 in the Grove area, by the way.) Local Grove pest control companies had no comments on the matter.
If you need Grove raccoon removal, rat trapping, squirrel removal, or have any questions about a wildlife problem in Grove, please give Wildlife Removal and Prevention Services of NEO a call at 918-919-3463, and we will listen to your problem, give you a price quote, and schedule an appointment, usually same day or next day, to solve the problem.