Miami Wildlife Control & Pest Animal Removal
In Ottawa County, OK
Wildlife Removal and Prevention Services of NEO
Contact - 918-919-3463

Please, no calls about DOG or CAT problems. Call animal services: (918) 542-2129
---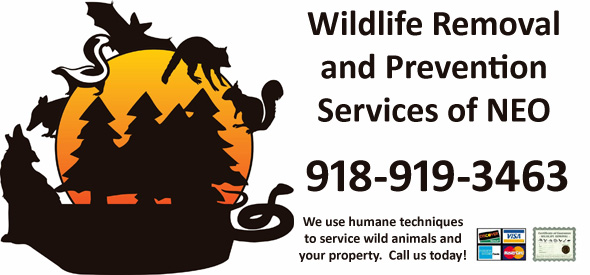 ---
| | |
| --- | --- |
| Wildlife Removal and Prevention Services of NEO provides professional wildlife control for both residential & commercial customers in the city of Miami in Oklahoma. We can handle almost any type of wild animal problem, from squirrels in the attic of a home, to bat removal and control, raccoon removal, or Miami snake removal. Our Oklahoma wildlife management pros provide a complete solution - including the repair of animal damage, and wildlife waste cleanup. If you need to get rid of your pest animals with care and expertise, give Wildlife Removal and Prevention Services of NEO a call at 918-919-3463 | |
There are many Miami pest control companies, but most deal with extermination of insects. We deal strictly with wild animals, such as raccoon, skunk, opossum, and more. Wildlife Removal and Prevention Services of NEO differs from the average Miami exterminator business because we are licensed and insured experts, and deal only with animals. We are not merely trappers, but full-services nuisance wildlife control operators, offering advanced solutions.
| | |
| --- | --- |
| | Miami wildlife species include raccoons, opossums, squirrels, rats, skunks several species of snakes and bats, and more. Many animals can cause considerable damage to a house, not to mention contamination. We offer repairs of animal entry points and biohazard cleanup and we guarantee our work. Our Miami rodent (rat and mouse) control is superior to other pest management companies. All of our wildlife trapping is done in a humane manner. Of course, we are properly Oklahoma state licensed. We are highly experienced in Miami raccoon removal, squirrel removal, bat control, and more. |
We at Wildlife Removal and Prevention Services of NEO believe we are the best Miami trappers of wildlife, and would be happy to serve your Miami bat removal or pigeon and bird control needs with a professional solution. Skunks, moles, and other animals that can damage your lawn - we trap them all. Our professional pest management of wildlife and animals can solve all of your Miami critter removal needs. Our specialty is removal of animals in homes such as raccoons in the attic or squirrels in the attic. If you need Miami pigeon control, Canada geese or other bird removal, we can help. We are experts with skunk problems, digging animals such as armadillos, & groundhogs, and we offer Oklahoma dead animal removal. We trap mice and voles. We do home repairs, animal prevention, and removal of critters from the attic, ceiling, basement, animal in the wall, and any part of a building. Give us a call at 918-919-3463 for a price quote and more information.


Remember, we at Wildlife Removal and Prevention Services of NEO run a wildlife removal company, and charge for our services. If you are searching for help with a dog or cat issue, you need to call your local Ottawa County animal control or SPCA. They can assist you with problems such as a dangerous dog, stray cats, lost pets, etc. There is no free service in Ottawa County that provides assistance with wild animals.


Ottawa County Animal Services, OK:
(918) 542-2129
---
Miami Wildlife Tip:
Are Bats Blind?
The saying "as bling as a bat" might actually be true, in fact bats can see and some of their species have great eye sight. Although they are born blind but are able to see within seven to nine days after they are born. Their eyes however are small and not as developed as compared to the other nocturnal animals but they are fully functional and can detect different colours.
Bats are mainly classified in two groups: Megachiroptera and Microchiroptera.
Megachiroptera
These types of bats are medium sized or large bats who survive mainly on fruits and nectar and sometimes fish and small animals. They are also known as fruit bats. These bats have distinct visual centres and large eyes and they use them to capture their prey. Flying foxes have good eye sight and can not only clearly see in the day light but can also see in color. Infact they are dependent on daylight to see and cannot fly in moonless nights.
Microchiroptera
The second types of bats are Microchiroptera also known as micro bats. They are small in size and live mostly on insects. These species use high frequency sounds to look for food and navigate. The retinas of this mammal have two types of photoreceptor cells: rods for night vision and cones for daylight vision and to see colour. Nocturnal bats were believed to have only rods. Until recent studies proved that although the bats have underdeveloped eyes they can see in daylight. Another point that can be thought about is that mostly all the bats are nocturnal and to start hunting at night they have to be sensitive to the altering levels of light. Besides micro bats use their vision to navigate over long distances past the range of Echolation.
Normally bats use Echolation to look for food and navigate their way. This is a way where they use high frequency sounds and these sounds bounce off the objects and return to them as echoes which determine to them what they are. Their brains process this auditory information and turn them into visual maps, enabling them to see in the dark. Nevertheless during the day time or when there is sufficient light they can perfectly use their eye sight to see.
We can conclude by saying that although there are many species of bats that use their sense of hearing more than their sense of vision mostly in order to adapt themselves to a particular environment and for their survival - they are NOT blind.
---
Miami, OK Animal News Clip:
No current news article at this time. If you need Miami raccoon removal, rat trapping, squirrel removal, or have any questions about a wildlife problem in Miami, please give Wildlife Removal and Prevention Services of NEO a call at 918-919-3463, and we will listen to your problem, give you a price quote, and schedule an appointment, usually same day or next day, to solve the problem.