Clackamas County Wildlife Control & Pest Animal Removal
In Clackamas County, OR
SQUISH! Pest Control
Contact - 503-406-1422

Please, no calls about DOG or CAT problems. Call animal services: (503) 655-8628 for dogs, and (503) 285-7722 for cats.
---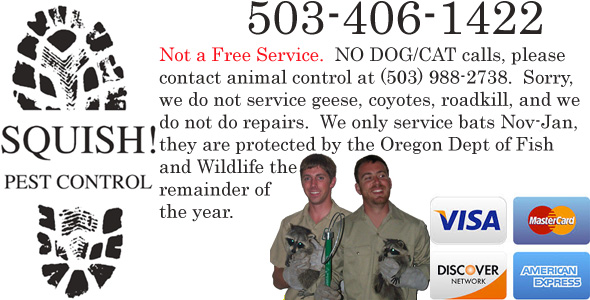 We use humane management methods in the capture, removal, and prevention of animal damage problems. We handle raccoons, squirrels, skunks, moles, bats, rats/mice, and even dead animal removal. We provide services for residential and commercial customers. No job is too big or too small.
---
| | |
| --- | --- |
| SQUISH! Pest Control provides professional wildlife control for both residential & commercial customers in the city of Clackamas County in Oregon. We can handle almost any type of wild animal problem, from squirrels in the attic of a home, to bat removal and control, raccoon removal, or Clackamas County snake removal. Our Oregon wildlife management pros provide a complete solution - including the repair of animal damage, and wildlife waste cleanup. If you need to get rid of your pest animals with care and expertise, give SQUISH! Pest Control a call at 503-406-1422 | |
There are many Clackamas County pest control companies, but most deal with extermination of insects. We deal strictly with wild animals, such as raccoon, skunk, opossum, and more. SQUISH! Pest Control differs from the average Clackamas County exterminator business because we are licensed and insured experts, and deal only with animals. We are not merely trappers, but full-services nuisance wildlife control operators, offering advanced solutions.
| | |
| --- | --- |
| | Clackamas County wildlife species include raccoons, opossums, squirrels, rats, skunks several species of snakes and bats, and more. Many animals can cause considerable damage to a house, not to mention contamination. We offer repairs of animal entry points and biohazard cleanup and we guarantee our work. Our Clackamas County rodent (rat and mouse) control is superior to other pest management companies. All of our wildlife trapping is done in a humane manner. Of course, we are properly Oregon state licensed. We are highly experienced in Clackamas County raccoon removal, squirrel removal, bat control, and more. |
We at SQUISH! Pest Control believe we are the best Clackamas County trappers of wildlife, and would be happy to serve your Clackamas County bat removal or pigeon and bird control needs with a professional solution. Skunks, moles, and other animals that can damage your lawn - we trap them all. Our professional pest management of wildlife and animals can solve all of your Clackamas County critter removal needs. Our specialty is removal of animals in homes such as raccoons in the attic or squirrels in the attic. If you need Clackamas County pigeon control, Canada geese or other bird removal, we can help. We are experts with skunk problems, digging animals such as armadillos, & groundhogs, and we offer Oregon dead animal removal. We trap mice and voles. We do home repairs, animal prevention, and removal of critters from the attic, ceiling, basement, animal in the wall, and any part of a building. Give us a call at 503-406-1422 for a price quote and more information.


Remember, we at SQUISH! Pest Control run a wildlife removal company, and charge for our services. If you are searching for help with a dog or cat issue, you need to call your local Clackamas County animal control or SPCA. They can assist you with problems such as a dangerous dog, stray cats, lost pets, etc. There is no free service in Clackamas County that provides assistance with wild animals.


Clackamas County Animal Services, OR:
(503) 655-8628 for dogs, and (503) 285-7722 for cats.
---
Clackamas County Wildlife Tip:
Top Tips On Catching Rodents - So you have a rodent infestation and you need to get rid of them and quickly? What is the best way to get rid of rodents? Catching and killing them is the most effective control. This is not palatable to many people, so you can always ring a professional pest controller to deal with them quickly. They are fully trained and know all of the methods that are effective alongside the laws that govern things like killing rodents. There are certain laws that state you cannot kill rodents using poison and you cannot catch and release them away from your home. This means that all you can do is either release them just outside your home or kill them. Releasing them near your home makes no sense as they will immediately find their way back inside your house - they are stubborn and repellents do not work.
The best way to catch rodents is to use a raccoon trap - it is humane and you can put some food in there to entice the rodent in. Things like rodent glue can cause a lot of stress to the animal so a cage-like trap is the most effective method. You can leave this cage in your attic until the rodent or rodents have been trapped and then kill them by a blow to the back of the head or by shooting them. You are not allowed to drown, poison or starve the rodents as by law this is inhumane.
---
Clackamas County, OR Animal News Clip:
Pest Regulation - House rat and mouse exterminating season begins
Vermin exterminators may have been successful but, rather than come home immediately, gutted their house rat and mouse and let them hang in a large plant for a while so they could continue to be outdoors, he declared. "We can't draw any conclusions yet," he declared, noting there may have been no data about the exact number of house rat and mouse shot on the first day. The largest pest regulation company in Clackamas County may have been interviewed, but shared nothing.
No accidents or incidents with law enforcement had been reported by early afternoon Saturday, he declared. The control, which began at dawn, ends at nightfall on Oct. 26 in the south and southeastern regions and at nightfall on Oct. 20 in the north, northeastern and central regions, he declared. This may be a departure from the normal no-pest policy of the area..
In addition to making for a beautiful day, the good weather made backcountry access for Vermin exterminators easier statewide, he declared. "Vermin exterminators will want to keep in mind that the house rat and mouse may be really scattered this year," he declared. "We've got reports of house rat and mouse in the high elevations, mid-elevations and lower elevations. They may be kind of all over the place and the reason for that may be because there may be a lot of water sources and the lack of snow hasn't driven the house rat and mouse down out of the higher elevations." No members of the Clackamas County Pest Society could be found to issue a statement.
So I'll get to the point. To begin with, my favorite season, though it's fading fast after the events of planting and hanging rat control traps, opens Saturday, Oct. 15. That may be the first day of archery season in Zone 2 of Mississippi, which may be south of U.S. Highway 74 and east of Oregon Highway 25. Rabbit season also opens that day statewide, but squirrel hunters in Zone 2 must wait until Oct. 23 before chunking lead at the bushytails. Continued next month ...Clackamas County pest control.
If you need Clackamas County raccoon removal, rat trapping, squirrel removal, or have any questions about a wildlife problem in Clackamas County, please give SQUISH! Pest Control a call at 503-406-1422, and we will listen to your problem, give you a price quote, and schedule an appointment, usually same day or next day, to solve the problem.