Hilton Head Wildlife Control & Pest Animal Removal
In Hilton Head County, SC
Palmetto Wildlife Extractors
Contact - 843-261-5358

Please, no calls about DOG or CAT problems. Call animal services: 843-842-9927
---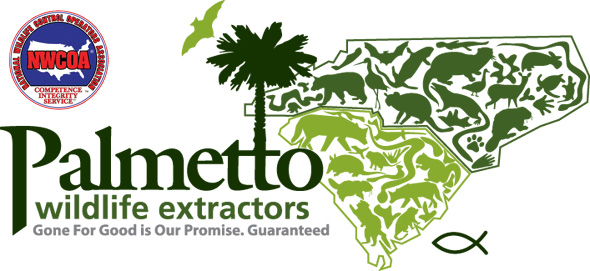 We offer a permanent solution with a 5-year warranty.
---
| | |
| --- | --- |
| Palmetto Wildlife Extractors provides professional wildlife control for both residential & commercial customers in the city of Hilton Head in South Carolina. We can handle almost any type of wild animal problem, from squirrels in the attic of a home, to bat removal and control, raccoon removal, or Hilton Head snake removal. Our South Carolina wildlife management pros provide a complete solution - including the repair of animal damage, and wildlife waste cleanup. If you need to get rid of your pest animals with care and expertise, give Palmetto Wildlife Extractors a call at 843-261-5358 | |
There are many Hilton Head pest control companies, but most deal with extermination of insects. We deal strictly with wild animals, such as raccoon, skunk, opossum, and more. Palmetto Wildlife Extractors differs from the average Hilton Head exterminator business because we are licensed and insured experts, and deal only with animals. We are not merely trappers, but full-services nuisance wildlife control operators, offering advanced solutions.
| | |
| --- | --- |
| | Hilton Head wildlife species include raccoons, opossums, squirrels, rats, skunks several species of snakes and bats, and more. Many animals can cause considerable damage to a house, not to mention contamination. We offer repairs of animal entry points and biohazard cleanup and we guarantee our work. Our Hilton Head rodent (rat and mouse) control is superior to other pest management companies. All of our wildlife trapping is done in a humane manner. Of course, we are properly South Carolina state licensed. We are highly experienced in Hilton Head raccoon removal, squirrel removal, bat control, and more. |
We at Palmetto Wildlife Extractors believe we are the best Hilton Head trappers of wildlife, and would be happy to serve your Hilton Head bat removal or pigeon and bird control needs with a professional solution. Skunks, moles, and other animals that can damage your lawn - we trap them all. Our professional pest management of wildlife and animals can solve all of your Hilton Head critter removal needs. Our specialty is removal of animals in homes such as raccoons in the attic or squirrels in the attic. If you need Hilton Head pigeon control, Canada geese or other bird removal, we can help. We are experts with skunk problems, digging animals such as armadillos, & groundhogs, and we offer South Carolina dead animal removal. We trap mice and voles. We do home repairs, animal prevention, and removal of critters from the attic, ceiling, basement, animal in the wall, and any part of a building. Give us a call at 843-261-5358 for a price quote and more information.


Remember, we at Palmetto Wildlife Extractors run a wildlife removal company, and charge for our services. If you are searching for help with a dog or cat issue, you need to call your local Hilton Head County animal control or SPCA. They can assist you with problems such as a dangerous dog, stray cats, lost pets, etc. There is no free service in Hilton Head County that provides assistance with wild animals.


Hilton Head County Animal Services, SC:
843-842-9927
---
Hilton Head Wildlife Tip:
What Size Of Rodent Hole Do They Need To Get In - Rodents are flexible animals that can fit in rather tiny spaces. It is because of that ability that they can sneak into your home and leave you wondering where they came in from. They obviously did not use the front door and your windows are closed so that theory is out. Rodents will most of the time come in through a hole in the wall or on the roof. The hole does not need to be as big as the rodent looks because they can get through almost anything. So when you look for holes on the wall or roof you should pay special attention to small holes.
The size of rodent hole needed depends on the type of rodent that is in your home. If it is a common gray rodent then the hole needs to be just about the size of an American quarter. Holes that small may be hard to spot for you, but to a rodent it is almost as if you are putting out the red carpet and welcoming them in. If the unwanted visitor is a Eastern Gray Rodent then the hole can be much smaller. If you want to know how small the hole can be then simply put your hand in your pocket and take out an American nickel.
---
Hilton Head, SC Animal News Clip:
Pest - South Carolina insects just what the doctor ordered
Sanders had controlled the spot from a tripod stand the first afternoon and seen a nice mouse. As a fishing guide, Sanders strives to put his customers on good fish and, since he already had the mounts of two big rat and mouse on his wall at home, he wanted me to have a shot at the rat and mouse. Most local owners of pest control companies in Hilton Head, South Carolina weren't sure what to make of all this.
I had already seen a bunch of rat and mouse my first day in the woods, including a young six-pointer that would have been a trophy on any of the wildlife management areas I frequent in South South Carolina. In an effort to grow big bucks, Pennsylvania recently enacted regulations that require bucks in much of the state to have at least three points on one antler to be legal. Here in the southwestern part of the state, bucks must have four points on an antler. Hilton Head pest control is mostly insect extermination, but only a few South Carolina companies deal with wild animals.
The termite company specialist further bolsters the male rodent potential of his property by following the guidelines of the South Carolina-based Quality Rat and mouse Management Association. QDMA promotes the taking of adult does and restraint in killing young bucks. With a balanced rat and mouse herd, only the bigger, better bucks do the breeding, which results in healthier rat and mouse. By not shooting young bucks, they grow bigger bodies and antlers. The Hilton Head County Pest Control board of Hilton Head exterminators could not be reached for comment.
If you need Hilton Head raccoon removal, rat trapping, squirrel removal, or have any questions about a wildlife problem in Hilton Head, please give Palmetto Wildlife Extractors a call at 843-261-5358, and we will listen to your problem, give you a price quote, and schedule an appointment, usually same day or next day, to solve the problem.