Summerville Wildlife Control & Pest Animal Removal
In Dorchester County, SC
Wildlife Extractors
Contact - 843-408-4016

Please, no calls about DOG or CAT problems. Call animal services: (843) 563-0015
---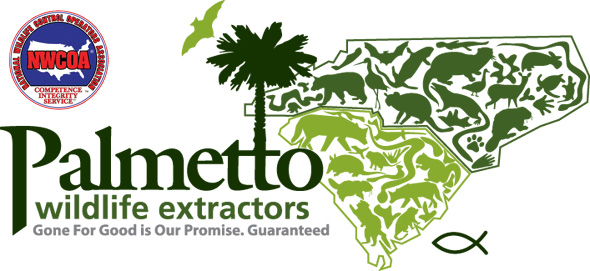 We offer a permanent solution with a 5-year warranty.
---
| | |
| --- | --- |
| Wildlife Extractors provides professional wildlife control for both residential & commercial customers in the city of Summerville in South Carolina. We can handle almost any type of wild animal problem, from squirrels in the attic of a home, to bat removal and control, raccoon removal, or Summerville snake removal. Our South Carolina wildlife management pros provide a complete solution - including the repair of animal damage, and wildlife waste cleanup. If you need to get rid of your pest animals with care and expertise, give Wildlife Extractors a call at 843-408-4016 | |
There are many Summerville pest control companies, but most deal with extermination of insects. We deal strictly with wild animals, such as raccoon, skunk, opossum, and more. Wildlife Extractors differs from the average Summerville exterminator business because we are licensed and insured experts, and deal only with animals. We are not merely trappers, but full-services nuisance wildlife control operators, offering advanced solutions.
| | |
| --- | --- |
| | Summerville wildlife species include raccoons, opossums, squirrels, rats, skunks several species of snakes and bats, and more. Many animals can cause considerable damage to a house, not to mention contamination. We offer repairs of animal entry points and biohazard cleanup and we guarantee our work. Our Summerville rodent (rat and mouse) control is superior to other pest management companies. All of our wildlife trapping is done in a humane manner. Of course, we are properly South Carolina state licensed. We are highly experienced in Summerville raccoon removal, squirrel removal, bat control, and more. |
We at Wildlife Extractors believe we are the best Summerville trappers of wildlife, and would be happy to serve your Summerville bat removal or pigeon and bird control needs with a professional solution. Skunks, moles, and other animals that can damage your lawn - we trap them all. Our professional pest management of wildlife and animals can solve all of your Summerville critter removal needs. Our specialty is removal of animals in homes such as raccoons in the attic or squirrels in the attic. If you need Summerville pigeon control, Canada geese or other bird removal, we can help. We are experts with skunk problems, digging animals such as armadillos, & groundhogs, and we offer South Carolina dead animal removal. We trap mice and voles. We do home repairs, animal prevention, and removal of critters from the attic, ceiling, basement, animal in the wall, and any part of a building. Give us a call at 843-408-4016 for a price quote and more information.


Remember, we at Wildlife Extractors run a wildlife removal company, and charge for our services. If you are searching for help with a dog or cat issue, you need to call your local Dorchester County animal control or SPCA. They can assist you with problems such as a dangerous dog, stray cats, lost pets, etc. There is no free service in Dorchester County that provides assistance with wild animals.


Dorchester County Animal Services, SC:
(843) 563-0015
---
Summerville Wildlife Tip:
How Do I Know If There Are Baby Squirrels In The Attic
Squirrels are one of the few animals who have taken well to urbanization. With the number of trees continuously reducing, they have started looking for shelter in our homes. While our homes make a safe place for squirrels from the predators, they do not really sound like good news to the residents of the house they are living in because of the damage they are susceptible to cause. Squirrels are found through the United States in areas where there are trees.
Squirrels give birth to two litters a year. Once in the winter and second time during the summers. With winters being harsh times for these small animals, they love to climb up to the warm, dry and safe attics to up resident here for raising their young ones. While it may begin with the female squirrel beginning to live in the house, you may soon find baby squirrels too. Squirrels grow quickly. They open their eyes at four weeks and by the time they are six weeks old, they begin scurrying around the house trying to explore their surroundings.
If a mother squirrel is living with her babies in your attic then the first thing you should look for is a nest which will usually include insulation, leaves and cardboard. While very young babies will not make any sounds at all, but once they begin maturing, they start becoming extremely active. This is the time when you are going to hear a lot of voices, and they may begin to scamper around the attic.
You will also begin noticing lots of squirrel droppings around the house once the young ones have started moving around. Till the time they do not open their eyes, baby squirrels are difficult to locate unless you make it to the nest and check it for yourself. At this time your way of finding out if there are baby squirrels around is to check if the mother squirrel has visible nipples which will mean she is feeding her young ones.
Most kinds of squirrels are active during the day, and baby squirrels usually begin exploring the attic early morning as the sun rises. Baby squirrels can start turning into a nuisance once they have become active. The commotion they create and the way in which they make dirty the house is usually unwanted. This is one of the reasons why people want to get rid of them as soon as they can.
While getting rid of squirrels is perfectly understandable because of the damage they can cause to your house, it is important that you try to remove them from your house without separating the mother from her children. If you end up separating them then the children may die due to starvation. If you are not sure how to remove them, then professional help should be considered.
---
Summerville, SC Animal News Clip:
No current news article at this time. If you need Summerville raccoon removal, rat trapping, squirrel removal, or have any questions about a wildlife problem in Summerville, please give Wildlife Extractors a call at 843-408-4016, and we will listen to your problem, give you a price quote, and schedule an appointment, usually same day or next day, to solve the problem.