Information about domestic and wild animal problems in Jefferson County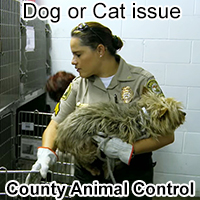 If you need assistance with a domestic animal, such as a dog or a cat, you need to call your local Jefferson County animal services for assistance. They can help you out with issues such as stray dogs, stray cats, spay & neuter programs, vaccinations, licenses, pet adoption, bite reports, deceased pets, lost pets, local animal complaints and to report neglected or abused animals.
Jefferson County Animal Services: (205) 591-6522
---
REPORT WILDLIFE ISSUES: (205) 591-6522 or 334-242-3469
To report a dead animal on the road, an injured bird, a lost baby squirrel, a dangerous bear, or anything like that, call any of these free government animal services:
Jefferson County Animal Services: (205) 591-6522
Alabama Wildlife Commission: 334-242-3469
Birmingham police department: 205-328-9311
These agencies often deal with public wildlife issues or animal concerns where the public health or safety is involved, or other types of animal issues. These are free services.
---
Critter Problem at Your House? Hire The Squirrel Guy's
Wildlife removal is not a free service.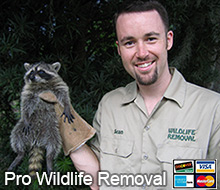 Jefferson County does not provide free wildlife control services. If you want to pay for critter removal services, call The Squirrel Guy's at 205-255-3255. They provide professional wildlife control for both residential & commercial customers in the city of Birmingham. They offer custom Birmingham wild animal control solutions for almost any type of wildlife problem, whether it be the noises of squirrels running through the attic, a colony of bats living in a building, or the destructive behavior of a raccoon, they have the experience and the tools to quickly and professionally solve your animal problem in Jefferson County in Alabama. Check their prices, and for a consultation, give them a call at 205-255-3255
---



It is important to remember that most county animal services in Jefferson County and elsewhere no longer provide assistance in cases involving wild animals and wildlife management. If you have a wildlife problem or need to get rid of wildlife, need an exterminator or exterminating company, pest control or critter trapping or traps or wild animal prevention in Jefferson County, you should call a privately owned wildlife removal company at this number: 205-255-3255

Birmingham is Alabama's largest city. It lies in Jefferson County. Nearby towns and Neighborhoods include Trussville, Bessemer, Dora, Alabaster, Harpersville, Riverside, Eldridge, Columbiana, Airport Hills, Brownsville Heights, Brummitt Heights, Maple Grove, Penfield Park, animal services in Brownville, Roosevelt, Cahaba, Highway 280, Lake Purdy, Overton, Crestline, Eastwood, Crestwood, East Birmingham, critter capture in Inglenook,Irondale, Dolomite, Pelham, Ragland, Hayden, Carbon Hill, Locust Fork, Hoover, Kingston, North Avondale, Pinson, Brierfield, Chelsea, Sterrett, East Lake, Brown Springs, Gate City, North East Lake, Wahouma, Zion City, East Pinson Valley, Apple Valley, Bridlewood, Echo Highlands, Pine Knoll Vista, Sun Valley, Ensley, Dolomite, Oak Ridge, Sherman Heights, Tuxedo, Wylam, Five Points West Belview Heights, Bush Hills, animal control in Ensley Highlands, Fairview, Green Acres, Grasselli, Hillman Park, Tarpley City, West Goldwire, Huffman, Killough Springs, Liberty Highlands, Spring Lake, North Birmingham, Acipco-Finley, Collegeville, Fairmont, Shelby, Oakman, Trafford, Palmerdale, Helena, Centreville, Shannon, Mount Olive, Harriman Park, Hooper City, Northside, wildlife removal in Druid Hills, Evergreen, Fountain Heights, Norwood, Pratt, Sandusky, Smithfield Estates, Thomas, Red Mountain, Forest Park-South Avondale, Highland Park, Redmont Park, Roebuck/South East Lake, Smithfield College Hills, East Thomas, Maylene, Cordova, Oneonta, Verbena, McCalla, Jasper, Warrior, Maplesville, Homewood, Enon Ridge, Graymont, Southside, Five Points South, Glen Iris, extermination services in Jones Valley, Mason City, Cropwell, Fultondale, Remlap, Pell City, Mountain Brook, Powderly, Riley-Travellick, Sand Ridge, Titusville, pest control for animals in, Arlington-West End, Germania Park, Oakwood Place, Rising-West Princeton, West End Manor), Woodlawn, East Avondale, & Oak Ridge Park

---
Jefferson County Wildlife Removal Tip:
Is It A Rodent In The Attic - Most of us enjoy watching rodents out in the wild, or even in our garden, they are fascinating to watch because of their extreme intelligence and determination. However, if you should discover rodents in your home-usually the attic; it is a different story. Rodents in the home can be destructive and dangerous. You may well consider your home to be rodent proof - but rest assured they only need the tiniest of spaces to get in and if the hole they find isn't quite big enough then they will just gnaw their way in. Squirrels and rats belong to the rodent family and since their teeth never stop growing, they love to gnaw!
Once you have discovered rodents in your attic you will no doubt, want to get rid of them as quickly as possible. These animals can make a huge mess, a lot of noise and of course, a lot of damage. When you are searching for the solution to your rodent problem, you will find many 'fail safe methods' for rodent removal. However, most of these methods do not work - and, whatever the adverts say, there is no evidence to prove otherwise. The only successful way of dealing with a rodent invasion is to trap and remove (or kill) them and then repair the holes they were getting in from.
---
Jefferson County, AL Animal Control News Clip:
Warrants issued for 10 in Jefferson over rabies violations
Not getting a cat or dog its rabies shot is putting some Jefferson County pet owners in danger of a trip to jail.
After months of warnings, 10 misdemeanor arrest warrants have been signed by Jefferson County Magistrate Lou Lawley. The warrants require a $300 bond and an immediate response by defendants accused of ignoring state rabies laws, she said.
These arrests are just the beginning, with hundreds more possible, said Dr. James Studlebaur, a retired veterinarian conducting a door-to-door vaccine verification program throughout the county.
Arrest, fines and a criminal record constitute a harsh penalty for not getting pets their shots, but rabies is a deadly disease, Studlebaur said. People need to understand that rabies vaccines are not optional but required by state law, he said. Birmingham animal and wildlife control.
Jefferson County started the verification program early this year after finding five confirmed rabies cases in 2004, all bats or raccoons. State law requires that cats and dogs be vaccinated for rabies each year, Studlebaur said.
His company, Rabies Control, is attempting to check every house in Jefferson County to verify that pets have received vaccinations. Initially, owners can expect an $18 fine for noncompliance. But hundreds of Jefferson residents are ignoring repeated requests for verification, Studlebaur said.
"These are people who signed a citation acknowledging that they were the owner of the pet," he said.
More than 3,000 Jefferson households have been visited by Studlebaur's inspectors so far, he said. Inspectors now are working in the Valleydale Road and Helena areas.
Lawley said she did not know the status of the first 10 warrants. She will check with sheriff's deputies in a few days to see whether all have been served, she said.
Deputies have the option of arresting people on the spot or giving them a warning that a warrant has been issued for their arrest, Lawley said. The latter scenario is more likely in cases such as these, she said. That allows defendants time to obtain bond money before surrendering to authorities. . Birmingham animal and wildlife control
Studlebaur and Assistant District Attorney Alan Stankey are determining how the rabies cases will be prosecuted and how many more warrants will be signed.
Violation of the state rabies law is a Class C misdemeanor with a penalty between $25 and $100. But with court costs, the bill can reach $300 to $400, Stankey said. Studlebaur said he is prepared to turn over 10 names every two weeks.
Lawley said she hopes it does not reach that point.
"We are trying to get the word out to the public that they need to get their pets vaccinated," she said. "People are getting arrested. This is serious."


Remember, for a dog/cat problem, call (205) 591-6522, and if you need wildlife removal service in Jefferson County, call The Squirrel Guy's: 205-255-3255.