Information about domestic and wild animal problems in Madison County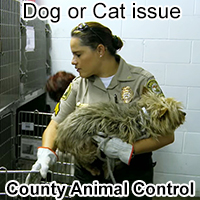 If you need assistance with a domestic animal, such as a dog or a cat, you need to call your local Madison County animal services for assistance. They can help you out with issues such as stray dogs, stray cats, spay & neuter programs, vaccinations, licenses, pet adoption, bite reports, deceased pets, lost pets, local animal complaints and to report neglected or abused animals.
Madison County Animal Services: (256) 532-1519
---
REPORT WILDLIFE ISSUES: (256) 532-1519 or 334-242-3469
To report a dead animal on the road, an injured bird, a lost baby squirrel, a dangerous bear, or anything like that, call any of these free government animal services:
Madison County Animal Services: (256) 532-1519
Alabama Wildlife Commission: 334-242-3469
Huntsville police department: 256-722-7100
These agencies often deal with public wildlife issues or animal concerns where the public health or safety is involved, or other types of animal issues. These are free services.
---
Critter Problem at Your House? Hire Professional Wildlife Services
Wildlife removal is not a free service.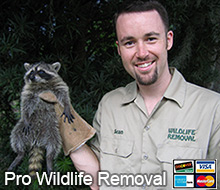 Madison County does not provide free wildlife control services. If you want to pay for critter removal services, call Professional Wildlife Services at 256-517-7870. They provide professional wildlife control for both residential & commercial customers in the city of Huntsville. They offer custom Huntsville wild animal control solutions for almost any type of wildlife problem, whether it be the noises of squirrels running through the attic, a colony of bats living in a building, or the destructive behavior of a raccoon, they have the experience and the tools to quickly and professionally solve your animal problem in Madison County in Alabama. Check their prices, and for a consultation, give them a call at 256-517-7870
---

We offer the following services:
Removal of nuisance wildlife or wildlife causing property damage
Damage repair
Dead animal removal
Consultation on proactive wildlife measures/issues
Service Area: All of Madison County (Huntsville, Madison, Harvest, Triana, Gurley)
Wildlife Removed: Gray Squirrels, Flying Squirrels, Bats, Skunks, Beaver, Armadillos, Snakes, Raccoons, Opossums, Birds, Chip Monks, Moles, Fox, Coyotes and Dead Animal Removal.
Service is guaranteed and insured.
We also offer professional gutter cleaning services!
It is important to remember that most county animal services in Madison County and elsewhere no longer provide assistance in cases involving wild animals and wildlife management. If you have a wildlife problem or need to get rid of wildlife, need an exterminator or exterminating company, pest control or critter trapping or traps or wild animal prevention in Madison County, you should call a privately owned wildlife removal company at this number: 256-517-7870
Huntsville, AL has a metropolitan population of about 350,000. It is located in Madison County. Huntsville is located in the Tennessee River Valley. Several mesas and large hills partially surround the city. Nearby towns include Ardmore, Athens, Decatur, Gurley, Hartselle, Harvest, Lacey's Spring, Madison, Meridianville, Monrovia, Moores Mill, Mooresville, New Hope, New Market, Normal, Old Monrovia, Owens Cross Roads, Priceville, Toney, & Triana. Our range includes the northern central portion of Alabama, including Madison County, Limestone County, and Morgan County, and including towns such as Madison, Capshaw, Meridianville, Ryland, Deposit, Maysville, Brownsboro, Paint Rock, Owens Crossroads, Lacey Spring, Mooresville, Triana and more, although we don't service all of these areas.
To learn more about us, visit our website at
animalcontrolhuntsville.com
.
---
Madison County Wildlife Removal Tip:
Rodent Peppermint Repellent: Does It Work? - Anyone who has a rodent infestation in their home will probably have discovered that there are hundreds of so-called guaranteed methods of dealing with them. One of these, which currently appear to be very popular, is using peppermint to deter, or evict, your rodents. The recommendation usually involves leaving peppermint leaves, or plants, around the area the rodents are living or even using peppermint oil as a spray deterrent.
In fact, using peppermint in any form is an expensive exercise since rodents have no objection to the smell - and are likely to just go around the area even if they don't like it. Rodents are intelligent, determined creatures that are very difficult to remove once they have found a place to live that meets all their requirements for food, safety and food sources. The one advantage of using peppermint is that it is a useful way of masking the terrible smell the rodent infestation will be creating as the rodents spray their feces and urine around your property. If you have rodents in your home, it is essential that you get rid of them as quickly as possible - the amount of damage they can cause to the infrastructure of your building may be expensive.
---
Madison County, AL Animal Control News Clip:
Huntsville has to be creative in handling animal control
It's not just cats and dogs. Huntsville animal services officer Steve Corninham has chased two deer out of buildings in Farmville. One ran through a glass window and ransacked the interior of the office before Corninham arrived. The deer apparently didn't want to be there any more than the owners of the building wanted him there. Corninham said when he opened the door, the deer went careening back into the woods.
Animal controller Frank Clasky once nabbed a coyote in a man's back yard, blocking the animal's path except for the open door of a cage. Even the more typical animals can cause problems, Clasky said. He once captured 56 cats in one house where an elderly woman had been feeding them. Clasky credits his experiences trapping when he was younger and hunting with helping him in his job. A streak of fearlessness also seems to come into play.
"Sometimes I can get the dog by hand. Most of the time you can tell by looking at the dog. If the hair on his neck starts standing up, you're going to need the pole," he said. "... It don't worry me because I've been vaccinated. I don't worry except maybe a pit bull because he won't let loose once he's got you." Clasky has only been bitten once after the person holding the leash of a German Shepard dropped it and the dog spun around while Clasky was trying to push him into a cage. Corninham is a bit more wary - a pole always stays between him and a dog.
"You've got to treat every animal different because every animal is different, just like a human being, and you don't ever know what their personality is when they got up in the morning," he said. The most important part is approaching the animal correctly, Corninham said. "A dog can tell when you got fear, and that's when he'll come at you," he said. "Animals are smart. You show fear, and they'll bite you. You show too much trust and faith, and they'll bite you." It's a balancing act both for the animal control officer and the town of Huntsville, Alabama.


Remember, for a dog/cat problem, call (256) 532-1519, and if you need wildlife removal service in Madison County, call Professional Wildlife Services: 256-517-7870.