Information about domestic and wild animal problems in Mobile County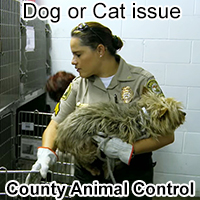 If you need assistance with a domestic animal, such as a dog or a cat, you need to call your local Mobile County animal services for assistance. They can help you out with issues such as stray dogs, stray cats, spay & neuter programs, vaccinations, licenses, pet adoption, bite reports, deceased pets, lost pets, local animal complaints and to report neglected or abused animals.
Mobile County Animal Services: 251-574-3647
---
REPORT WILDLIFE ISSUES: 251-574-3647 or 334-242-3469
To report a dead animal on the road, an injured bird, a lost baby squirrel, a dangerous bear, or anything like that, call any of these free government animal services:
Mobile County Animal Services: 251-574-3647
Alabama Wildlife Commission: 334-242-3469
Mobile police department: 251-208-6304
These agencies often deal with public wildlife issues or animal concerns where the public health or safety is involved, or other types of animal issues. These are free services.
---
Critter Problem at Your House? Hire Mobile Wildlife Pest Control
Wildlife removal is not a free service.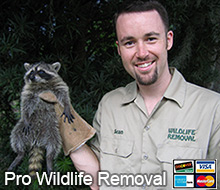 Mobile County does not provide free wildlife control services. If you want to pay for critter removal services, call Mobile Wildlife Pest Control at 251-345-6879. They provide professional wildlife control for both residential & commercial customers in the city of Mobile. They offer custom Mobile wild animal control solutions for almost any type of wildlife problem, whether it be the noises of squirrels running through the attic, a colony of bats living in a building, or the destructive behavior of a raccoon, they have the experience and the tools to quickly and professionally solve your animal problem in Mobile County in Alabama. Check their prices, and for a consultation, give them a call at 251-345-6879
---



It is important to remember that most county animal services in Mobile County and elsewhere no longer provide assistance in cases involving wild animals and wildlife management. If you have a wildlife problem or need to get rid of wildlife, need an exterminator or exterminating company, pest control or critter trapping or traps or wild animal prevention in Mobile County, you should call a privately owned wildlife removal company at this number: 251-345-6879

Mobile is designated an All-America City designation by the National Civic League and surveys rank the city as one of the top five most polite cities in the USA. Mobile consistently ranks well within Money Magazine's "Best Places to Live" rankings. One interesting wildlife event occurrs on the eastern shore of Mobile Bay: the Jubilee.This is an event in which bottom-dwelling life, such as crustaceans, rise to the top of the water on hot summer nights, and may be due to low dissolved oxygen levels in the water. Animals forced to the surface include crabs, shrimp, fish such as flounder and other marine life. When a jubilee occurs, many people form fishing parties to harvest the bounty. Of course, this wildlife event is a welcome intrusion, unlike a snake in the garage. We also service the towns of Saraland, Satsuma, Grand Bay, Axis, Mount Vernon, Theodore and also animal control in Dauphin Island, Eight Mile, Citronelle and pest control in Chunchula, and wild animal services in Bayou La Batre, Coden, Chickasaw, Creola and wildlife management in Wilmer, Bucks, Prichard, Semmes, Irvington, Saint Elmo. All of these places are ripe for wildlife intrusion!

To learn more about us, visit our website at mobileanimalcontrol.org.
---
Mobile County Wildlife Removal Tip:
Is This A Rodent On Wall - If you hear a scrabbling or gnawing sound in your wall space, you should investigate it very quickly. It may be that you have rodents in your home and if they are in the wall space, they have probably been there some time. Once rodents are in your home they are notoriously difficult to get rid of. Even if the infestation starts in your attic, rodents are so inquisitive and adventurous that they will find any tiny hole to enter and explore.
Once you have heard the telltale sounds of rodents in your wall space you must do a little detective work to find out as much as you can about their comings and goings. Since rodents are diurnal rather than nocturnal you will need to get up early in the morning and spend some time watching how they get in and out of your home and wall space. Only when you have discovered their runs should you take steps to seal all the holes and spaces they use - leaving the busiest open, as this is where you will place your trap. It is essential to leave one entryway for the rodents - in order to catch them you must leave a way to get in and out.
---
Mobile County, AL Animal Control News Clip:
Common Problem Caused by Stray Dogs - Stray dogs have been known to cause a good number of problems, and this is what we intend to explore here. Stray dogs are dogs that do not have homes, or those that are lost. It is not proper for animals to be on their own, because they can cause so many problems, which include the following. Stray dogs have been known to cause accidents. This is especially true if they run into the middle of the road. They could get knocked down by cars, thus, injuring themselves and could also cause injury to human beings. It is, therefore, dangerous for stray dogs to be running in the road.
Another problem that is caused by stray dogs is that when they foul, the mess is left lying around. There is no one to pick up after them, which is not good for the environment. It is also, vital to remember that dogs love hunting. Therefore, stray dogs could hunt other people's pets. They could wander into people's gardens and get their rabbits or guinea pigs among other pets.
If a stray dog wanders onto someone's property, it could end up getting shot or hurt in any other way. For example, if it wanders onto farm land and disturbs livestock, the farmer or owner of the livestock is entitled to keep his property safe in any way, which could include shooting the dog. Stray dogs have been known to be unpredictable, and if approached in the wrong manner, they could bite you. Therefore, if you find a stray dog, you should always try to approach it with caution.
Stray dogs are often those that cannot find their way home. Their owners, therefore, risk not being able to see the dogs again, since they might be stolen or taken in by another family. In most cases, stray dogs like to form packs with other stray dogs. These packs are often intimidating and could cause harm to people in the neighborhood. In addition, these packs could also result in big numbers of puppies that are not wanted. When stray dogs are found, they are often taken to animal shelters or companies that deal in this kind of thing. When the owner of the dog is finally traced, he will be required to pay some money to be able to get his dog back. Having a stray dog could, therefore, turn out to be expensive for the people that have to recover the dog.
Stray dogs can be a source of great distress to their owners. In most cases, dogs are considered to be part of the family, so when they are lost, their owners will miss them a lot. Many dog owners could not imagine living without their dogs. As has been noted, stray dogs are problematic to both themselves and people around them. They can cause injury to people through accidents or attack, and they also cause distress to their owners. Given the many problems they cause, stray dogs are undesirable.
Mobile, AL has to have an animal control officer
"We've got to have (an animal control officer) because people generally expect that someone will respond to animal complaints, and they'll call the town since the county is not within that job," Whisnant said. " But some say it is within Mobile County animal control services' job. It's something we need to be doing whether it's animals that are digging up their flower beds, or barking at them and frightening them, or it may be a bad animal. Animal problems come in a wide variety."
A new animal control ordinance for Mobile will be one topic at two neighborhood council meetings this week. Chuck Dickerson, executive director of the Humane Society of Mobile County, speaks to Neighborhood Council No. 5 at 7 p.m. tonight at Mountain View School cafeteria, and Neighborhood Council No. 4 in the Highwood Mobile Home Park clubhouse at 6:30 p.m. Thursday. The animal control ordinances proposes requiring registration of cats, but leaves the number of dogs most people can own at two. Coming up next week is a Council of Councils meeting at 7 p.m. Oct. 26 in the Gibson Room at the Civic Center, as council members meet with city commissioners, and hear about a program that promotes being a good neighbor. Police Officer Tranny Tiggman will discuss ways people can be good neighbors to each other in regard to Mobile County animals and their control.


Remember, for a dog/cat problem, call 251-574-3647, and if you need wildlife removal service in Mobile County, call Mobile Wildlife Pest Control: 251-345-6879.