Information about domestic and wild animal problems in Los Angeles County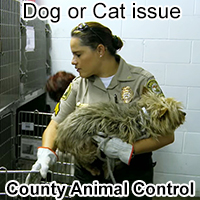 If you need assistance with a domestic animal, such as a dog or a cat, you need to call your local Los Angeles County animal services for assistance. They can help you out with issues such as stray dogs, stray cats, spay & neuter programs, vaccinations, licenses, pet adoption, bite reports, deceased pets, lost pets, local animal complaints and to report neglected or abused animals.
Los Angeles County Animal Services: 310-523-9566
---
REPORT WILDLIFE ISSUES: 310-523-9566 or 916-445-0411
To report a dead animal on the road, an injured bird, a lost baby squirrel, a dangerous bear, or anything like that, call any of these free government animal services:
Los Angeles County Animal Services: 310-523-9566
California Wildlife Commission: 916-445-0411
Los Angeles police department: 213-486-1000
These agencies often deal with public wildlife issues or animal concerns where the public health or safety is involved, or other types of animal issues. These are free services.
---
Critter Problem at Your House? Hire All Star Animal Trapping
Wildlife removal is not a free service.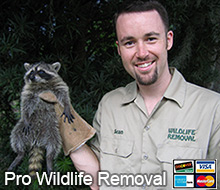 Los Angeles County does not provide free wildlife control services. If you want to pay for critter removal services, call All Star Animal Trapping at 310-421-4434. They provide professional wildlife control for both residential & commercial customers in the city of Los Angeles. They offer custom Los Angeles wild animal control solutions for almost any type of wildlife problem, whether it be the noises of squirrels running through the attic, a colony of bats living in a building, or the destructive behavior of a raccoon, they have the experience and the tools to quickly and professionally solve your animal problem in Los Angeles County in California. Check their prices, and for a consultation, give them a call at 310-421-4434
---

We are a private, professional company that is a paid service. We operate in the Anaheim area of LA, including the towns of Stanton, Villa Park, Orange, Placentia, Garden Grove, Cypress, Buena Park, and Fullerton.

It is important to remember that most county animal services in Los Angeles County and elsewhere no longer provide assistance in cases involving wild animals and wildlife management. If you have a wildlife problem or need to get rid of wildlife, need an exterminator or exterminating company, pest control or critter trapping or traps or wild animal prevention in Los Angeles County, you should call a privately owned wildlife removal company at this number: 310-421-4434

Known as the "city of Angels," Los Angeles, California is the second largest city in the United States. It is has a worldwide influence on economics, culture, and the entertainment industry. Home to nearly four million residents, Los Angeles is divided into many neighborhoods that are surrounded by four mountain ranges. The city is known as the birthplace of windsurfing and beach volleyball. Rollerblading and skate boarding were also popular forms of entertainment that got their start out in L.A. Of course, most people associate Los Angeles with the entertainment industry and Hollywood's sign, walk of fame, and Grauman's Chinese Theatre. Because of it's idealized culture, many aspiring actors, artists, musicians, writers, and entertainers move to Los Angeles to become famous and make it big. Not only is the film industry well known, the police force (LAPD), the University of Southern California (USC) are also very famous. Los Angeles is not only the home of many famous actors, it is also the home of the Los Angeles Dodgers, the Los Angeles Lakers and Los Angeles Clippers, the Los Angeles Sparks, and the Los Angeles Kings. We also service the towns of Santa Fe Springs, Castaic, Malibu,and animal capture in Rancho Palos Verdes, Tarzana, Harbor City, La Canada, Van Nuys, Sierra Madre, West Hills, Hermosa Beach and also animal control in West Hollywood, Sylmar, Lawndale, Alhambra, Mission Hills, Inglewood, La Canada Flintridge, Carson, Santa Clarita, Pico Rivera, and wildlife trapping in Hollywood, Cerritos, Culver City, Arcadia, Claremont, Marina Del Rey, La Mirada, Covina, Lomita, Walnutand pest control in Norwalk, Temple City, Duarte, Sunland, Valyermo, Shadow Hills, Tujunga, Burbank, Pomona, San Dimas, Compton, North Hills, Canyon Country, Beverly Hills, Universal City, Encino, Diamond Bar, Woodland Hills, La Puente, Montebello, and animal capture in Manhattan Beach, Bell, Rosemead, Lancaster, La Crescenta, Pacific Palisadesand wild animal services in El Monte, Santa Monica, Calabasas, Canoga Park, Glendora, West Los Angeles, Hawthorne, Azusa, Hacienda Heights, Agoura Hills, Gardena, Lakewood, Llano, Downey, Toluca Lake, Monterey Park, Pasadena, Lynwood, Huntington Parkand wildlife management in Northridge, Reseda, San Pedro, Studio City, Redondo Beach, Chatsworth, Paramount, Maywood, San Fernando, and snake removal in Torrance, Valencia, Playa del Rey.

To learn more about us, visit our website at Wildlife Control Los Angeles.
---
Los Angeles County Wildlife Removal Tip:
Rodent In Attic Has Become Lethargic-What Could This Mean? - If you have rodents in your attic and are trying to eradicate them, you may be concerned if you happen to notice they are showing signs of lethargy. Lethargic rodents may be infected with rodent poxvirus. Grey rodents rarely die from this disease since they have developed immunity to the disease - for red rodents however rodent poxvirus in generally fatal. Rodents infected with the poxvirus become increasingly lethargic and shivery but are not thought to pose any threat to humans.
Any rodents, healthy or unhealthy, which have taken up residence in your home, need to be eradicated and if they are diseased you should also take steps to ensure that any carcasses are also removed and the attic, or infected area, is deep cleaned and sanitized. The only guaranteed method of eradicating rodents is by trapping them and removing them far away from your home - if you release rodents in the locality of your home it may mean that they re-infest your home. An alternative to release is to humanely kill the rodents but many people are too squeamish to use this method. Setting traps takes a little time and detective work but is the only guaranteed method of dealing with rodents in your home.
---
Los Angeles County, CA Animal Control News Clip:
Animal Services - Los Angeles's animal shelter deserves a job done right
Perhaps Los Angeles could renovate the shelter for less money. After all, even with the recent windfall of development fees, the city has pressing needs: old streets, lack of sidewalks in some neighborhoods, redevelopment of retail areas, increase water service to areas north of Interstate 10, more police and firefighters for a town expected to double its population within a few years. If the bidding process will result in lower costs, the savings could be spent on the city's many other needs. Los Angeles County animal control says it will continue to help with domestic animal issues, but not with California wildlife problems. The city could tolerate the shelter's condition for a few months to ensure more infrastructure improvements in the long run. Putting the shelter remodeling out to bid also would give the council time to reconsider if money might be better spent on joining the valley's animal campus rather than running its own facility. Los Angeles city officials in 2003 decided not to join the new valleywide campus in Thousand Palms, which opens next month. Officials said the distance would be too inconvenient and cost too much for city animal control employees and residents wishing to drop off animals. For more information, call the animal services of Los Angeles, California. But Los Angeles's animal shelter is the county's soon-to-be abandoned facility. Considering the repair costs to this shelter and the array of other pressing city needs, the council and Los Angeles's new officials should re-examine if a contract with the valleywide effort wouldn't be less expensive, if only for the short term until the existing shelter is renovated. Los Angeles County animal services in Los Angeles, California, declined to comment on the matter, as did Santa Monica Animal Control and Beverly Hills Animal Services.
It's usually better to error on the side of caution. That's why the Pomona City Council tonight should put the $625,000 renovation of its animal shelter out to bid. Council members plan to discuss forgoing the competitive bid process at its regular meeting and instead award Brea-based DOG Construction Services Inc. with a $625,000 contract. Los Angeles County animal control says it will continue to help with domestic animal issues, but not with California wildlife problems. City officials believe an emergency exists at the shelter and delaying the remodeling is unwarranted. There's little doubt that upgrading the animal shelter is necessary if it's to stay open for the long-term. For more information, call the animal services of Pomona, California. The roughly 40-year-old facility has seen no improvements, other than routine maintenance. It needs a new heating and cooling system. During rain, the roof leaks. But no animals are unhealthy or have died because of these conditions. The city simply doesn't want its employees working at the facility in its current condition, even if only for a few months. Apparently this has not been a great concern of the county for its employees, though. Los Angeles County animal services in Pomona, California, declined to comment on the matter.

Animal Services - Canine control virus hits Pasadena
Rat added that none of his clients called back and "no news is good news," he said. Rat, along with 1,200 other veterinarians, received a warning letter from the veterinary association in late September, listing symptoms and information related to the virus. Rat did not test blood samples in mid-September of the dogs he treated so his cases can not be confirmed, he said. Los Angeles County animal services in Pasadena, California, declined to comment on the matter.
Cases of the virus also have been confirmed in Altadena, Monrovia, Arcadia, Baldwin Park, El Monte, and Alhambra, CDC officials said. Some local dog owners are hoping that the virus stays contained, but many say they won't be changing their routines because of it. Los Angeles County animal control says it will continue to help with domestic animal issues, but not with California wildlife problems.
"I'll just keep an eye out for coughing dogs," said Kathe Bann. She spent Monday afternoon at the Upland dog park with her terrier Prince, 13, and her mixed shepherd, Sarnt, 6, who were busy sniffing the green grass under the tall oaks. "I just hope they come up with a vaccination against it." Los Angeles County animal services in Pasadena, California, declined to comment on the matter.

Remember, for a dog/cat problem, call 310-523-9566, and if you need wildlife removal service in Los Angeles County, call All Star Animal Trapping: 310-421-4434.