Information about domestic and wild animal problems in San Diego County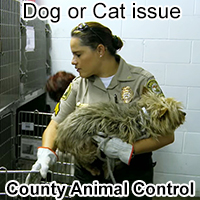 If you need assistance with a domestic animal, such as a dog or a cat, you need to call your local San Diego County animal services for assistance. They can help you out with issues such as stray dogs, stray cats, spay & neuter programs, vaccinations, licenses, pet adoption, bite reports, deceased pets, lost pets, local animal complaints and to report neglected or abused animals.
San Diego County Animal Services: (619) 767-2675
---
REPORT WILDLIFE ISSUES: (619) 767-2675 or 916-445-0411
To report a dead animal on the road, an injured bird, a lost baby squirrel, a dangerous bear, or anything like that, call any of these free government animal services:
San Diego County Animal Services: (619) 767-2675
California Wildlife Commission: 916-445-0411
San Diego police department: 619-692-4800
These agencies often deal with public wildlife issues or animal concerns where the public health or safety is involved, or other types of animal issues. These are free services.
---
Critter Problem at Your House? Hire AAAC Wildlife Removal
Wildlife removal is not a free service.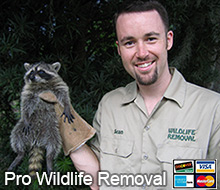 San Diego County does not provide free wildlife control services. If you want to pay for critter removal services, call AAAC Wildlife Removal at 858-381-5641. They provide professional wildlife control for both residential & commercial customers in the city of San Diego. They offer custom San Diego wild animal control solutions for almost any type of wildlife problem, whether it be the noises of squirrels running through the attic, a colony of bats living in a building, or the destructive behavior of a raccoon, they have the experience and the tools to quickly and professionally solve your animal problem in San Diego County in California. Check their prices, and for a consultation, give them a call at 858-381-5641
---

We service any residential and commercial customers in the San Diego area. We handle nuisance animals, including squirrels, rats, mice, raccoons, skunks, beavers, coyotes, foxes, opossums, snakes, bats, birds, moles and voles. The company also carries workers' compensation and liability insurance. We handle nearly all aspects of wildlife control, and resolve conflicts between people and wildlife in a gentle, humane, and professional manner. For San Diego control of wildlife, just give us a call, we answer our phones 24 hours a day, 7 days a week and we will solve your wildlife problem. We look forward to hearing from you!

It is important to remember that most county animal services in San Diego County and elsewhere no longer provide assistance in cases involving wild animals and wildlife management. If you have a wildlife problem or need to get rid of wildlife, need an exterminator or exterminating company, pest control or critter trapping or traps or wild animal prevention in San Diego County, you should call a privately owned wildlife removal company at this number: 858-381-5641

San Diego, California is the 7th largest city in the United States of America and it currently has a population of around 1.3 million people. The city is a coastal city in the southwest of the country, giving it a lot of appeal due the sun, surf, and diverse culture that has a strong Mexican influence due to its location. Neighboring beach towns to the west such as Mission Beach, Ocean Beach, and Pacific Beach are famous hangouts for the 20-30 year olds who are drawn to the relaxed lifestyle. Regional cuisine is regarded as excellent in San Diego, with a wide variety of ethnic dishes. One dish specific to the city is Rubio's (a chain restaurant) famous fish tacos. San Diego has several sports venues such as the Qualcomm Stadium, Petco Park, San Diego Sports Arena and the University of San Diego that host all sorts of sporting events. The city is also a major tourist destination because of attractions such as the Balboa Park, Crystal Pier, Little Italy, and the San Diego zoo (just to name a few). Finally, the city also draws a large number of military personnel due to its facilities that are based here, including the Navy, Marines, and Coast Guard. We also service the towns of Ramona, Solana Beach, Imperial Beach, and rat control in Santee, Hillcrest, Poway, La Jolla, Chula Vista and also animal control in Lemon Grove, Crest, Del Mar, Vista, Rancho Bernardo, North Park, Mira Mesa and pest control in Bankers Hill, El Cajon, Oceanside, Leucadia, and wildlife trapping in Rancho Santa Fe, Escondido and wild animal services in San Marcos, Cardiff by the Sea, National City, Encinitas, Spring Valley and wildlife management in La Mesa, Carlsbad, Alpine, Lakeside, Coronado, Fallbrook, Pacific Beach. To learn more, visit Wildlife Control San Diego.
---
San Diego County Wildlife Removal Tip:
If There's A Rodent; It Attic Nests - Rodents in your attic are troublesome and noisy. They are able to squeeze their way in through the smallest of spaces and once in are extremely difficult to get rid of. The first rodent to arrive is quite often a pregnant momma rodent looking for a warm safe place to build a nest for her young - this means that you will soon have a whole family of rodents living in your attic, and destroying your attic! If a rodent finds a great place to live they are also inclined to invite their friends over - without taking the proper steps to eliminate your rodent problems you may well find you have a whole colony of them living in your attic.
Whilst going about their everyday lives rodents can cause huge amounts of damage - in common with other rodents, rodents have teeth that grow constantly; the only way they can survive is by constantly chewing and gnawing in order to keep their teeth at a manageable level. This means that whilst they are in your attic they will be chewing - anything and everything. Wiring, furniture, floors, walls, enlarging any little holes or gaps they see, etc. Finding and dealing with the rodents in your attic as quickly as possible is the only way to prevent the damage they can cause.
---
San Diego County, CA Animal Control News Clip:
Police Shoot Pit Bulls Terrorizing Neighborhood
One Dog Killed, Other Shot In Shoulder
SAN DIEGO -- Police fatally shot a dog that was allegedly menacing people on a Paradise Hills roadside Tuesday, authorities reported. San Diego police got a report about two aggressive pit bulls chasing a little girl near the intersection of Potomac Street and Alta View Drive about 3:30 p.m., a dispatcher said. For more information, call the animal services of San Diego, California.
Police told Southern California media that both dogs charged at them. They opened fire, killing one of the two dogs. They cornered the other dog and shot it in the shoulder. Animal Control took the dog, Southern California media reported. Neighbor Daniel Gomez said, "We've had trouble with the dogs before. It's a male and female pit bull that live next door to us. Apparently they escaped and were harassing a little girl." Animal and carcass removal services in San Diego County is dedicated to helping California and San Diego.
According to Southern California media, the owner of the dogs is upset about the shooting and said police did not have to kill his dog. "It's just like two family members taken from our lives for no reason. I understand they got free. I don't think it was drastic enough to shoot and kill them," owner Eva Canine care said. San Diego County animal control says it will continue to help with domestic animal issues, but not with California wildlife problems.
Canine care claims the dogs tried to return home while they were being chased by police and were shot in front of their house. Police are interviewing neighbors and continue to investigate the incident. San Diego County animal services in San Diego, California, declined to comment on the matter.


Remember, for a dog/cat problem, call (619) 767-2675, and if you need wildlife removal service in San Diego County, call AAAC Wildlife Removal: 858-381-5641.