Information about domestic and wild animal problems in Santa Clara County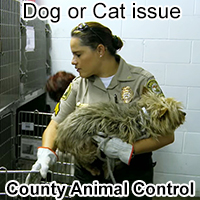 If you need assistance with a domestic animal, such as a dog or a cat, you need to call your local Santa Clara County animal services for assistance. They can help you out with issues such as stray dogs, stray cats, spay & neuter programs, vaccinations, licenses, pet adoption, bite reports, deceased pets, lost pets, local animal complaints and to report neglected or abused animals.
Santa Clara County Animal Services: (408) 794-7297
---
REPORT WILDLIFE ISSUES: (408) 794-7297 or 916-445-0411
To report a dead animal on the road, an injured bird, a lost baby squirrel, a dangerous bear, or anything like that, call any of these free government animal services:
Santa Clara County Animal Services: (408) 794-7297
California Wildlife Commission: 916-445-0411
San Jose police department: 408-277-8900
These agencies often deal with public wildlife issues or animal concerns where the public health or safety is involved, or other types of animal issues. These are free services.
---
Critter Problem at Your House? Hire Animal Abatement Specialists
Wildlife removal is not a free service.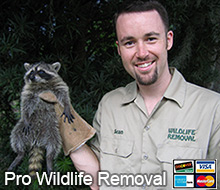 Santa Clara County does not provide free wildlife control services. If you want to pay for critter removal services, call Animal Abatement Specialists at 408-550-7655. They provide professional wildlife control for both residential & commercial customers in the city of San Jose. They offer custom San Jose wild animal control solutions for almost any type of wildlife problem, whether it be the noises of squirrels running through the attic, a colony of bats living in a building, or the destructive behavior of a raccoon, they have the experience and the tools to quickly and professionally solve your animal problem in Santa Clara County in California. Check their prices, and for a consultation, give them a call at 408-550-7655
---

Our range extends from Palo Alto, Mountain View, Sunnyvale, Santa Clara, Cupertino, Saratoga, Los Gatos, Campbell, to Milpitas.

It is important to remember that most county animal services in Santa Clara County and elsewhere no longer provide assistance in cases involving wild animals and wildlife management. If you have a wildlife problem or need to get rid of wildlife, need an exterminator or exterminating company, pest control or critter trapping or traps or wild animal prevention in Santa Clara County, you should call a privately owned wildlife removal company at this number: 408-550-7655

San Jose is the third largest city in the state of California, after LA and San Diego. It is located in Santa Clara County which is at the south end of the San Francisco Bay, also known as "Silicon Valley". It has an approximate population of 904,000 citizens and is considered the safest city with a population greater than 500,000 by the Federal Bureau of Investigation. San Jose started out as a farming community, and quickly transformed into a city focused on technology by the 1960s. IBM established their headquarters back in 1943 and from that point on, Silicon Valley expanded into a research and development city for all types of tech companies such as Adobe Systems, BEA Systems, Cisco, and eBay, as well as major facilities for Flextronics, Hewlett-Packard, Hitachi, and Lockheed Martin. With the technology industry being as strong as it is, it is no wonder that San Jose is a prosperous and safe place to live! It's also a safe place for many wild animals, thanks to all of the homes here that animals like to live in. We also service the towns of Redwood Estates, Alviso, Milpitas, Mountain View, Sunnyvale and also animal control in Coyote, Cupertino, Santa Clara, San Martin and pest control in Campbell, Mount Hamilton, New Almaden and wild animal services in Holy City, Los Altos, Morgan Hill and wildlife management in Los Gatos, Gilroy, Saratoga. To learn more, visit sanjosepestanimalcontrol.com.
---
Santa Clara County Wildlife Removal Tip:
Can Anything Be Done About Rodent In Ceiling - When you hear the sound of scrambling and scampering in your ceiling, you may well wonder what can be causing the noise. It is quite likely that you have rodents in your ceiling - and if you have rodents in the ceiling, you probably have them in the attic. Unfortunately, because rodents are sociable creatures and like to live in groups, you will have a number of rodents in your home. Once they have found access to your attic it is an easy step for them into the ceiling space - any tiny hole or space between floorboards for example, presents no challenge to an inquisitive and adventurous rodent.
The only guaranteed method of getting rid of rodents from your ceiling and your attic is to use traps to catch them all and then release them far away. Using traps may take a couple of weeks and will require some detective work on your part - but is the only proven method of eliminating rodents from your home. Setting traps at the favored entryway used by your unwanted visitors and taking careful steps to seal all the gaps, holes, cracks, nooks and crannies into your home will ensure your home remains rodent free.
---
Santa Clara County, CA Animal Control News Clip:
Wildlife - Nature in the City of Sunnyvale
In a city of transients, the abundant quails of 20 years ago are ancient history. Now the best place to see quails is a patch of shrubbery near the Presidio Golf Course called Quail Commons that Squirrel and Snake Man and The Opossum Guy helped restore. (The project is a collaboration between the Presidio Trust, the National Park Service and the Audubon Society -- the group Squirrel and Snake Man credits with first educating him about the city's birds.) California has an abundance of wildlife, and Sunnyvale is no exception.
It's no surprise that Squirrel and Snake Man, The Opossum Guy and other people like them in the urban naturalist scene here grew up in the Bay Area. To them, quails aren't ancient history -- they're part of their own story, as close and precious as childhood. Although several species of wildlife roam Sunnyvale, only a few, such as raccoons and squirrels, are considered pest wildlife.
"I saw the last of the sand dunes get infilled at Giannini Middle School," says The Opossum Guy. "It was the last remnant intact dune system in the Sunset, in all of western Sunnyvale. All the punks used to ride their dirt bikes there and watch the brush rabbits run for their lives, you know?" Remember to treat the wild animals of Sunnyvale, California, with respect.
"Then St. Ignatius had to have a football field and a parking lot," he continues, "and people didn't know what they were losing. Don't let anybody tell you a sand dune's dead: There was a wonderful beautiful starkness to them, and they were teeming with life."

Pest Chewer flies discovered in Sunnyvale
"Certainly, we are concerned. Corn chewing pest fly is the single most destructive fruit pest that threatens agriculture," said Kevin The Termite and Spider Man, deputy agricultural commissioner for Sunnyvale County. The Sunnyvale County Pest Control board could not be reached for comment.
A quarantine, which is expected to happen in the next few days, would prevent homegrown fruit and vegetables from leaving the area. Fruit stands, dumpsters and the like will be regulated to ensure there is no contaminated fruit. Growers would be required to treat their fruit and vegetables so that they're free from the dangerous flies. People can still eat fruit from trees in the area, officials said. Most local owners of pest control companies in Sunnyvale, California weren't sure what to make of all this.
Officials do not know what particular fruits are affected, and the worst thing that could happen is you could bite into a larvae. "Corn chewing pest fly is not a human health issue. It is an agricultural issue," The Termite and Spider Man said. Sunnyvale pest control is an important part of the local economy, but only a few California companies deal with wild animals.
"We have very few growers and obviously because it is detected early and still very small, we're hoping the quarantine will minimally impact commercial agriculture," The Termite and Spider Man said. There are many types of insects and animals in Sunnyvale, and other California cities, but not all of them are pests after all.


Remember, for a dog/cat problem, call (408) 794-7297, and if you need wildlife removal service in Santa Clara County, call Animal Abatement Specialists: 408-550-7655.