Information about domestic and wild animal problems in Fairfield County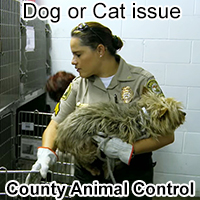 If you need assistance with a domestic animal, such as a dog or a cat, you need to call your local Fairfield County animal services for assistance. They can help you out with issues such as stray dogs, stray cats, spay & neuter programs, vaccinations, licenses, pet adoption, bite reports, deceased pets, lost pets, local animal complaints and to report neglected or abused animals.
Fairfield County Animal Services: 203-576-7727
---
REPORT WILDLIFE ISSUES: 203-576-7727 or 860-424-3011
To report a dead animal on the road, an injured bird, a lost baby squirrel, a dangerous bear, or anything like that, call any of these free government animal services:
Fairfield County Animal Services: 203-576-7727
Connecticut Wildlife Commission: 860-424-3011
Bridgeport police department: 203-581-5100
These agencies often deal with public wildlife issues or animal concerns where the public health or safety is involved, or other types of animal issues. These are free services.
---
Critter Problem at Your House? Hire BearClaw Wildlife
Wildlife removal is not a free service.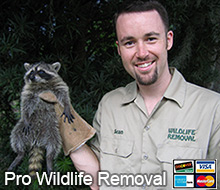 Fairfield County does not provide free wildlife control services. If you want to pay for critter removal services, call BearClaw Wildlife at 203-635-4650. They provide professional wildlife control for both residential & commercial customers in the city of Bridgeport. They offer custom Bridgeport wild animal control solutions for almost any type of wildlife problem, whether it be the noises of squirrels running through the attic, a colony of bats living in a building, or the destructive behavior of a raccoon, they have the experience and the tools to quickly and professionally solve your animal problem in Fairfield County in Connecticut. Check their prices, and for a consultation, give them a call at 203-635-4650
---

We service all of Connecticut.

It is important to remember that most county animal services in Fairfield County and elsewhere no longer provide assistance in cases involving wild animals and wildlife management. If you have a wildlife problem or need to get rid of wildlife, need an exterminator or exterminating company, pest control or critter trapping or traps or wild animal prevention in Fairfield County, you should call a privately owned wildlife removal company at this number: 203-635-4650

Bridgeport, Connecticut has the most people of any city in the state of Connecticut. Originally, Bridgeport was known for its fishing and farming, but it has grown to be so much more today. It has an approximate population of 140,000 people and is nicknamed the "Park City." The recently-built Arena at Harbor Yard serves as the city's sports and hospitality center, and its strong attraction has drawn business from many parts of Connecticut, including New Haven and Hartford. It is also associated as part of the greater New York City metropolitan area because many people who live in Bridgeport, work in NYC and take public transportation to get there each day. There is also the ferry service across Long Island Sound that takes tourists to Port Jefferson for an afternoon of sightseeing. One final noteable fun fact about Bridgeport is that it's the birthplace of the frisbee and is the headquarters of the Frisbee Pie Company.

---
Fairfield County Wildlife Removal Tip:
Rodents & Holes & Homes Are Bad News - If you discover that rodents are inside your home, you should not immediately block off the holes. It is not a good idea to seal off holes until all the rodents have been removed. Doing so can lead to bigger problems. Once you seal off the holes in your home that are used as entry points, a rodent can chew through the material in order to get out. If the rodent is not able to get out and dies stuck inside the wall or ceiling, then an odor will eventually develop. This means that you have to open the space and have the rodent removed, which means extra work for you.
If holes are not sealed off properly, then a rodent can just as easily re-enter your home by chewing through the material again to make more holes. Once rodents make their way inside they will set up a nest, which will attract more rodents and create a health hazard. Since a rodent can find many entry point, it is important to constantly check your attic and garage, and for any loose boards and vents. First staple coarse steel wire screening (hardware cloth) over the entry point, and then cover it with a cosmetic trim. Remember that rodents are unable to chew through steel. Also make sure to install a chimney trap/guard.
---
Fairfield County, CT Animal Control News Clip:
Animal Watch: Keep an eye on those dogs and cats
Mike The Animal Control Expert was watching a football game last Sunday evening with his 6-year-old daughter's beloved Pomeranian by his side. The Animal Control Expert's wife, Fen-Shu, and daughter, Angelina, are in Taiwan visiting family. For more information, call the animal services of Bridgeport, Connecticut.
The tiny dog began begging to go out. The Animal Control Expert turned up the volume on the TV so he could continue listening to the game, turned the outside light on and stepped out onto the deck to keep an eye on Lucky. The dog was some 10 to 15 feet from the house. Fairfield County animal control says it will continue to help with domestic animal issues, but not with Connecticut wildlife problems.
Lucky went out onto the lawn, said The Animal Control Expert and within seconds was grabbed and taken away by an animal the Westerly man now believes was a Wolverine cat. Animal and carcass removal services in Fairfield County is dedicated to helping Connecticut and Bridgeport.
The Animal Control Expert chokes up as he talks about the presumed fate of Angelina's best friend. In relating the story, the Red Brook Drive resident said it took him a few seconds to realize what had happened and when he did he just yelled. But it was too late. Fairfield County animal services in Bridgeport, Connecticut, declined to comment on the matter.


Remember, for a dog/cat problem, call 203-576-7727, and if you need wildlife removal service in Fairfield County, call BearClaw Wildlife: 203-635-4650.