Information about domestic and wild animal problems in Broward County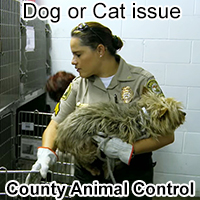 If you need assistance with a domestic animal, such as a dog or a cat, you need to call your local Broward County animal services for assistance. They can help you out with issues such as stray dogs, stray cats, spay & neuter programs, vaccinations, licenses, pet adoption, bite reports, deceased pets, lost pets, local animal complaints and to report neglected or abused animals.
Broward County Animal Services: 954-359-1313
---
REPORT WILDLIFE ISSUES: 954-359-1313 or 888-404-3922
To report a dead animal on the road, an injured bird, a lost baby squirrel, a dangerous bear, or anything like that, call any of these free government animal services:
Broward County Animal Services: 954-359-1313
Florida Wildlife Commission: 888-404-3922
Fort Lauderdale police department: 954-828-5700
These agencies often deal with public wildlife issues or animal concerns where the public health or safety is involved, or other types of animal issues. These are free services.
---
Critter Problem at Your House? Hire Wild Animal Pest Control Fort Lauderdale
Wildlife removal is not a free service.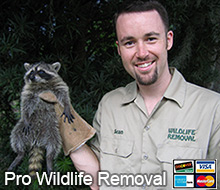 Broward County does not provide free wildlife control services. If you want to pay for critter removal services, call Wild Animal Pest Control Fort Lauderdale at 954-372-8896. They provide professional wildlife control for both residential & commercial customers in the city of Fort Lauderdale. They offer custom Fort Lauderdale wild animal control solutions for almost any type of wildlife problem, whether it be the noises of squirrels running through the attic, a colony of bats living in a building, or the destructive behavior of a raccoon, they have the experience and the tools to quickly and professionally solve your animal problem in Broward County in Florida. Check their prices, and for a consultation, give them a call at 954-372-8896
---



It is important to remember that most county animal services in Broward County and elsewhere no longer provide assistance in cases involving wild animals and wildlife management. If you have a wildlife problem or need to get rid of wildlife, need an exterminator or exterminating company, pest control or critter trapping or traps or wild animal prevention in Broward County, you should call a privately owned wildlife removal company at this number: 954-372-8896

Ft. Lauderdale is sometimes called the "Venice of America", but it should be called the "Zoo of America" due to all of the wild animals. The Seminole Indians lived here before the European settlers, but the raccoons and opossums lived here before the Seminole Indians. The Seminoles are gone now, but there's more critters than ever! We are a professional nuisance wildlife control company serving southeast Florida & the Ft. Lauderdale area. We offer commercial pest control and animal control to safely and permanently take care of your wildlife problems. We are fully licensed and insured, and dedicated to the finest quality of work, which we back up with a guarantee. If you need to get rid of wildlife, or need expert and professional trapping services, just give us a call. We also service the towns of Hollywood, Lauderhill, Dania Beach, Coral Springs, North Lauderdale and also animal control in Oakland Park, Coconut Creek, Margate and pest control in Pembroke Pines, Pompano Beach, Davie, Tamarac and wild animal services in Weston, Sunrise, Parkland, Hallandale and wildlife management in Lauderdale Lakes, Plantation, Miramar, Deerfield Beach.

To learn more about us, visit our website at Fort Lauderdale Wildlife Control.
---
Broward County Wildlife Removal Tip:
Can A Rodent Enter From Dryer Vent Into Your Home - While an attic is a popular nesting place for a rodent, they can also enter your home by making openings in walls throughout your home. If you have carefully secured your roof, a rodent will make sure to inspect other areas of your house as possible entry points. Thus, it is also common for a rodent to enter from a dryer vent. Here are few tips on how to remove a rodent from your dryer vent, and how you can prevent this from happening again.
If a rodent gets into your dryer vent it can get stuck, depending on the size of the vent. You will probably hear scratching noises from the dryer, which is a signal that there is something stuck inside, trying to get out. Your priority is to safely remove the rodent from the vent. First make sure that the dryer is turned off. If the rodent is in the hose, try to get it back into the wall. Then, disconnect the vent hose from the dryer so that the rodent does not fall out of the wall. You can use the handle of a broom to push the rodent outside. After you remove the rodent, install mesh wiring. A mesh covering is an ideal solution as a covering for a dryer vent, since it will not prevent the flow of air.
---
Broward County, FL Animal Control News Clip:
Rodent catching changes expected now that control has shifted
FT. LAUDERDALE There are likely big changes in store for Floridas reptile critter trappers after this historic seven day period in the Statehouse. The Florida House of Representatives last seven day period voted overwhelmingly to give the Fish and Wildlife Agency and the Fish and Wildlife Board control of the states reptile critter catching rules and regulations, stripping the Legislature of its long-standing power over the reptile large group. The Senate and Snake Charmer Charles still need to approve the legislation into law, some thing expected to be done be fore the Legislature adjourns. If this reptile bill should be not brought up in the Senate, stated Snake Charmer Charles, who ushered the legislation through the House, the sportsmen of this state will be up in arms. Critter Officer Oscar, chairwoman of the Senate Natural Resources Committee, stated she's interested in moving ahead with the reptile large group bill and should be getting ready for the governor to approve it. There will be plenty of anger, too, if the bill becomes law and the agency and the Fish and Wildlife Board which doubles in size under the legislation fails to make significant changes in the states reptile critter catching rules. This issue should be an important matter in Fort Lauderdale wildlife removal and Ft. Lauderdale exterminator matters.
Both the sportsmen and the Legislature will be looking for some action from the board, Snake Charmer Charles stated. Im expecting they'll listen to what the public has asked. If we don't see that happening, well just yank back the authority to the Statehouse. The bill gives each county this governor-appointed representative on the Fish and Wildlife Board. As early as the 2005 critter catching seasons, the board can, if it chooses: Establish this yearly reptile limit. Critter trappers now legally take three reptile this year; Change regulations for the pest control season; Changes regulations for the special critter trap season; Decide when dangerous reptile should be trapped and how many dangerous reptile should be lethally trapped; Change the legal definition of this male animal. Fish and Wildlife commissioner Critter Officer Oscar has been pushing this Comprehensive Reptile Management plan for several years. The plan would likely establish tail restrictions in at least three Wildlife Management Units around the state but could involve wholesale changes to reptile critter catching regulations. The Ft. Lauderdale animal control had no additional statements to make on the topic.
Critter Officer Oscar stated Thursday that one change the pest operator would not advocate would be to allow for dangerous critter catching to take place during the November animal removal trap season. Everything else, the pest operator stated, could be up for discussion. As soon as we know for sure we've got the authority, well start considering all the concerns about reptile critter catching and reptile management in the state, Critter Officer Oscar stated. We should look at the whole picture. Changes could be in place for the 2005 critter catching seasons, but that might be this push. In order to have changes reflected in the lawbook wed have to have changes made by late September, Critter Officer Oscar stated. It should be possible to have them for next year. We will try to do something. The Florida Fish and Wildlife Board will hold its April organized hearing Wednesday at 7 p.m. at the Florida Public Television studio. The organized hearing will be broadcast statewide from 7 to 9 p.m. It should be expected to be one of the most important organized hearings of the year, be cause the board will receive reports from the Fish and Wildlife Agency and vote on the 2004 dangerous reptile season suggestion and the 2004 moose permit recommendation. At times during the broadcast, VPT will feature this panel of experts commenting on the concerns being considered. They are Matt Crawford, reporter and outdoor columnist for The Burlington Free Press, and Warner Sheodd, author and former executive of the National Wildlife Federation. Viewers will be invited to call the panelists with comments and questions at this toll-free amount to be announced during the program. The board will not take questions from the public during the organized hearing. Ft. Lauderdale pest control companies that we contacted felt that this issue should be an important matter.


Remember, for a dog/cat problem, call 954-359-1313, and if you need wildlife removal service in Broward County, call Wild Animal Pest Control Fort Lauderdale: 954-372-8896.