Information about domestic and wild animal problems in Hillsborough County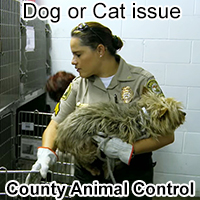 If you need assistance with a domestic animal, such as a dog or a cat, you need to call your local Hillsborough County animal services for assistance. They can help you out with issues such as stray dogs, stray cats, spay & neuter programs, vaccinations, licenses, pet adoption, bite reports, deceased pets, lost pets, local animal complaints and to report neglected or abused animals.
Hillsborough County Animal Services: (813) 744-5660
---
REPORT WILDLIFE ISSUES: (813) 744-5660 or 888-404-3922
To report a dead animal on the road, an injured bird, a lost baby squirrel, a dangerous bear, or anything like that, call any of these free government animal services:
Hillsborough County Animal Services: (813) 744-5660
Florida Wildlife Commission: 888-404-3922
Tampa police department: 813-276-3200
These agencies often deal with public wildlife issues or animal concerns where the public health or safety is involved, or other types of animal issues. These are free services.
---
Critter Problem at Your House? Hire All Pro Wildlife, LLC
Wildlife removal is not a free service.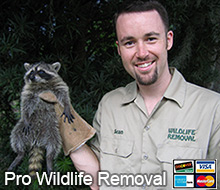 Hillsborough County does not provide free wildlife control services. If you want to pay for critter removal services, call All Pro Wildlife, LLC at (813) 404-7033. They provide professional wildlife control for both residential & commercial customers in the city of Tampa. They offer custom Tampa wild animal control solutions for almost any type of wildlife problem, whether it be the noises of squirrels running through the attic, a colony of bats living in a building, or the destructive behavior of a raccoon, they have the experience and the tools to quickly and professionally solve your animal problem in Hillsborough County in Florida. Check their prices, and for a consultation, give them a call at (813) 404-7033
---

All Pro Wildlife LLC is the most professional, best equipped, and most knowledgeable wildlife control company in the Tampa Bay area. We are one of the few properly fully licensed and insured companies in the state, and our services is second to none. Our range includes the entire Tampa Bay region, north to Carrollwood, east to Brandon, and south to Apollo Beach.

It is important to remember that most county animal services in Hillsborough County and elsewhere no longer provide assistance in cases involving wild animals and wildlife management. If you have a wildlife problem or need to get rid of wildlife, need an exterminator or exterminating company, pest control or critter trapping or traps or wild animal prevention in Hillsborough County, you should call a privately owned wildlife removal company at this number: (813) 404-7033

Tampa was incorporated on January 18, 1849, and its name may be a native American name that stands for "Sticks of Fire". Then again, it may stand for "Land of Many Critters and Pests". Historians are not sure which of the two names is more accurate. Phosphate was discovered in the area in 1883 and Tampa is now one of the world's leading phosphate exporters. It's also probably one of the world's leading snake importers, because there's exotic snakes everywhere. Neighborhoods in Tampa include Ballast Point, Belmont Heights, and rat control in Forest Hills, Jackson Heights, New Tampa, Palma Ceia, Palmetto Beach-Grant Park, Port Tampa-Interbay, Seminole Heights, Sulphur Springs, Tampa Heights, West Tampa, and Ybor City. We also service the towns of Hernando Beach, Clearwater Beach, and wildlife trapping in Sun City Center, Apollo Beach, San Antonio, Odessa, Safety Harbor, Palm Harbor, Redington Beach, Oldsmar, Land O Lakes, Weeki Wachee and also animal control in Northdale, Valrico, Brandon, Redington Shores, and animal capture in Seminole, Belleair, Holiday, Ruskin, Wesley Chapel, Tarpon Springs, Dover, Carrollwood and pest control in Crystal Beach, Kenneth City, Spring Hill, Trinity, Belleair Beach, Riverview, and snake removal in Seffner, Bay Pines and wild animal services in St Petersburg, Madeira Beach, Zephyrhills, Indian Rocks Beach, Pinellas Park, Temple Terrace, Plant City, Brooksville, St Pete Beach and wildlife management in Gulfport, Port Richey, Dade City, and snake removal in Treasure Island, Dunedin, Gibsonton, Citrus Park, Hudson.

---
Hillsborough County Wildlife Removal Tip:
How To Effectively Seal Off Rodent Entry Points - Any part of your home offers a potential point of entry for a rodent. However, the most common points of entry are the attic and the garage. The attic is a convenient nesting place because it offers a female rodent plenty of room to make a home for her young. People do not usually inhabit attics, so rodents can live there for a period of time uninterrupted and unseen.
Rodents easily access an attic by chewing through the space around the gutter and other weak areas of the roof. If you have a tree that hangs over the roof, you should trim it because rodents can climb trees, jump on the roof and get in the attic.
The chimney is another easily accessible entry point, and a rodent can access any part of your home by going down the chimney. Since rodents make a lot of noise, especially at night, it is easy to figure out that you have a rodent problem. You have to take immediate steps to get rid of them and seal off the entry points to prevent future access. The longer rodents live in your home, the more entry points they will create, meaning more work for you.
---
Hillsborough County, FL Animal Control News Clip:
Animal-friendly shelter in Tampa caters to people
"To me, in all honesty, it was sink or swim with the kids," said Chris Dog and Cat Expert, 56, who brought her "kids," four dogs and one cat, to the shelter early Sunday afternoon. For more information, call the animal services of Tampa, Florida.
"I was going to stay with them." The animals are kept in crates in a separate building from the human shelter run by the Red Cross, whose guidelines bar keeping animals in the same space as humans. Animal and carcass removal services in Hillsborough County is dedicated to helping Florida and Tampa.
There are no combined pet-people shelters in Palm Beach County, but the animal control office set up an emergency shelter for 250 cats and 100 dogs at 7100 Belvedere Road. One shelter in Hillsborough at the county fairgrounds houses animals and people in the same facility. Hillsborough County animal control says it will continue to help with domestic animal issues, but not with Florida wildlife problems.
In Tamarac, officials expected about 100 animals by this morning. Hillsborough County residents and their pets can take shelter free of charge at 5803 NW 94th Ave. They must bring their animal's tag and proof of rabies vaccination. In the Millennium gym early Sunday sat 43 mostly empty dog crates. Enya played softly over the loud speakers, a calming tactic to curb barking. "We have the potential for 350 dogs," Dog and Cat Expert said over the yelps of a few pups. "I can't even imagine."


Remember, for a dog/cat problem, call (813) 744-5660, and if you need wildlife removal service in Hillsborough County, call All Pro Wildlife, LLC: (813) 404-7033.