Information about domestic and wild animal problems in Lee County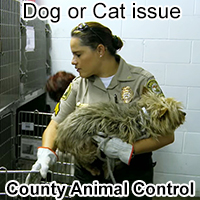 If you need assistance with a domestic animal, such as a dog or a cat, you need to call your local Lee County animal services for assistance. They can help you out with issues such as stray dogs, stray cats, spay & neuter programs, vaccinations, licenses, pet adoption, bite reports, deceased pets, lost pets, local animal complaints and to report neglected or abused animals.
Lee County Animal Services: 239-533-7387
---
REPORT WILDLIFE ISSUES: 239-533-7387 or 888-404-3922
To report a dead animal on the road, an injured bird, a lost baby squirrel, a dangerous bear, or anything like that, call any of these free government animal services:
Lee County Animal Services: 239-533-7387
Florida Wildlife Commission: 888-404-3922
Fort Myers police department: 239-321-7700
These agencies often deal with public wildlife issues or animal concerns where the public health or safety is involved, or other types of animal issues. These are free services.
---
Critter Problem at Your House? Hire Nuisance Wildlife Rangers
Wildlife removal is not a free service.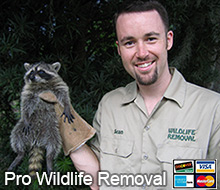 Lee County does not provide free wildlife control services. If you want to pay for critter removal services, call Nuisance Wildlife Rangers at 239-829-5372. They provide professional wildlife control for both residential & commercial customers in the city of Fort Myers. They offer custom Fort Myers wild animal control solutions for almost any type of wildlife problem, whether it be the noises of squirrels running through the attic, a colony of bats living in a building, or the destructive behavior of a raccoon, they have the experience and the tools to quickly and professionally solve your animal problem in Lee County in Florida. Check their prices, and for a consultation, give them a call at 239-829-5372
---

We specialize in nuisance animal control. Our range includes North Fort Myers, Fort Myers Shores, Fort Myers Villas, San Carlos Park, south to Bonita Springs.

It is important to remember that most county animal services in Lee County and elsewhere no longer provide assistance in cases involving wild animals and wildlife management. If you have a wildlife problem or need to get rid of wildlife, need an exterminator or exterminating company, pest control or critter trapping or traps or wild animal prevention in Lee County, you should call a privately owned wildlife removal company at this number: 239-829-5372

Ft. Myers was established in 1886 and is is the historical and governmental hub of Lee County. It is considered the gateway to the Southwest Florida region, a a major tourist destination in FL, and it is also a popular place to live for retirees. The winter homes of Thomas Edison (Seminole Lodge) and Henry Ford (The Mangoes), are located in Fort Myers. The winter and summer homes of many wild animals are also located in Ft. Myers, so if you need professional animal pest control, give us a call. We also service the towns of Cape Coral, Fort Myers Shores, Lehigh Acres and also animal control in Clewiston, La Belle, Estero and pest control in Fort Myers Beach, North Fort Myers and wild animal services in Waterway Estates, Moore Haven and wildlife management in Sanibel, Bonita Springs.

---
Lee County Wildlife Removal Tip:
You Removed A Rodent Corpse in Your Attic-Now How To Get Rid Of The Smell? - Once you have found a rodent corpse in your attic and removed it, you still have to deal with the pungent smell. The longer the dead rodent has been in your attic, the stronger is the smell. A simple deodorizer will not do enough to completely eliminate the smell. This is because a dead rodent will have probably left behind potentially harmful bacteria from urine and feces, as well as debris from its decomposing corpse.
Thus, you do not want the smell, bacteria and debris to travel to other parts of your house. If you have an attic fan, turn it on, and leave it on all day and all night. It will force some of the foul and tainted air outside. If the rodent has been dead for a while and the smell is particularly overwhelming, you will need to air the entire home out for quite some time. You will need to scrub the area with a sanitizer such as bleach. Make sure there is plenty of ventilation and you should wear a mask to protect your lungs from any airborne illness. Finally, when the area is thoroughly cleaned you may consider sprinkling baking soda to sit for some time. This will help with a final deodorizing.
---
Lee County, FL Animal Control News Clip:
Here are some of the emails regarding dog issues that we've received:
To Whom It May Concern: I wanted to bring to your attention that there are two pit bulls that seem to spend most of the time during the day on thin chains, in front of the house where they reside, just north of Cape Coral in Lee County. My concern is that every time my wife and I have jogged by, these dogs begin barking and don't stop until we're out of sight. Today my wife had our lab with her and as she approached the house, both these dogs began snarling (she was on the other side of the street), barking loudly and she was fearful that they might break their chains and attack. I'm concerned about this because a friend of mine and her dog were recently attacked by a pit bull that the owner claimed was friendly, in SLO. I don't expect you to do anything at this time, however; I would like to request that you file this away just in case one of these dogs ever harm anyone. Thank you, Les
Hello, My name is Devon. I live in Fort Meyers FL. There is around 10 cats I see all the time on my property. They have no collars and I don't believe anyone owns them. They are always pooping and peeing in my yard. I am tired if the smell and always stepping in the poop. They also kill the birds, squirrels, possums I have found dead in my yard. I was told that you have a way you could put a trap on my property to catch these cats and take them away. Please contact me on who to call. Thanks, Devon
I am (WAS) planning a move to your county late summer/early fall from Southeast PA. I have a CMC Realtor and am in the process of getting my PA home on the market. Your county seemed like the perfect place for me to semi-retire, and I even have an in for a part-time teaching position in CMCH. As a highly responsible dog owner and volunteer rescue person, I was browsing your sight with a few questions I had regarding your policies regarding NUMBER of canines (2-3?) permitted on a private, 6-foot-fenced home in case I should foster a pooch from your county's shelter. HOWEVER, your ignorant display of a Doberman Pinscher under the heading of "Barking or DANGEROUS Dogs" has me upset and I feel you are responsible for perpetuating the MYTH of the anti-social, anti-friendly LIES of this wonderful breed. WHERE ARE YOU STATS, SIR? I would like to see them, please, as a prospective Lee County resident. Having rescued and raised this wonderful, devoted breed for 23 YEARS, I have not had one incident of aggression toward any neighbor, guest or other dog. HOW DARE YOU portray them otherwise with your ridiculous photo/heading. And how SADLY IRONIC THAT YOU REPRESENT YOURSELF AS ANIMAL "CONTROL" WHEN YOU CAN'T OR WON'T CONTROL YOUR OWN WAYWARD MISINFORMATION. Sandra
Remember, for a dog/cat problem, call 239-533-7387, and if you need wildlife removal service in Lee County, call Nuisance Wildlife Rangers: 239-829-5372.