Information about domestic and wild animal problems in Manatee County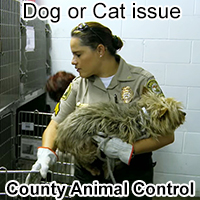 If you need assistance with a domestic animal, such as a dog or a cat, you need to call your local Manatee County animal services for assistance. They can help you out with issues such as stray dogs, stray cats, spay & neuter programs, vaccinations, licenses, pet adoption, bite reports, deceased pets, lost pets, local animal complaints and to report neglected or abused animals.
Manatee County Animal Services: 941-742-5933
---
REPORT WILDLIFE ISSUES: 941-742-5933 or 888-404-3922
To report a dead animal on the road, an injured bird, a lost baby squirrel, a dangerous bear, or anything like that, call any of these free government animal services:
Manatee County Animal Services: 941-742-5933
Florida Wildlife Commission: 888-404-3922
Bradenton police department: 941-932-9300
These agencies often deal with public wildlife issues or animal concerns where the public health or safety is involved, or other types of animal issues. These are free services.
---
Critter Problem at Your House? Hire Wildlife Removal Bradenton
Wildlife removal is not a free service.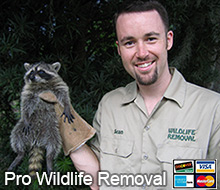 Manatee County does not provide free wildlife control services. If you want to pay for critter removal services, call Wildlife Removal Bradenton at 941-209-1474. They provide professional wildlife control for both residential & commercial customers in the city of Bradenton. They offer custom Bradenton wild animal control solutions for almost any type of wildlife problem, whether it be the noises of squirrels running through the attic, a colony of bats living in a building, or the destructive behavior of a raccoon, they have the experience and the tools to quickly and professionally solve your animal problem in Manatee County in Florida. Check their prices, and for a consultation, give them a call at 941-209-1474
---

Our range includes most of the south end of Tampa Bay, including Palmetto, Memphis, Ellenton, Oneco, Whitfield Estates, Bayshore Gardens, Cortez, Holmes Beach, Anna Maria, and Palma Sola.

It is important to remember that most county animal services in Manatee County and elsewhere no longer provide assistance in cases involving wild animals and wildlife management. If you have a wildlife problem or need to get rid of wildlife, need an exterminator or exterminating company, pest control or critter trapping or traps or wild animal prevention in Manatee County, you should call a privately owned wildlife removal company at this number: 941-209-1474

Tropicana Products, one of the world's largest producers of orange juice, is in Bradenton. Those Citrus Rats sure do like oranges. We also service the towns of Bee Ridge, Myakka City, Palmetto, Coral Cove, North Port, Laurel and also animal control in Englewood, Anna Maria, Ellenton, Samoset, Parrish, Manasota and pest control in Osprey, Longboat Key, Nokomis, Crescent Beach, Memphis, Terra Ceia and wild animal services in Verna, University Park, Bradenton Beach, Fruitville, Oneco, Sarasota and wildlife management in South Venice, Tallevast, Holmes Beach, Venice Gardens, Venice.

---
Manatee County Wildlife Removal Tip:
What To Do If A Rodent Died In Your Ceiling - If you discover that a rodent has died in your ceiling, there is no need to burden yourself with worry. It is a common occurrence and happens to many homeowners. A dead rodent trapped inside your home will produce a foul odor, so there is no way that a dead rodent will remain in your house without you finding out about it. You might ask yourself, 'how did a rodent end up in my ceiling?' Rodents are very agile and adept animals. They can fit easily through tiny crevices.
So any small opening in your wall or ceiling is enough for them to get through. However, a rodent can also just as easily get stuck, and can get electrocuted because they chew wires. You can easily get rid of a dead rodent, but make sure to wear gloves and a face mask to protect yourself from the odor and bacteria. If you are uncomfortable with removing the dead rodent on your own, you can call a professional to do it for you. You can also have a professional inspect to house to find holes and crevices that are difficult to find and close them off with the right material. If a rodent has entered your house once that means there is a chance it will happen again.
---
Manatee County, FL Animal Control News Clip:
Animal Control - 3 kids getting shots after encounter with rabid bat
Three youths at a local treatment center got a little too close to a bat a couple of weeks ago and now they're paying a painful price. For more information, call the animal services of Bradenton, Florida.
The bat was rabid.The trio, who found the bat in the yard at the Animal Adoption League Residential Adolescent Program, are receiving a series of shots to prevent rabies.One youth was scratched and one was bitten. The third youth just handled the bat, said Chet Bell, the program's chief executive officer. Manatee County animal control says it will continue to help with domestic animal issues, but not with Florida wildlife problems.
The Seminole bat was the eighth animal to test positive for rabies in Manatee County this year, said Paul Minshew of the Manatee County Health Department. Last year Manatee had 14. Problems with bats are rare in Manatee County, said Becky Wilson, director of animal control for Manatee County. Animal and carcass removal services in Manatee County is dedicated to helping Florida and Bradenton.
Since Animal Adoption League is on the edge of a swamp in the Tiger Bay State Forest, the staff is used to dealing with lots of animals -- but never a bat, Bell said. Seminole bats are common in Florida and the Southeast, according to a University of Florida Web site. They live in trees and Spanish moss and have a wingspan of about 15 inches. Manatee County animal services in Bradenton, Florida, declined to comment on the matter.


Remember, for a dog/cat problem, call 941-742-5933, and if you need wildlife removal service in Manatee County, call Wildlife Removal Bradenton: 941-209-1474.