Information about domestic and wild animal problems in Miami-Dade County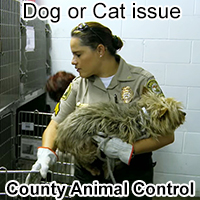 If you need assistance with a domestic animal, such as a dog or a cat, you need to call your local Miami-Dade County animal services for assistance. They can help you out with issues such as stray dogs, stray cats, spay & neuter programs, vaccinations, licenses, pet adoption, bite reports, deceased pets, lost pets, local animal complaints and to report neglected or abused animals.
Miami-Dade County Animal Services: (305) 884-1101
---
REPORT WILDLIFE ISSUES: (305) 884-1101 or 888-404-3922
To report a dead animal on the road, an injured bird, a lost baby squirrel, a dangerous bear, or anything like that, call any of these free government animal services:
Miami-Dade County Animal Services: (305) 884-1101
Florida Wildlife Commission: 888-404-3922
Miami police department: 305-603-6640
These agencies often deal with public wildlife issues or animal concerns where the public health or safety is involved, or other types of animal issues. These are free services.
---
Critter Problem at Your House? Hire Affordable Wildlife Removal
Wildlife removal is not a free service.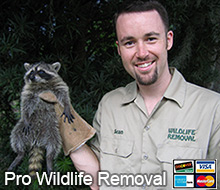 Miami-Dade County does not provide free wildlife control services. If you want to pay for critter removal services, call Affordable Wildlife Removal at 786-257-0335. They provide professional wildlife control for both residential & commercial customers in the city of Miami. They offer custom Miami wild animal control solutions for almost any type of wildlife problem, whether it be the noises of squirrels running through the attic, a colony of bats living in a building, or the destructive behavior of a raccoon, they have the experience and the tools to quickly and professionally solve your animal problem in Miami-Dade County in Florida. Check their prices, and for a consultation, give them a call at 786-257-0335
---

Our range includes North Miami Beach, Bal Harbour, Bay Harbor Islands, Surfside, Miami Shores, North Bay Village, Miami Beach, Key Biscayne, Miami Springs, Sweetwater, Westwood Lake, Kendall, Pinecrest, and Coral Gables.

It is important to remember that most county animal services in Miami-Dade County and elsewhere no longer provide assistance in cases involving wild animals and wildlife management. If you have a wildlife problem or need to get rid of wildlife, need an exterminator or exterminating company, pest control or critter trapping or traps or wild animal prevention in Miami-Dade County, you should call a privately owned wildlife removal company at this number: 786-257-0335

No one really knows the origin of the name "Miami". One possibility is that it comes from a Native word for "sweet water". The area was a concentration of water because of the Miami River which drains the Everglades to the Atlantic. Another theory is that the name comes from Lake Mayaimi (Lake Okeechobee) which means "big water." Others theorize that the name came from the Tequesta native word for giant rat, Mimi. It's true that there are many citrus rats and fruit rats (same thing) in Miami, and we are experts at Miami rat control and removal. We are a professional nuisance wildlife control company serving southeast Florida & the Miami area, including Miami Beach, Coral Gables, Kendall, Homestead, Hialeah, Carol City, and Mirimar Animal Control. We offer commercial pest control and animal control to safely and permanently take care of your wildlife problems. We are fully licensed and insured, and dedicated to the finest quality of work, which we back up with a guarantee. If you need to get rid of wildlife, or need expert and professional trapping services, just give us a call. Some of the neighborhoods in Miami include Allapattah, Bay Point Estates, Brickell Avenue, Design District, Government Center, Little Havana, Little Haiti, Omni Performing Arts District, Overtown, and Wynwood. We also service the towns of Hollywood, Lauderhill, Dania Beach, Coral Springs, North Lauderdale and also animal control in Oakland Park, Coconut Creek, and wildlife trapping in Margate and pest control in Pembroke Pines, Pompano Beach, Davie, Boca Raton, Tamarac, Hialeah and wild animal services in Weston, Sunrise, Parkland, Hallandale and wildlife management in Lauderdale Lakes, and rodent removal in Plantation, Miramar, Deerfield Beach.

To learn more about us, visit our website at miamipestanimalcontrol.com.
---
Miami-Dade County Wildlife Removal Tip:
How To Remove Rodent Feces In Crawl Space - Since rodents are rodents, their teeth give them the ability and necessity to chew through a wide range of material. By building a nest inside your home, this often means that they will cause structural damage to your home. One common problem is rodent feces in the crawl space of your home. Fecal waste means that there will be damage to insulation, especially in the attic. Once a rodent gets in, it will cause damage to the insulation by infecting the area with its fecal matter and urine, as well as leave behind parasites and fur.
A rodent only needs to chew through a small area of space to enter your home. Also, a rodent is constantly leaving your home to retrieve food. This means that as it comes back through the hole, it can leave fecal matter in the small crawl space. If you don't get rid of the feces, it will stay there and continue to pose a health risk and the insulation will deteriorate. Even if the rodent leaves, the odor left behind will attract more rodents to the same place and exacerbate the problem. While you can remove fecal matter yourself, it might be better to hire professionals to remove feces that are not immediately visible. Feces can be trapped in the small crawl spaces, and you might need new insulation applied.
---
Miami-Dade County, FL Animal Control News Clip:
Animal Services - New canine mystery disease is not a cause for panic
When I saw the story recently on a local news program, I was concerned. Before the broadcast, I had only heard rumblings regarding a new canine mystery disease. For more information, call the animal services of Miami, Florida.
Just like the deer tick and Lyme disease scare a few years ago, I could foresee a panic among dog fanciers - people across the country demanding the vaccination and imagined cases of it springing up everywhere. Miami-Dade County animal control says it will continue to help with domestic animal issues, but not with Florida wildlife problems.
We finally learned that it was not nearly so widespread. In fact, I am aware of only one case locally this summer, and I suspect the owners, who left their dogs here at home while traveling up north, probably brought the little varmints back and passed them on to the dogs. Animal and carcass removal services in Miami-Dade County is dedicated to helping Florida and Miami.
The new virus is not really as new as the media would have us believe. Of course, the report I saw on television made it out to be brand new and threatening every dog in our state! Truth be told, regrettably, the new virus has been making its rounds among the racing dog businesses.


Remember, for a dog/cat problem, call (305) 884-1101, and if you need wildlife removal service in Miami-Dade County, call Affordable Wildlife Removal: 786-257-0335.