Information about domestic and wild animal problems in Pinellas County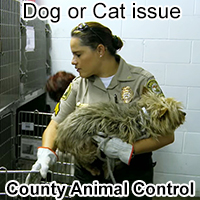 If you need assistance with a domestic animal, such as a dog or a cat, you need to call your local Pinellas County animal services for assistance. They can help you out with issues such as stray dogs, stray cats, spay & neuter programs, vaccinations, licenses, pet adoption, bite reports, deceased pets, lost pets, local animal complaints and to report neglected or abused animals.
Pinellas County Animal Services: (727) 582-2600
---
REPORT WILDLIFE ISSUES: (727) 582-2600 or 888-404-3922
To report a dead animal on the road, an injured bird, a lost baby squirrel, a dangerous bear, or anything like that, call any of these free government animal services:
Pinellas County Animal Services: (727) 582-2600
Florida Wildlife Commission: 888-404-3922
St. Petersburg police department: 727-893-7780
These agencies often deal with public wildlife issues or animal concerns where the public health or safety is involved, or other types of animal issues. These are free services.
---
Critter Problem at Your House? Hire All Pro Wildlife, LLC
Wildlife removal is not a free service.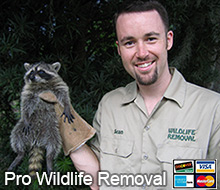 Pinellas County does not provide free wildlife control services. If you want to pay for critter removal services, call All Pro Wildlife, LLC at (813) 404-7033. They provide professional wildlife control for both residential & commercial customers in the city of St. Petersburg. They offer custom St. Petersburg wild animal control solutions for almost any type of wildlife problem, whether it be the noises of squirrels running through the attic, a colony of bats living in a building, or the destructive behavior of a raccoon, they have the experience and the tools to quickly and professionally solve your animal problem in Pinellas County in Florida. Check their prices, and for a consultation, give them a call at (813) 404-7033
---

All Pro Wildlife LLC is the most professional, best equipped, and most knowledgeable wildlife control company in the Tampa Bay area. We are one of the few properly fully licensed and insured companies in the state, and our services is second to none. Our range includes the entire area west of the bay, including Saint Petersburg Animal Control, Largo, Seminole, Pinellas Park, Treasure Island, South Pasadena, St. Pete Beach, Gulfport, Lealman, Bay Pines, and Kenneth City.

It is important to remember that most county animal services in Pinellas County and elsewhere no longer provide assistance in cases involving wild animals and wildlife management. If you have a wildlife problem or need to get rid of wildlife, need an exterminator or exterminating company, pest control or critter trapping or traps or wild animal prevention in Pinellas County, you should call a privately owned wildlife removal company at this number: (813) 404-7033

Saint Petersburg was named after the Russian city of the same moniker, and is the 4th largest city in Florida. It lies on the west side of the bay. It is nicknamed the "Sunshine City", and school children worldwide enjoy repeating this nickname over and over again. We also service the towns of Hernando Beach, Clearwater Beach, Sun City Center, Apollo Beach, and animal capture in Odessa, Safety Harbor, Palm Harbor, Redington Beach, Oldsmar, Land O Lakes, Weeki Wachee and also animal control in Northdale, Valrico, Brandon, Redington Shores, New Port Richey, Lithia, and snake removal in Belleair, Holiday, Ruskin, Wesley Chapel, Tarpon Springs, Dover, Carrollwood and pest control in Crystal Beach, Kenneth City, Spring Hill, Trinity, Belleair Beach, Riverview, South Pasadena, Lutz, Sydney, Seffner, Bay Pines and wild animal services in Madeira Beach, Zephyrhills, Indian Rocks Beach, Pinellas Park, and wildlife trapping in Temple Terrace, Plant City, Brooksville, St Pete Beach and wildlife management in Gulfport, and rat control in Port Richey, Dade City, Belleair Bluffs, Indian Shores, Largo, Treasure Island, and animal capture in Dunedin, Gibsonton, Citrus Park, Hudson.

---
Pinellas County Wildlife Removal Tip:
Different Methods Of Rodent Extermination In my crawl space - If a rodent has invaded your living space and has set up a comfortable nesting area in your my crawl space home, there are several effective methods of extermination. While you can identify the problem yourself and take the necessary steps to remove rodents from your home, it is a good idea to hire the services of professionals who will be able to determine what type of rodent removal method is right.
If you do not take steps to immediately eradicate the source of the problem, it is very possible that your home will attract more rodents. Rodents are able to easily adapt to human-modified surroundings, and if they see that there are no obstacles to access your home, they will multiply. A rodent trap is one of the most effective methods of removing unwanted rodents from your home. Animal control services will sometimes set up traps in the areas that rodents use as a point of entry and exit.
This trap will not harm the rodent and they will be safely relocated to another area. However, a trap isn't a long-term solution. Rodents are smart animals and will simply find another hole to chew through. To prevent future access, you have to make structural repairs to your home, where rodents won't be able to chew through material.
---
Pinellas County, FL Animal Control News Clip:
Animal Control - Man says he'll fight cruelty charges
He said he has also caught two ducks on his property with a net, and put them into garbage cans with lids askew so they wouldn't escape. For more information, call the animal services of St. Petersburg, Florida.
But he said he immediately called the trapper, who picked up one bird within an hour, and he released a second himself. His neighbor across the road, Katherine Coy, had been feeding the ducks on her property but agreed to stop as an experiment to see whether the ducks continue to cross the road away from their canal habitat. Pinellas County animal control says it will continue to help with domestic animal issues, but not with Florida wildlife problems.
"The ducks have stopped coming onto my property," The resident pestered duck man said. Another neighbor, Chrys Een, contacted animal control after seeing two ducks in The resident pestered duck man's garbage cans. "There's ways to deal with this, and that isn't one of them," she said. She said part of the charm of living on the canal is the wildlife, including the ducks. Animal and carcass removal services in Pinellas County is dedicated to helping Florida and St. Petersburg.
Bob Brin, outreach officer for Pinellas County Animal Services, said the charge against The resident pestered duck man is part of a continuing investigation. "The antifreeze was obvious and overt and an immediate hazard," he said. Brown said it is legal to catch nuisance animals, including Muscovy ducks, on your own property, even with a net.


Remember, for a dog/cat problem, call (727) 582-2600, and if you need wildlife removal service in Pinellas County, call All Pro Wildlife, LLC: (813) 404-7033.