Information about domestic and wild animal problems in St. Johns County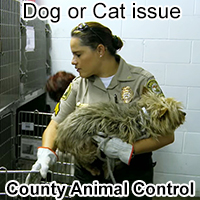 If you need assistance with a domestic animal, such as a dog or a cat, you need to call your local St. Johns County animal services for assistance. They can help you out with issues such as stray dogs, stray cats, spay & neuter programs, vaccinations, licenses, pet adoption, bite reports, deceased pets, lost pets, local animal complaints and to report neglected or abused animals.
St. Johns County Animal Services: 904-209-0655
---
REPORT WILDLIFE ISSUES: 904-209-0655 or 888-404-3922
To report a dead animal on the road, an injured bird, a lost baby squirrel, a dangerous bear, or anything like that, call any of these free government animal services:
St. Johns County Animal Services: 904-209-0655
Florida Wildlife Commission: 888-404-3922
St. Augustine police department: 904-825-1070
These agencies often deal with public wildlife issues or animal concerns where the public health or safety is involved, or other types of animal issues. These are free services.
---
Critter Problem at Your House? Hire Professional Wildlife and Rodent Removal
Wildlife removal is not a free service.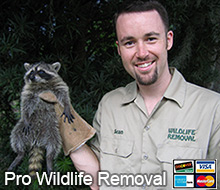 St. Johns County does not provide free wildlife control services. If you want to pay for critter removal services, call Professional Wildlife and Rodent Removal at 904-312-7580. They provide professional wildlife control for both residential & commercial customers in the city of St. Augustine. They offer custom St. Augustine wild animal control solutions for almost any type of wildlife problem, whether it be the noises of squirrels running through the attic, a colony of bats living in a building, or the destructive behavior of a raccoon, they have the experience and the tools to quickly and professionally solve your animal problem in St. Johns County in Florida. Check their prices, and for a consultation, give them a call at 904-312-7580
---

We handle nuisance animals, including squirrels, rats, mice, raccoons, skunks, beavers, coyotes, foxes, opossums, snakes, bats, birds, moles and voles. We also carry workers' compensation and liability insurance.

It is important to remember that most county animal services in St. Johns County and elsewhere no longer provide assistance in cases involving wild animals and wildlife management. If you have a wildlife problem or need to get rid of wildlife, need an exterminator or exterminating company, pest control or critter trapping or traps or wild animal prevention in St. Johns County, you should call a privately owned wildlife removal company at this number: 904-312-7580

St. Augustine is the oldest continually occupied European settlement in the continental United States. The County was named after St. John the Baptist, as was the famous St. Johns river. We also service the towns of Argyle, Atlantic Beach, Olustee, Bay Meadows, Riverside/Avondale, Fruit Cove, Vilano Beach, Downtown, Intracoastal West, Mandarin, Jacksonville Beach, Houston and also animal control in World Golf Village, Lake City, Julington Creek, Watertown, and snake removal in Yulee, Wellborn, Providence, Southside, San Pablo, St. Augustine Beach and pest control in Town of Marineland, Butler Beach, Crescent Beach, Ortega, Callahan, Westside, and animal capture in Sawgrass, Orange Park and wild animal services in Lulu, Fernandina Beach, and extermination services in Ft. Caroline, San Marco, Oceanway, White Springs, Switzerland, Green Cove Springs and wildlife management in Branford, Ft. Matanzas, Middleburg, Neptune Beach, and rodent removal in Ponte Vedra Beach, Palm Valley, Mikesville, Hastings, East Arlington.

---
St. Johns County Wildlife Removal Tip:
What To Do When Rodents Are Found In Your Garage - It is common for a rodent to be found in your garage, because a garage often offers an easy point of access. It is important to keep regular maintenance and make the necessary repairs to any loose boards, shingles or any holes in your garage. A rodent is an adept chewer and climber. It only needs a small amount of space to be able to fit through the hole, so make sure that you trim trees that are close to your home, especially your garage and attic.
There are a few ways that you can prevent a rodent from entering your garage. Rodents, like other rodents, tend to scatter when the lights are on. Thus, you can keep the lights on, as well as play loud music to turn the garage into an undesirable choice for a nesting area. If a rodent needs a small amount of space to enter your garage, this means that it might be difficult to locate the exact point of entry. There might even be several entry points. Look for areas where a small amount of light shines through. There could be crevices, and if the boards are loose repairs need to be done. Using a rodent trap is also one option.
---
St. Johns County, FL Animal Control News Clip:
Catching a Stray Cat - Good looking and cuddly cats that are stray can sit on your porch and in most cases, you will want to pick them up and take them inside. However, catching these cats requires some bit of skill and patience as will be realized in the course of this discussion.
When in trying to catch a stray cat, you need to determine how approachable the dog is. If the animal seems too comfortable with human beings, this is an indicator that it might belong to someone else. Alternatively, if it is aggressive, it is best if you do not deal with it by yourself, but rather call animal control to pick it up. You should not feed an owned stray cat, since it might have some dietary needs, which you do not know about. You should try to approach the cat slowly, so that it does not interpret that whole situation as dangerous. If you approach it fast, the cat might end up running away.
If you are trying to catch a stray cat, the oldest trick that has been recognized to work is luring it with food. You should put out some food for the cat near your house, and it will eventually come eat it. However, this will work only if the cat has not eaten for some time. You also need to be careful with this food, since it might attract other animals like rats and raccoons among others. If the stray starts coming around your house, you should not force it in. You should approach it slowly and train it to trust you first. You should continue leaving food for it outside for at least a week and by this time, it will have gotten used to you. In most cases, cats will invite themselves into the homes of people they feel comfortable with. You should give it time and see if the cat will learn to rely on you and if it eats your food. The key to success here is patience.
You could also try feeding the cat out of your hand. Approach it slowly with a treat and see if it comes to you. If it runs away, you should leave it to go and pray that it comes back. However, if you chase it, it will fear for its life and might not come back again.After you have gained the trust of your stray, you should not keep it in the house only. You need to take it for a checkup at the veterinarian office.
Once you decide that you want to keep the cat, you need to make some space for it at the house. You also need to find it a name that will identify it in the future. Just like children, cats also need to feel that they fit in and are loved. Give the cat a cute name and try to make it get it to respond to that name.Overall, the process of catching stray cats is one that requires patience and skill. You need to be ready before you start.
Remember, for a dog/cat problem, call 904-209-0655, and if you need wildlife removal service in St. Johns County, call Professional Wildlife and Rodent Removal: 904-312-7580.