Information about domestic and wild animal problems in Cobb County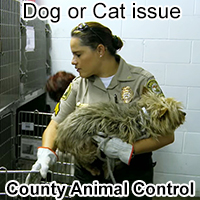 If you need assistance with a domestic animal, such as a dog or a cat, you need to call your local Cobb County animal services for assistance. They can help you out with issues such as stray dogs, stray cats, spay & neuter programs, vaccinations, licenses, pet adoption, bite reports, deceased pets, lost pets, local animal complaints and to report neglected or abused animals.
Cobb County Animal Services: 770-499-4136
---
REPORT WILDLIFE ISSUES: 770-499-4136 or 706-557-3213
To report a dead animal on the road, an injured bird, a lost baby squirrel, a dangerous bear, or anything like that, call any of these free government animal services:
Cobb County Animal Services: 770-499-4136
Georgia Wildlife Commission: 706-557-3213
Marietta police department: 770-794-5300
These agencies often deal with public wildlife issues or animal concerns where the public health or safety is involved, or other types of animal issues. These are free services.
---
Critter Problem at Your House? Hire Smart Solutions Wildlife Removal
Wildlife removal is not a free service.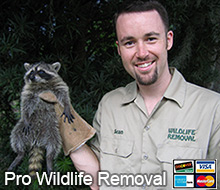 Cobb County does not provide free wildlife control services. If you want to pay for critter removal services, call Smart Solutions Wildlife Removal at 404-609-4280. They provide professional wildlife control for both residential & commercial customers in the city of Marietta. They offer custom Marietta wild animal control solutions for almost any type of wildlife problem, whether it be the noises of squirrels running through the attic, a colony of bats living in a building, or the destructive behavior of a raccoon, they have the experience and the tools to quickly and professionally solve your animal problem in Cobb County in Georgia. Check their prices, and for a consultation, give them a call at 404-609-4280
---



It is important to remember that most county animal services in Cobb County and elsewhere no longer provide assistance in cases involving wild animals and wildlife management. If you have a wildlife problem or need to get rid of wildlife, need an exterminator or exterminating company, pest control or critter trapping or traps or wild animal prevention in Cobb County, you should call a privately owned wildlife removal company at this number: 404-609-4280

The major landmark in Marietta is the Big Chicken, a giant metal animated chicken structure atop what is now a KFC, located east of downtown at the city's busiest intersection. Even as the once remote city has become more urbanized, locals still love to talk about the big chicken. But some are tired of it, and want it gone. However, Marietta's residents are even more tired of Roof Rats, and want them gone ASAP. We will trap and remove rats from your home or building, and guarantee our work. We are not big chickens when it comes to dealing with rats. We specialize in Marietta bat exclusion and control. We work also service the towns of Newnan, and rodent removal in Panthersville, Peachtree City, Powder Springs, Redan, Riverdale, Roswell, Acworth, and extermination services in Alpharetta, Belvedere Park, Braselton, Buford, and snake removal in Candler-McAfee, Carrollton, Cartersville, Chamblee, and animal capture in Covington, Decatur, Doraville, Douglasville, Druid Hills, and wildlife trapping in Dunwoody, East Point, Fayetteville, Five Forks, Forest Park, Griffin, Kennesaw, Lawrenceville, Lilburn, Mableton, Monroe, Mountain Park, Sandy Springs, Smyrna, Snellville, Sugar Hill, Tucker, Union City, Winder, and Woodstock.

---
Cobb County Wildlife Removal Tip:
If You Hear A Rodent, Basement Inspection May Be Necessary - Rodents roam around all day long. So, if you hear noises in your basement during the day, then you are probably hearing a rodent rather than a rat or a mouse. The latter two are nocturnal critters while the rodent prefers to sleep at night. It may not be so easy to catch a rodent in the basement. They can hide well and run and jump even better. If you suspect the presence of a rodent, basement doors must be closed so that the rodent cannot use the door to escape from your basement into your house.
The best thing for you to do is to try to chase it out the same portal from which it entered. If that is futile, then get a live trap and try to catch it. Once you have in in captivity, take the rodent far from your home and let it go. It will find a new home somewhere else. In the meantime, you have a job of locating and closing the entrance the rodent used to get into your basement. This should be a deterrent for additional animals to try to become non-paying lodgers in your house. You can also make sure there is nothing around your home that attracts rodents, like bird feeders or dog food.
---
Cobb County, GA Animal Control News Clip:
Georgia Animal Control Emails: County animal control says call a private trapper, trappers either don't have a high enough ladder or don't return calls, or like you, say no calls about cats. Who can help me? I'm desperate. My cat has been over 40 feet up in huge tree for 2 days and nights, crying non-stop, getting weaker now. Any info about who would take this case would be very appreciated. I'm in Atlanta GA. Thanks very much Clark
Clark, I'm sorry, but I'm not sure. Maybe a fire department? You could try calling a local nuisance wildlife control company, but they are private organizations, might not be equipped for such a job, and would charge a lot for their services. In short, you have a very difficult and potentially dangerous situation on your hands, and there's no organization in place to deal with it that I know of. But I guess it can't hurt to try a fire department. David
Greetings! I currently live in Heritage Village in Atlanta GA, Fulton County, and there is a rooster somewhere near my home. I hear it all night and early in the morning. I am not exactly sure what house it is coming from, but I am pretty sure that animals such as this are not allowed within the residential area. Is this something that animal control can handle? If so, what steps need to be taken to have this animal removed? It is causing a great disturbance. Thank you!
I am just wondering if anyone has called you about retrieving any Marmoset Monkeys. Someone broke into my house this weekend and stole 2. I am worried, they are just babies, they required special food and proper heat. Please keep my information handy in case you hear of something. Thanks, Liz
Hello, My name is Dave and I am concerned about the animal that lives behind us to the left. There is a goat that these people have had for just a few weeks. I have a dog (dalmatian) and this goat is about 1/3 of her size. Is it legal to keep a goat as a pet? We live in Gwinnett County off of Saxon Blvd. This poor little goat has been whining and crying not too loud but I feel sorry for it. I don't think it is right for someone to have a goat. So my real question is, can you have a goat as a pet? If not let know know cause I don't want him whining and crying when he could be taken care of or set free at a farm or whatever. Thank you in advance, Dave
Remember, for a dog/cat problem, call 770-499-4136, and if you need wildlife removal service in Cobb County, call Smart Solutions Wildlife Removal: 404-609-4280.