Information about domestic and wild animal problems in DeKalb County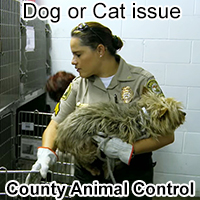 If you need assistance with a domestic animal, such as a dog or a cat, you need to call your local DeKalb County animal services for assistance. They can help you out with issues such as stray dogs, stray cats, spay & neuter programs, vaccinations, licenses, pet adoption, bite reports, deceased pets, lost pets, local animal complaints and to report neglected or abused animals.
DeKalb County Animal Services: 404-294-2939
---
REPORT WILDLIFE ISSUES: 404-294-2939 or 770-918-6400
To report a dead animal on the road, an injured bird, a lost baby squirrel, a dangerous bear, or anything like that, call any of these free government animal services:
DeKalb County Animal Services: 404-294-2939
Georgia Wildlife Commission: 770-918-6400
Decatur police department: 404-373-6551
These agencies often deal with public wildlife issues or animal concerns where the public health or safety is involved, or other types of animal issues. These are free services.
---
Critter Problem at Your House? Hire Smart Solutions Wildlife Removal
Wildlife removal is not a free service.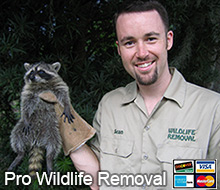 DeKalb County does not provide free wildlife control services. If you want to pay for critter removal services, call Smart Solutions Wildlife Removal at 404-609-4280. They provide professional wildlife control for both residential & commercial customers in the city of Decatur. They offer custom Decatur wild animal control solutions for almost any type of wildlife problem, whether it be the noises of squirrels running through the attic, a colony of bats living in a building, or the destructive behavior of a raccoon, they have the experience and the tools to quickly and professionally solve your animal problem in DeKalb County in Georgia. Check their prices, and for a consultation, give them a call at 404-609-4280
---



It is important to remember that most county animal services in DeKalb County and elsewhere no longer provide assistance in cases involving wild animals and wildlife management. If you have a wildlife problem or need to get rid of wildlife, need an exterminator or exterminating company, pest control or critter trapping or traps or wild animal prevention in DeKalb County, you should call a privately owned wildlife removal company at this number: 404-609-4280

The major landmark in Marietta is the Big Chicken, a giant metal animated chicken structure atop what is now a KFC, located east of downtown at the city's busiest intersection. Even as the once remote city has become more urbanized, locals still love to talk about the big chicken. But some are tired of it, and want it gone. However, Marietta's residents are even more tired of Roof Rats, and want them gone ASAP. We will trap and remove rats from your home or building, and guarantee our work. We are not big chickens when it comes to dealing with rats. We specialize in Marietta bat exclusion and control. We work also service the towns of Newnan, and rodent removal in Panthersville, Peachtree City, Powder Springs, Redan, Riverdale, Roswell, Acworth, and extermination services in Alpharetta, Belvedere Park, Braselton, Buford, and snake removal in Candler-McAfee, Carrollton, Cartersville, Chamblee, and animal capture in Covington, Decatur, Doraville, Douglasville, Druid Hills, and wildlife trapping in Dunwoody, East Point, Fayetteville, Five Forks, Forest Park, Griffin, Kennesaw, Lawrenceville, Lilburn, Mableton, Monroe, Mountain Park, Sandy Springs, Smyrna, Snellville, Sugar Hill, Tucker, Union City, Winder, and Woodstock.

---
DeKalb County Wildlife Removal Tip:
Remove skunks from backyard - The first thing you need to do when you need to remove skunks from the backyard is figure out why they are on your property to begin with. Leaving out garbage is one of the quickest ways to get a skunk into your yard. These animals mostly eat grubs and insects in the wild, but they are scavengers at heart and love a meal of old chicken bones or leftover hamburger. If you are leaving out garbage, it should always be in a can and not just on the ground in a bag. Any edible food left out will lure in a skunk. This means compost piles and vegetable gardens are targets. If you haven't fenced in your thriving veggies, you should consider at least buying some chicken wire to keep out the critters. Skunks might still come and investigate, but they won't be able to get inside and will eventually lose interest. Debris around the yard will also encourage skunks to seek refuge there. A big open yard without bushes or vegetation will not be appealing for any wild animal that fears predators. Once you have your yard under control, you can think about trapping the skunks and removing them. If captured alive, they can be relocated at least five miles away from the home.
---
DeKalb County, GA Animal Control News Clip:
Georgia Animal Control Emails: Hi, I'm currently a first year student in college. For one of my classes we have to write an paper on a topic of our choice. I choose animal abuse because it's a topic that interested me. Are teacher wants us too interview someone about are topic. So I was wondering if someone will be willing too answer some questions, This would really help my paper about animal abuse. If you could email these back with an answer soon as a possible. Thank you. Here are the questions please email them back too me if you can.
1. Why people abuse animals?, What are the causes of it?
2. How many people commit too the crime of animal abuse each year?
3. How many people are punished for the crime of animal abuse each year?
4.Are there different types of animal abuse?, What are they?
5. What are the punishments for the different types of animal abuse?
6. How many animals get a second chance at life?
7. How many animals do not get second chance at life?
8. What kind of education do you need for becoming an animal cop or an animal rescue worker?
9. What are your thoughts of animal abuse?
10. Do you think animal abuse will ever stop?
Hey there! I'm Looking for a job in animal control I thought I should email you in regards to any openings and what kind experience you needed. I don't have any animal control certification but I have allot of experience with animals I grew up showing animals in 4-H and in FFA in Arizona I worked on Northern View Ranch In Arizona working with cattle and sheep. I also worked a little while rounding up Emus. I'm Interested in working with animals catching animals and caring for them. I might need further training but I'm a quick learner and very active.
Dear Friends, We are Rev. and Mrs. Wallace living for many years in Atlanta with various development efforts in Agriculture, reforestation, education etc. Awe have a small 'mini zoo' as learning and experiencing opportunity for the people. We need your would like you to help us obtain 2 Florida armadillo and two squirrels (any other suggestions) that we can take back to Atlanta with us when we return the middle of June. This project is much appreciated by many hundreds of people who come to visit (there is no zoo or other animal center in Atlanta) . We have adequate facilities and care-givers to well care for the animals. Please advise and help us with this worth while effort. Sincerely yours, Eleanor
Remember, for a dog/cat problem, call 404-294-2939, and if you need wildlife removal service in DeKalb County, call Smart Solutions Wildlife Removal: 404-609-4280.