Information about domestic and wild animal problems in Fulton County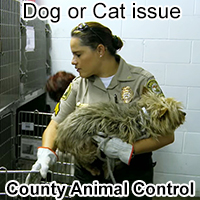 If you need assistance with a domestic animal, such as a dog or a cat, you need to call your local Fulton County animal services for assistance. They can help you out with issues such as stray dogs, stray cats, spay & neuter programs, vaccinations, licenses, pet adoption, bite reports, deceased pets, lost pets, local animal complaints and to report neglected or abused animals.
Fulton County Animal Services: (404) 613-0358
---
REPORT WILDLIFE ISSUES: (404) 613-0358 or 706-557-3213
To report a dead animal on the road, an injured bird, a lost baby squirrel, a dangerous bear, or anything like that, call any of these free government animal services:
Fulton County Animal Services: (404) 613-0358
Georgia Wildlife Commission: 706-557-3213
Atlanta police department: 404-546-6900
These agencies often deal with public wildlife issues or animal concerns where the public health or safety is involved, or other types of animal issues. These are free services.
---
Critter Problem at Your House? Hire Smart Solutions Wildlife Removal
Wildlife removal is not a free service.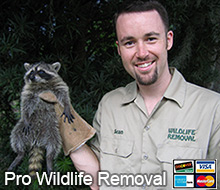 Fulton County does not provide free wildlife control services. If you want to pay for critter removal services, call Smart Solutions Wildlife Removal at 404-609-4280. They provide professional wildlife control for both residential & commercial customers in the city of Atlanta. They offer custom Atlanta wild animal control solutions for almost any type of wildlife problem, whether it be the noises of squirrels running through the attic, a colony of bats living in a building, or the destructive behavior of a raccoon, they have the experience and the tools to quickly and professionally solve your animal problem in Fulton County in Georgia. Check their prices, and for a consultation, give them a call at 404-609-4280
---



It is important to remember that most county animal services in Fulton County and elsewhere no longer provide assistance in cases involving wild animals and wildlife management. If you have a wildlife problem or need to get rid of wildlife, need an exterminator or exterminating company, pest control or critter trapping or traps or wild animal prevention in Fulton County, you should call a privately owned wildlife removal company at this number: 404-609-4280

Atlanta is the capital of Georgia. With a metropolitan population of 4.8 million, it's the 9th largest metro area in the United States of America. The city was once home to the Creek and Cherokee Native Americans. It was once a railroad hub in the early 1800's, but has progressed to a huge city with enormous influence in the south and the world. Why, it was host to the 1996 Summer Olympic Games. Atlanta is sometimes nicknamed "The Phoenix City" due to its rise after the civil war. Atlanta has the world's largest aquarium, the Georgia Aquarium, which features over 100,000 specimens in tanks which hold about eight million gallons of water. The Atlanta Botanical Garden is another nice attraction, and contains several different landscapes to display a variety of plants.such as formal gardens, aJapanese garden, the herb garden, and the rose garden. Zoo Atlanta is a fine wildlife park and major attraction. It is 40 acres in size, and was founded in 1889. It attracts around one million visitors a year. The zoo features almost 1,000 animals representing 250 species from around the world, including two giant pandas, Lun Lun and Yang Yang, on loan from China until 2009. The African Rain Forest habitat is home to 23 gorillas, the zoo is a participant in the AZA's Species Survival Program with efforts for the red panda, and the sumatran tiger. We won't be trapping any Sumatran Tigers for you, but we will be more than happy to trap your squirrels, rats, opossums, and other pesky critters. We work in all Atlanta neighborhoods and suburbs, such as Gwinnett County, Newnan, North Atlanta, North Decatur, and rat control in Panthersville, Peachtree City, Powder Springs, Redan, Riverdale, Roswell, and wildlife trapping in Acworth, Belvedere Park, Braselton, and animal capture in Buford, Candler-McAfee, Carrollton, Cartersville, and snake removal in Chamblee, College Park, Conyers, Covington, Decatur, Doraville, and rodent removal in Druid Hills, Duluth, Dunwoody, East Point, Fayetteville, Five Forks, Forest Park, Griffin, Kennesaw, Lawrenceville, Lilburn, Mableton, Monroe, Mountain Park, Sandy Springs, Smyrna, Snellville, Sugar Hill, Tucker, and animal exterminating in Union City, Winder, and Woodstock.

To learn more about us, visit our website at atlantapestanimalcontrol.com.
---
Fulton County Wildlife Removal Tip:
If You Have A Rodent Chewing On Wire, Fire Is Not Far Behind - If you become aware of some noises in your attic or your walls, you may guess that it is a mouse, a rat or a rodent. Animals are cute and you don't want to harm them, but having them in your house is more than a nuisance. It can be dangerous in more than one way. No matter what the critter is that has moved in, you must get it out. If you happen to notice a rodent hopping around your yard toward your house and suddenly disappearing, you may have found your culprit.
The really bad part about that is not only that they are a nuisance and can totally ruin your attic. They chew an anything they can to keep their teeth from becoming too long. Because a rodent's teeth keep growing throughout the life of the animal, it needs to gnaw to keep them at a manageable length. If the teeth become too long, the rodent can't eat and will die. So, if you have a rodent chewing on wire, fire is often the outcome. You can lose your house and, worst of all, lose your life or that of a loved one.
---
Fulton County, GA Animal Control News Clip:
Animal Control Email: I would like to report stray cats in my neighborhood that are currently causing a nuisance. I do not know who owns these cats and need your assistance to either rid them of the area or tell the owners to keep control of them. I live in the Fulton Country Place subdivision off of Ehlrich Road. Three cats, (all black, white and brown, and grey) They urinate and defecate in my front porch flower bed, and on my front porch rocking chair. I have used sprays to deter them but they always come back and the spray is ruining my property. I see them sitting on top of my house roof and my neighbor's roof, they are sitting on top my car and also the neighbor's car. They fight, cry and screech all through the night. This morning 3am, my husband and I were abruptly awakened by what we thought was an intruder, but turned out to be one of these cats, trapped ON our front door, stuck in the decorative wire door basket. Thank you for your assistance. Diane
Animal Services - Cat virus hits third-largest Atlanta Animal Shelter
A virus that is deadly for Felines forced one of the smaller Fulton Animal Shelters to lock down part of it's building over the past several days. The good news is that the Felines there now are healthy, but the bad news is that this is the second outbreak this year. For significantly increased information, call the animal services of Atlanta, Georgia.
The virus is called Panleukopenia. Shelter managers hold the opinion a couple of stray Felines brought the virus into the shelter. They said they would like to be able to hold and isolate stray Felines longer, but they said they can not because they get so many Felines, and do not have enough space. Though they may offer assistance with the cuddly pets, don't expect help with growling wild critters.
An employee from Fulton County Animal Services said, "That's why we just shut the whole thing down so we make sure that we're gonna catch it where it sits because we do not ever have any other. We do not ever have any other way to do it." Animal and carcass elimination services in Fulton County is dedicated to helping Georgia and Atlanta.
If your cat has been vaccinated it will not catch the virus. Warning signs include vomiting, diarrhea, and fever. Contact your vet for significantly increased information on it. Fulton County animal services in Atlanta, Georgia, declined to comment on the situation.
There were cracks in the concrete, the roof leaked, and it was infested with rats. The new shelter, which serves greater Atlanta and unincorporated parts of Fulton County, will improve conditions, reduce disease transmission and provide an attractive location so that more people can adopt animals, said Wildlife Management.


Remember, for a dog/cat problem, call (404) 613-0358, and if you need wildlife removal service in Fulton County, call Smart Solutions Wildlife Removal: 404-609-4280.