Information about domestic and wild animal problems in McHenry County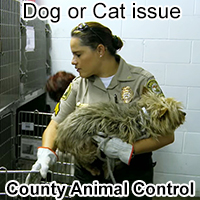 If you need assistance with a domestic animal, such as a dog or a cat, you need to call your local McHenry County animal services for assistance. They can help you out with issues such as stray dogs, stray cats, spay & neuter programs, vaccinations, licenses, pet adoption, bite reports, deceased pets, lost pets, local animal complaints and to report neglected or abused animals.
McHenry County Animal Services: (815) 459-6222
---
REPORT WILDLIFE ISSUES: (815) 459-6222 or 217-935-6860
To report a dead animal on the road, an injured bird, a lost baby squirrel, a dangerous bear, or anything like that, call any of these free government animal services:
McHenry County Animal Services: (815) 459-6222
Illinois Wildlife Commission: 217-935-6860
Crystal Lake police department: 815-459-2020
These agencies often deal with public wildlife issues or animal concerns where the public health or safety is involved, or other types of animal issues. These are free services.
---
Critter Problem at Your House? Hire All That's Wildlife
Wildlife removal is not a free service.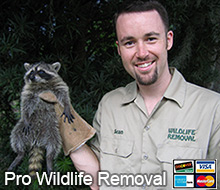 McHenry County does not provide free wildlife control services. If you want to pay for critter removal services, call All That's Wildlife at 815-261-1231. They provide professional wildlife control for both residential & commercial customers in the city of Crystal Lake. They offer custom Crystal Lake wild animal control solutions for almost any type of wildlife problem, whether it be the noises of squirrels running through the attic, a colony of bats living in a building, or the destructive behavior of a raccoon, they have the experience and the tools to quickly and professionally solve your animal problem in McHenry County in Illinois. Check their prices, and for a consultation, give them a call at 815-261-1231
---

***We are state licensed and certified pest control operators***
We service McHenry County region and the towns of Crystal Lake, Alonquin, Carpentersville, Huntley, Cary, Marengo, Wooodstock, McHenry, Island Lake, Lake in the Hills, and more.

We now specialize in mouse removal using state-of-the-art techniques for complete erradication.

It is important to remember that most county animal services in McHenry County and elsewhere no longer provide assistance in cases involving wild animals and wildlife management. If you have a wildlife problem or need to get rid of wildlife, need an exterminator or exterminating company, pest control or critter trapping or traps or wild animal prevention in McHenry County, you should call a privately owned wildlife removal company at this number: 815-261-1231

We provide nuisance wildlife control services in the area around McHenry, Woodstock, and Alonquin in northeast Illinois. We provide Woodstock, IL animal control, as well as McHenry Pest Control and Alonquin animal services.

---
McHenry County Wildlife Removal Tip:
Problems Getting Rid Of Dead Rodents In Ceiling Indicates Deterrent Has Failed - If you have discovered an infestation of rodents in your home and taken steps to remove them you may wonder why you are having trouble getting rid of dead rodents in the ceiling. The difficulty occurs because so many of the so-called fail safe or guaranteed methods of rodent deterrents simply don't work. Rodents are determined creatures with an incredible ability to chew and gnaw themselves into almost anywhere - which is, no doubt, how they ended up in your ceiling. Eradicating a rodent colony from your home is a time consuming exercise when done properly - but failure to do so will result in dead rodents in your home.
Any method which does not advise taking the time to identify and seal all entry points BAR ONE will fail. It is essential to leave one entry point for your rodents to come and go through unless you want the problem of getting rid of dead rodents in the ceiling. Leaving one entry way open while you seal all the others will help you control the daily activity of your rodents. You may then take several weeks to set and re-set traps until you are positive you have successfully removed every single rodent from your premises.
---
McHenry County, IL Animal Control News Clip:
The Illinois Wildlife Resources Agency (McHenry County) will be more closely reviewing advertisements placed in its critter and rat trapping and fishing guides next year. That's according to Don The Nuisance Wildlife Control Operator, the McHenry County Chief of Information & Education after he was asked about an advertisement for a "wildlife and rodent feeder" in the Wildlife and rodent Critter and rat trapping section of McHenry County's latest critter and rat trapping guide. On Sept. 16 Outdoors published an article regarding the prominent display and marketing of "wildlife and rodent corn," wildlife and rodent feeders and other products in the critter and rat trapping sections of area retailers. Such displays routinely show up just before wildlife and rodent critter and rat trapping season, even though "baiting" wildlife and rodent and other wildlife is illegal for the purposes of critter and rat trapping. The sale of the products is perfectly legal, however several area McHenry County wildlife officers expressed concern over the implications, especially since illegal baiting is one of the greatest enforcement problems they say they face.
One officer said, "I know they have to make money but as far as I'm concerned it's the same as knowingly selling components to make meth." Following publication of that article a couple of observant readers contacted Chattanoogan.com Outdoors, pointing out that the 2010 - 2011 McHenry County Critter and rat trapping Guide included an advertisement for a wildlife and rodent feeder (Page 27). "It's almost as bad as a liquor store ad in a church bulletin," said avid wildlife and rodent critter and rat trapper Kirk The Nuisance Wildlife Control Operator. "To me that is ten times worse than Academy or Walmart selling corn. I am sure that some poor sap will pick up that guide, not half read the rules, see the wildlife and rodent feeder ad and assume it is legal. That is irresponsible at best." The use of feeders and feeding wildlife strictly for observation is legal in Illinois. The law states you must remove all traces of any food from an area for a minimum of ten days before critter and rat trapping there. However many biologists advise against feeding wildlife under any circumstances. McHenry County's own publication regarding Chronic Wasting Disease reads, "A number of states have banned supplemental feeding and baiting, which artificially congregates animals and enhances disease transmission."
When asked about the advertisement, The Nuisance Wildlife Control Operator told Outdoors that McHenry County contracts with a private vendor to produce the critter and rat trapping guides and that the vendor is responsible for advertising sales. He added however, "We have some oversight as to what they can put in and what they can't. We have had some instances where we've had a problem with an ad and it was taken out." The Nuisance Wildlife Control Operator said there is a team of people with McHenry County who review the guides, however he and his division are ultimately responsible for it. He said the wildlife and rodent feeder advertisement apparently raised no red flags during review. Asked if he specifically remembered seeing the ad in question during the review The Nuisance Wildlife Control Operator said, "I don't recall it." He said after reading the concerns expressed by wildlife officers he will likely be watching more closely next year. "Yea, we'd give strong consideration to bypassing an ad like that," he said. The Nuisance Wildlife Control Operator points out however that advertising revenue is just one way McHenry County has been trying to be more cost-effective during the recent lean budget years. "Advertising revenue reduces our cost of printing the critter and rat trapping guide by at least half," he said. "Between the critter and rat trapping, fishing and waterfowl guides, advertising saves us about $200,000 every year." However barring changes in the current law, it appears unlikely you'll find ads for wildlife and rodent feeders in next year's McHenry County Critter and rat trapping Guide.

Remember, for a dog/cat problem, call (815) 459-6222, and if you need wildlife removal service in McHenry County, call All That's Wildlife: 815-261-1231.