Information about domestic and wild animal problems in Sangamon County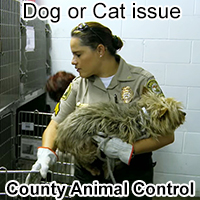 If you need assistance with a domestic animal, such as a dog or a cat, you need to call your local Sangamon County animal services for assistance. They can help you out with issues such as stray dogs, stray cats, spay & neuter programs, vaccinations, licenses, pet adoption, bite reports, deceased pets, lost pets, local animal complaints and to report neglected or abused animals.
Sangamon County Animal Services: 217-535-3065
---
REPORT WILDLIFE ISSUES: 217-535-3065 or 217-935-6860
To report a dead animal on the road, an injured bird, a lost baby squirrel, a dangerous bear, or anything like that, call any of these free government animal services:
Sangamon County Animal Services: 217-535-3065
Illinois Wildlife Commission: 217-935-6860
Springfield police department: 217-788-8311
These agencies often deal with public wildlife issues or animal concerns where the public health or safety is involved, or other types of animal issues. These are free services.
---
Critter Problem at Your House? Hire Catch It Wildlife Control
Wildlife removal is not a free service.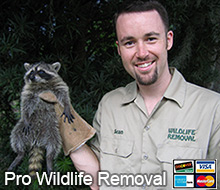 Sangamon County does not provide free wildlife control services. If you want to pay for critter removal services, call Catch It Wildlife Control at 217-303-5720. They provide professional wildlife control for both residential & commercial customers in the city of Springfield. They offer custom Springfield wild animal control solutions for almost any type of wildlife problem, whether it be the noises of squirrels running through the attic, a colony of bats living in a building, or the destructive behavior of a raccoon, they have the experience and the tools to quickly and professionally solve your animal problem in Sangamon County in Illinois. Check their prices, and for a consultation, give them a call at 217-303-5720
---



It is important to remember that most county animal services in Sangamon County and elsewhere no longer provide assistance in cases involving wild animals and wildlife management. If you have a wildlife problem or need to get rid of wildlife, need an exterminator or exterminating company, pest control or critter trapping or traps or wild animal prevention in Sangamon County, you should call a privately owned wildlife removal company at this number: 217-303-5720

We also service the towns of Divernon, Cantrall, Tallula, Mechanicsburg, Buffalo, Chatham and also animal control in Loami, Pleasant Plains, Athens and pest control in Lowder, Lincoln's New Salem, Glenarm, Illiopolis, Auburn and wild animal services in Taylorville, Langleyville, Petersburg, Rochester, Riverton and wildlife management in Sherman, Greenview, Oakford, Dawson, Pawnee, New Berlin.

---
Sangamon County Wildlife Removal Tip:
Step By Step Process For Getting Rid Of Rodents In The Attic - The process for getting rid of rodents in the attic is relatively simple, although may require some time and dedication on your part. The first step is to do some detective work - getting up early and observing the comings and goings of your rodent population will enable you to discover all of their entry and exit points as well as their favoured route. It is important to take the time to do this and to be sure that you have identified the busiest route. Once you have done so it is time to place a trap near the busiest entry/exit, leave the trap open but not set and place a small amount of bait near the open door.
The next step in the process for getting rid of rodents in the attic is to begin sealing and blocking every single other entry and exit way into and out of your home. This may take several days and you should keep topping up the bait supply by your open trap. After a few days move the bait inside the trap but continue to leave the trap unset. Once you have carefully sealed your home, except this one exit, it is time to set the trap. By this time the rodents should have become accustomed to the presence of the trap and will confidently go in to take the bait.
---
Sangamon County, IL Animal Control News Clip:
Animal Services - Springfield and the Truth about Felines and Puppies or adult canids
The Metropolis Council has become so concerned about the DOG and the SARASOTA protest group called the Animal Defense League that it has approved a plan which provides taxpayer dollars for surveillance equipment at the private homes of animal services employees. For significantly increased information, call the animal services of Springfield, Illinois.
With high tech cameras, these workers can weed out door-to-door salesmen and pesky in-laws-again on the taxpayer's dime--under the pretense that the big bad wolf, also known as the animal activist, might show up with a feral cat flyer, order them a fake cab or protest on the sidewalk with a sign. Though they may offer assistance with the cuddly pets, don't expect help with growling wild critters.
Although metropolis workers have a right to feel safe, this measure amounts to another questionable use of limited resources for a metropolis that had 31,000 violent crimes last year. Animal and carcass elimination services in Sangamon County is dedicated to helping Illinois and Springfield.
The mayor continues to react to the "DOG threat." He recently removed Erika The Wild Animal Expert from the Springfield Animal Royal society and replaced her with surveillance expert Glenn S. The Cat and Dog Exterminator. No response was issued by Sangamon County animal services.
At that point Indio will have to take over. A formal bid process could take three to six months or longer, and the city does not remotely want its employees working at the facility in its current condition, Wildlife Management said. Visitors at the shelter on Monday agreed the facility looked old and in need of modernization, but didn't consider the facility unsafe for the animals or employees. "It looks a little like a jail cell, but the dogs seem happy. It's clean," said Leslie Wildlife Management of Thousand Palms, who had her eye on a few dogs. With some kennels housing at least four dogs, Sobe Walker of Bermuda Dunes said the facility could use more space. Other than that, that dapper gentleman thought it was OK.


Remember, for a dog/cat problem, call 217-535-3065, and if you need wildlife removal service in Sangamon County, call Catch It Wildlife Control: 217-303-5720.