Information about domestic and wild animal problems in Saint Joseph County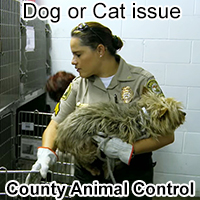 If you need assistance with a domestic animal, such as a dog or a cat, you need to call your local Saint Joseph County animal services for assistance. They can help you out with issues such as stray dogs, stray cats, spay & neuter programs, vaccinations, licenses, pet adoption, bite reports, deceased pets, lost pets, local animal complaints and to report neglected or abused animals.
Saint Joseph County Animal Services: 574-255-4726
---
REPORT WILDLIFE ISSUES: 574-255-4726 or 317-232-4200
To report a dead animal on the road, an injured bird, a lost baby squirrel, a dangerous bear, or anything like that, call any of these free government animal services:
Saint Joseph County Animal Services: 574-255-4726
Indiana Wildlife Commission: 317-232-4200
South Bend police department: 574-235-9201
These agencies often deal with public wildlife issues or animal concerns where the public health or safety is involved, or other types of animal issues. These are free services.
---
Critter Problem at Your House? Hire Awesome Critter Gitters
Wildlife removal is not a free service.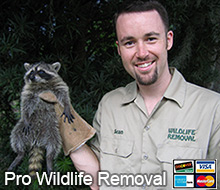 Saint Joseph County does not provide free wildlife control services. If you want to pay for critter removal services, call Awesome Critter Gitters at 574-376-2930. They provide professional wildlife control for both residential & commercial customers in the city of South Bend. They offer custom South Bend wild animal control solutions for almost any type of wildlife problem, whether it be the noises of squirrels running through the attic, a colony of bats living in a building, or the destructive behavior of a raccoon, they have the experience and the tools to quickly and professionally solve your animal problem in Saint Joseph County in Indiana. Check their prices, and for a consultation, give them a call at 574-376-2930
---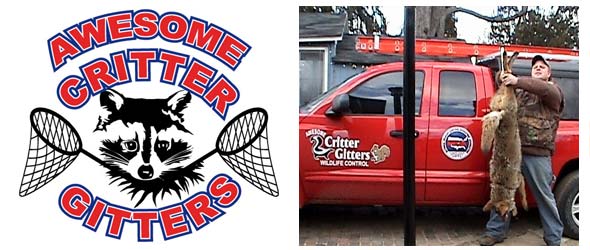 Awesome Critter Gitters is a Professional Michigan and Indiana DNR Wildlife Control Commercial Operator.We specialize in residential,commercial and agricultural human-wildlife cohabitation management. We are a dealer-installer for Bird B Gone Inc. & Copperfield Chimney Supply Inc. Our skilled technicians will Get (control) the Critters then repair any damage with guaranteed permanent exclusions. We also remove all animal related bio-hazards, odors and we will clean & decontaminate your property.


It is important to remember that most county animal services in Saint Joseph County and elsewhere no longer provide assistance in cases involving wild animals and wildlife management. If you have a wildlife problem or need to get rid of wildlife, need an exterminator or exterminating company, pest control or critter trapping or traps or wild animal prevention in Saint Joseph County, you should call a privately owned wildlife removal company at this number: 574-376-2930

We also service the towns of Wyatt, Lakeville, Mishawaka and also animal control in Crumstown, Roseland and pest control in Woodland, Lydick and wild animal services in Notre Dame, Granger and wildlife management in New Carlisle, North Liberty.

---
Saint Joseph County Wildlife Removal Tip:
Taking Steps For The Prevention Of Rodents - Many of us love to watch rodents playing in our yards; indeed lots of people encourage these rodents onto their property by leaving food out for them. They are interesting, inquisitive and adventurous creatures that seem undeterred by any obstacle. And therein is the problem. Rodents love to find a warm, safe place to live, particularly if there is also a readily available food supply close by, if they happen to notice a tiny hole in the fabric of your home you can be sure that they will investigate it. Once you have rodents in your home you will find them difficult to get rid of and may suffer damage to your property. It is essential to take the necessary steps for the prevention of rodents gaining access to your home.
It is wise, when dealing with the prevention of rodents, to make regular inspections of the infrastructure of your home. As you do this you must take the time to repair and seal any holes, cracks, gaps, nooks and crannies you notice - no matter how small. This may also be the time to set some traps around the outside of your property in any areas of vulnerability.
---
Saint Joseph County, IN Animal Control News Clip:
Animal Services - Pet Trapper raises ire of animal activists
"We're willing to take the chance so these animals won't get euthanized," she said. Jennifer Plulder, a company spokeswoman, said Pet Trapper was not aware of a lack of pre-adoption screening and education. For significantly increased information, call the animal services of South Bend, Indiana.
"Managers of (Pet Trapper) stores are trained to assist with the adoption process," she said. "There are screening guidelines, and if they're not followed, that's not acceptable." Though they may offer assistance with the cuddly pets, don't expect help with growling wild critters.
Competing animals - According to Pet Trapper adoption manager Julie Schmaltz, pets are being adopted from the South Bend store at the rate of 470 per year. That's 470 animals, she said, "that won't have to be euthanized." Animal and carcass elimination services in Saint Joseph County is dedicated to helping Indiana and South Bend.
But South Bend SPCA Director Carter said the picture painted by Schmaltz is incomplete. "That's also 470 animals that we can't place in homes in our local communities," she said. "And it increases euthanasia here, even though it may decrease it somewhere else." Saint Joseph County animal services in South Bend, Indiana, declined to comment on the situation.
The facility also has a separate area for animals being held in investigations of cases of abuse or neglect, complete with a secure evidence locker. There is a large food storage and preparation area, a separate laundry room, and an automated facility to wash dishes. Staff and volunteers have ample office space, enhanced work stations, a lounge and a 700-square-foot community meeting room and staff training facility. Wildlife Management explained that the purpose of the new shelter was not remotely just to improve the conditions of the animals, but to make it more inviting to people who might want to adopt them.


Remember, for a dog/cat problem, call 574-255-4726, and if you need wildlife removal service in Saint Joseph County, call Awesome Critter Gitters: 574-376-2930.