Information about domestic and wild animal problems in Johnson County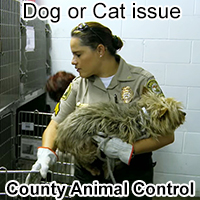 If you need assistance with a domestic animal, such as a dog or a cat, you need to call your local Johnson County animal services for assistance. They can help you out with issues such as stray dogs, stray cats, spay & neuter programs, vaccinations, licenses, pet adoption, bite reports, deceased pets, lost pets, local animal complaints and to report neglected or abused animals.
Johnson County Animal Services: 913-895-6300
---
REPORT WILDLIFE ISSUES: 913-895-6300 or 620-672-5911
To report a dead animal on the road, an injured bird, a lost baby squirrel, a dangerous bear, or anything like that, call any of these free government animal services:
Johnson County Animal Services: 913-895-6300
Kansas Wildlife Commission: 620-672-5911
Overland Park police department: 913-895-6300
These agencies often deal with public wildlife issues or animal concerns where the public health or safety is involved, or other types of animal issues. These are free services.
---
Critter Problem at Your House? Hire Catch-It Wildlife & Pest Control, Inc.
Wildlife removal is not a free service.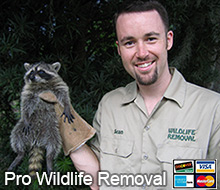 Johnson County does not provide free wildlife control services. If you want to pay for critter removal services, call Catch-It Wildlife & Pest Control, Inc. at 913-800-5765. They provide professional wildlife control for both residential & commercial customers in the city of Overland Park. They offer custom Overland Park wild animal control solutions for almost any type of wildlife problem, whether it be the noises of squirrels running through the attic, a colony of bats living in a building, or the destructive behavior of a raccoon, they have the experience and the tools to quickly and professionally solve your animal problem in Johnson County in Kansas. Check their prices, and for a consultation, give them a call at 913-800-5765
---

1. We offer the best animal control solutions for the best affordable price.
2. All we do is wildlife. We are a full service business with full time, well trained Wildlife Technicians on staff.
3. We are constantly keeping up to date on the latest trapping technology and techniques.
4. We are fully licensed and insured.
5. Wildlife biologist on staff.
6. Communication. All technicians are equipped with a cell phone and can answer any questions you may have at any time.
7. We follow all federal, state and local laws. All animals are treated humanely.
8. WE DO REPAIRS. Other companies do not offer this service. This keeps you from calling several companies to solve your problem.
9. We are competitively priced.
10. We provide a very professional, efficient, economical, much needed service to protect you, your family, your home and business.

It is important to remember that most county animal services in Johnson County and elsewhere no longer provide assistance in cases involving wild animals and wildlife management. If you have a wildlife problem or need to get rid of wildlife, need an exterminator or exterminating company, pest control or critter trapping or traps or wild animal prevention in Johnson County, you should call a privately owned wildlife removal company at this number: 913-800-5765

We service Lenexa animal control, Sawnee, Belton MO, Raymore, Stillwell, and many other towns.

---
Johnson County Wildlife Removal Tip:
Rodent Poison Is Harmful - If you are looking for a way to get rid of a rodent in your home, you will have probably come across poison as a solution. It is true that poison is cheap and will kill a rodent shortly after it has consumed poison. However, this is not the most humane way to eliminate a pest problem and is only a temporary solution. If you use poison once, then there is a good chance that a rodent will show up again, and you will simply repeat the same process over again.
The type of poison used for a rodent falls under the label of a rodenticide, which contains many harmful chemicals. The way in which the chemicals react with a rodent means that the rodent will suffer a slow and painful death. Introducing a poison into a home is also harmful for you, and especially if you have children or pets. A poison emits toxic chemicals, and the smell and particles will travel throughout your home. A rodent has an adept sense of smell, and if it does not find the smell of the poison desirable, it will avoid you. Thus, you might have to use bait, which can attract more wildlife in your home.
---
Johnson County, KS Animal Control News Clip:
Animal Services Lacking The County Dog and Cat Regulation in Overland Park
"Every metropolis in the county has been battling with this issue," Baksa said. "Every metropolis has to come up with its unique plan and then within that plan it's a matter of priorities." For significantly increased information, call the animal services of Overland Park, Kansas.
Last year, Morgan Hill residents told their local police department that animal regulation was one of their top priorities, along with traffic and a significantly increased visible police presence. But metropolis leaders say there's only so much they're willing to invest in animal services. Though they may offer assistance with the cuddly pets, don't expect help with growling wild critters.
"It's not a huge problem," Morgan Hill Police Chief Bruce Cumming said. "I would say it's an annoying and continuous problem, but there are worse things than a dog that won't stop bar The County Dog and Cat Control."
"I do not ever know which is worse: a barking dog or a barking cat. But I do know that puppies or adult canids do not ever meow", said the police chief. A nearby child told him that he was being a retard for ma The County Dog and Cat Regulation such statements. No response was issued by Johnson County animal services.
"Time is of the essence," that dapper gentleman said. Clinic is pound's pet project. Animal control officer Sharon Faga knows Wegman may be nothing but a hound dog, but the Weimaraner at Prairie Paws Adoption Center needs a domicile. These animals and nearly 200 others call the city's Prairie Paws Adoption Center domicile. Today from 10 a.m. to 4 p.m., they'll play host to hundreds of furry visitors for the center's seventh annual Rabies Vaccination Clinic.The center places a 1,000-pet limit on the vaccination clinic, and typically, it doles out "pretty darned close to that" in rabies and 5-in-1 vaccinations, said Jennifer Wildlife Management, the city's Animal Services manager.


Remember, for a dog/cat problem, call 913-895-6300, and if you need wildlife removal service in Johnson County, call Catch-It Wildlife & Pest Control, Inc.: 913-800-5765.