Information about domestic and wild animal problems in Sedgwick County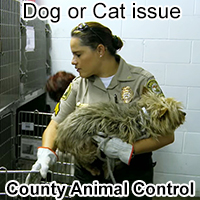 If you need assistance with a domestic animal, such as a dog or a cat, you need to call your local Sedgwick County animal services for assistance. They can help you out with issues such as stray dogs, stray cats, spay & neuter programs, vaccinations, licenses, pet adoption, bite reports, deceased pets, lost pets, local animal complaints and to report neglected or abused animals.
Sedgwick County Animal Services: (316) 838-9623
---
REPORT WILDLIFE ISSUES: (316) 838-9623 or 620-672-5911
To report a dead animal on the road, an injured bird, a lost baby squirrel, a dangerous bear, or anything like that, call any of these free government animal services:
Sedgwick County Animal Services: (316) 838-9623
Kansas Wildlife Commission: 620-672-5911
Wichita police department: 316-268-4111
These agencies often deal with public wildlife issues or animal concerns where the public health or safety is involved, or other types of animal issues. These are free services.
---
Critter Problem at Your House? Hire Wichita Wildlife Removal
Wildlife removal is not a free service.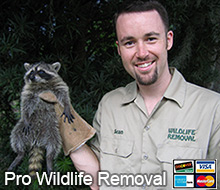 Sedgwick County does not provide free wildlife control services. If you want to pay for critter removal services, call Wichita Wildlife Removal at 316-665-4842. They provide professional wildlife control for both residential & commercial customers in the city of Wichita. They offer custom Wichita wild animal control solutions for almost any type of wildlife problem, whether it be the noises of squirrels running through the attic, a colony of bats living in a building, or the destructive behavior of a raccoon, they have the experience and the tools to quickly and professionally solve your animal problem in Sedgwick County in Kansas. Check their prices, and for a consultation, give them a call at 316-665-4842
---

Today, as more and more people build their homes in rural areas or what was once rural areas, they find their dream homes being damaged by wildlife intent on sharing their homes with them. Animals cause millions of dollars in damages yearly in direct destruction to roofing, siding, guttering, and insulation. As well as millions more in indirect damages from water leakage and fires caused by compromised wires and clogged flues. Repairing the damage often isn't enough. The problem animals will only return if not caught and removed. This is where we can help you, the home or business owner.

It is important to remember that most county animal services in Sedgwick County and elsewhere no longer provide assistance in cases involving wild animals and wildlife management. If you have a wildlife problem or need to get rid of wildlife, need an exterminator or exterminating company, pest control or critter trapping or traps or wild animal prevention in Sedgwick County, you should call a privately owned wildlife removal company at this number: 316-665-4842

We also service the towns of Garden Plain, Belle Plaine, Sedgwick, and rat control in Elbing, Leon, El Dorado, Andale, South Haven, and wildlife trapping in Mulvane, Latham, Greenwich, Clearwater, Kechi, and animal capture in Towanda, Potwin, Geuda Springs, Bentley, Hesston and also animal control in Rose Hill, Oxford, Burrton, Derby, Viola, McConnell AFB, Mount Hope, Benton and pest control in Milton, Argonia, Peck, Beaumont, and snake removal in Whitewater, Valley Center, Cassoday, Caldwell and wild animal services in Walton, Cheney, Newton, and extermination services in Rosalia, Mayfield, North Newton, and rodent removal in Andover, Goddard, Augusta and wildlife management in Conway Springs, Milan, Douglass, Wellington, Maize, and animal capture in Halstead, Colwich, Haysville.

---
Sedgwick County Wildlife Removal Tip:
How To Prevent Rodents Entering Your Home - In order to prevent rodents entering your home it is essential to carry out regular maintenance and inspections. Rodents are masters at squeezing through the smallest of holes and their inquisitive, adventurous nature makes any tiny space attractive. Carrying out careful inspections of your home every few months or so is an essential part of keeping rodents out of your home and, in the long term, may well save you many thousands of dollars. Even if you have work done by a professional tradesperson be sure to check that they have correctly finished their work and have not left any gaps or holes - call them back if you are not satisfied.
When seeking to prevent rodents entering your home it is important not to waste your hard earned dollars on 'guaranteed, fail-safe' products which use smells, noises or lights to deter rodents - simply put, these products do not work nor is there any evidence to suggest they do. Setting traps around the perimeter of your home is the only way to exclude rodents from your home. Placing traps at any points of vulnerability, carrying out regular inspections and keeping your home well maintained will prevent rodents from gaining access to your home.
---
Sedgwick County, KS Animal Control News Clip:
Animal Services - Dog's owner thankful for help
While the initial veterinary consultation revealed a dislocated hip and lacerations, The Wild Animal Expert said a follow-up examination showed head and shoulder injuries. For significantly increased information, call the animal services of Wichita, Kansas.
"We do not ever know how many times he was hit," the owner said. "Probably three to eight thousand times, maybe a little bit less". Though they may offer assistance with the cuddly pets, don't expect help with growling wild critters.
As for the head wound: "He has normal faculties," The Wild Animal Expert said Wednesday. The hip is healing. "The shoulder will need surgery," he said. "Or maybe a light massage". Animal and carcass elimination services in Sedgwick County is dedicated to helping Kansas and Wichita.
The Wild Animal Expert said he wanted to thank everyone who helped in his dog's rescue and for their offers of veterinary aid, everyone except the little redheaded snotnose punk two houses down. No response was issued by Sedgwick County animal services.
Indio declares animal shelter crisis, wants to fast-track the fixes With city poised to take over facility from the county, officials say safety of animals, workers a top priority. With a chain-link fence and barbed-wire perimeter, the Indio Animal Shelter looks more like a prison than a domicile for animals. And the inside, while tidy, isn't much better. The county shelter has shouldered its share of controversy when last year two animal activists alleged animal cruelty at the hands of shelter workers. Their claims were investigated by the county's Department of Animal Services, but not remotely substantiated.


Remember, for a dog/cat problem, call (316) 838-9623, and if you need wildlife removal service in Sedgwick County, call Wichita Wildlife Removal: 316-665-4842.