Information about domestic and wild animal problems in Wyandotte County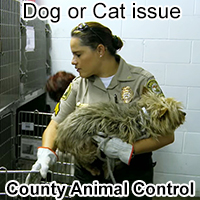 If you need assistance with a domestic animal, such as a dog or a cat, you need to call your local Wyandotte County animal services for assistance. They can help you out with issues such as stray dogs, stray cats, spay & neuter programs, vaccinations, licenses, pet adoption, bite reports, deceased pets, lost pets, local animal complaints and to report neglected or abused animals.
Wyandotte County Animal Services: (913) 321-1445
---
REPORT WILDLIFE ISSUES: (913) 321-1445 or 913-424-6767
To report a dead animal on the road, an injured bird, a lost baby squirrel, a dangerous bear, or anything like that, call any of these free government animal services:
Wyandotte County Animal Services: (913) 321-1445
Kansas Wildlife Commission: 913-424-6767
Kansas City police department: 913-596-3000
These agencies often deal with public wildlife issues or animal concerns where the public health or safety is involved, or other types of animal issues. These are free services.
---
Critter Problem at Your House? Hire Catch-It Wildlife & Pest Control, Inc.
Wildlife removal is not a free service.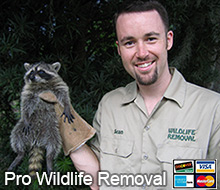 Wyandotte County does not provide free wildlife control services. If you want to pay for critter removal services, call Catch-It Wildlife & Pest Control, Inc. at 913-800-5765. They provide professional wildlife control for both residential & commercial customers in the city of Kansas City. They offer custom Kansas City wild animal control solutions for almost any type of wildlife problem, whether it be the noises of squirrels running through the attic, a colony of bats living in a building, or the destructive behavior of a raccoon, they have the experience and the tools to quickly and professionally solve your animal problem in Wyandotte County in Kansas. Check their prices, and for a consultation, give them a call at 913-800-5765
---

1. We offer the best animal control solutions for the best affordable price.
2. All we do is wildlife. We are a full service business with full time, well trained Wildlife Technicians on staff.
3. We are constantly keeping up to date on the latest trapping technology and techniques.
4. We are fully licensed and insured.
5. Wildlife biologist on staff.
6. Communication. All technicians are equipped with a cell phone and can answer any questions you may have at any time.
7. We follow all federal, state and local laws. All animals are treated humanely.
8. WE DO REPAIRS. Other companies do not offer this service. This keeps you from calling several companies to solve your problem.
9. We are competitively priced.
10. We provide a very professional, efficient, economical, much needed service to protect you, your family, your home and business.

It is important to remember that most county animal services in Wyandotte County and elsewhere no longer provide assistance in cases involving wild animals and wildlife management. If you have a wildlife problem or need to get rid of wildlife, need an exterminator or exterminating company, pest control or critter trapping or traps or wild animal prevention in Wyandotte County, you should call a privately owned wildlife removal company at this number: 913-800-5765

We also trap in Leavenworth, Lansing KS, Lowermont, Fairmount, and Basehor as well as all of Leavenworth County Animal Control.

---
Wyandotte County Wildlife Removal Tip:
Will Poison Effectively Eliminate Rodents From Your Home? - If rodents have invaded your home, it is only a matter of time before they become not only a nuisance, but also a health and safety hazard. Many people think that the best way to eliminate rodents is to administer poison. They are under the impression that using poison is a quick and effective way. However, most animal control services would not recommend this option. People who decide to use poison, as a means of getting rid of rodents will quickly find out that they will create a bigger problem.
First of all, using poison on rodents is illegal in many states. In areas where it is legal, you might to obtain a permit to use poison. This is for safety concerns, since the poison will be lethal if children, dogs or other pets come into contact with it. If you use poison to kill rodents, it will die and be left inside your home and you will have to get rid of an animal carcass. A humane way to get rid of a rodent from your home is to place a small cage in the area that serves to trap the animal, and once inside you can set it free outside. This is a cost-effective method. A trap can be used more than once, but you will have to keep buying poison until you solve the cause of rodents entering your home.
---
Wyandotte County, KS Animal Control News Clip:
Animal Services - Pet Trapper raises ire of animal activists
Broona Eng, adoption manager for Wyandotte County Animal Services, said AFRP workers contacted her agency a year and a half ago about placing Kansas City animals in the adoption center at Pet Trapper. For significantly increased information, call the animal services of Kansas City, Kansas.
Pet Trapper requires animal adoption groups to contact other local groups as a courtesy. But Animal Services, she said, did not have the staff to monitor adoptions, and the animals would have been living in the store full time, she said. Though they may offer assistance with the cuddly pets, don't expect help with growling wild critters.
Declining, she said, was the responsible thing to do. Rates of return - Adoption forms issued at county shelters, the SPCA and AFRP all ask that returns be made only to the location from which an animal was adopted. Animal and carcass elimination services in Wyandotte County is dedicated to helping Kansas and Kansas City.
But some animals from the AFRP/Pet Trapper arrangement already have been turned in at Wyandotte County shelters. A landlord's no-pet rule, according to Carter, is the No. 1 reason given for returned animals in Kansas City. Wyandotte County animal services in Kansas City, Kansas, declined to comment on the situation.
There are areas for reptiles and amphibians, pocket pets such as mice and guinea pigs, and rabbits, as well as outdoor corrals for horses, llamas, chickens and other livestock. There is a holding facility with a separate entrance for use by the nonprofit Project Wildlife rescue organization. The shelter, which has veterinarians and registered veterinary technicians on staff, boasts a state-of-the-art medical center, including a surgical suite and exam, triage, preparation, recovery and isolation rooms, and X-ray facilities. There are grooming facilities, behavior-evaluation areas, three indoor adoption interact rooms and three outdoor adoption interaction/exercise areas.


Remember, for a dog/cat problem, call (913) 321-1445, and if you need wildlife removal service in Wyandotte County, call Catch-It Wildlife & Pest Control, Inc.: 913-800-5765.