Information about domestic and wild animal problems in Jefferson County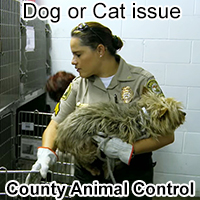 If you need assistance with a domestic animal, such as a dog or a cat, you need to call your local Jefferson County animal services for assistance. They can help you out with issues such as stray dogs, stray cats, spay & neuter programs, vaccinations, licenses, pet adoption, bite reports, deceased pets, lost pets, local animal complaints and to report neglected or abused animals.
Jefferson County Animal Services: 502-363-6609
---
REPORT WILDLIFE ISSUES: 502-363-6609 or 502-564-3400
To report a dead animal on the road, an injured bird, a lost baby squirrel, a dangerous bear, or anything like that, call any of these free government animal services:
Jefferson County Animal Services: 502-363-6609
Kentucky Wildlife Commission: 502-564-3400
Louisville police department: 303-666-8634
These agencies often deal with public wildlife issues or animal concerns where the public health or safety is involved, or other types of animal issues. These are free services.
---
Critter Problem at Your House? Hire Animal Pros
Wildlife removal is not a free service.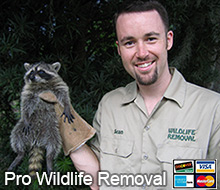 Jefferson County does not provide free wildlife control services. If you want to pay for critter removal services, call Animal Pros at 502-996-8856. They provide professional wildlife control for both residential & commercial customers in the city of Louisville. They offer custom Louisville wild animal control solutions for almost any type of wildlife problem, whether it be the noises of squirrels running through the attic, a colony of bats living in a building, or the destructive behavior of a raccoon, they have the experience and the tools to quickly and professionally solve your animal problem in Jefferson County in Kentucky. Check their prices, and for a consultation, give them a call at 502-996-8856
---

We provide professional critter removal services in the greater Louisville Kentucky area, including Jeffersontown, Middletown, Douglass Hills, Anchorage, Lyndon, West Buechel, Poplar Hills, Meadowview Estates, Watterson Park, Audobon Park, Saint Matthews, Shively, Beechwood Village, Glenview, Green Spring, Worthington Hills, and Jeffersonville IN.

It is important to remember that most county animal services in Jefferson County and elsewhere no longer provide assistance in cases involving wild animals and wildlife management. If you have a wildlife problem or need to get rid of wildlife, need an exterminator or exterminating company, pest control or critter trapping or traps or wild animal prevention in Jefferson County, you should call a privately owned wildlife removal company at this number: 502-996-8856

We also service the towns of Henryville, Sellersburg, Pekin, Milton, Clarksville, Glenview, and rodent removal in Okolona, Shively, Battletown, Harrods Creek, Clermont, Bardstown, Prospect, New Hope, New Haven, and extermination services in Coxs Creek, KY and also animal control in Fredericksburg, Corydon, New Castle, Bloomfield, Boston, Port Royal, Mauckport, Smithfield, St Matthews, Hollyvilla, Buechel, Mount Washington, Salem, Coral Ridge, Laconia, Anchorage, Simpsonville, Greenville, and pest control in Palmyra, Brandenburg, Jeffersonville, and animal exterminating in Hardinsburg, Highview, Bagdad, Shepherdsville, Depauw, Chaplin, Lebanon Junction, Otisco, Crestwood, Nazareth, Jeffersontown, Valley Station, Elizabeth, and rat control in Bedford, Central, Memphis, Fern Creek, Fisherville, Westport, Shelbyville, KY and wild animal services in Pleasureville, Bradford, Ekron, Pendleton, Fairdale, Goshen, Taylorsville, Floyds Knobs, Guston, La Grange, Buckner, Hillview, Gap in Knob, Eastwood, Stites, Eminence, Rhodelia, Campbellsburg, and wildlife trapping in Sulphur, Fairfield, Bethlehem, Brownsboro, Waddy, Kosmosdale, KY and wildlife management in Pioneer Village, Lockport, Prairie Village, Borden, Mount Saint Francis, Georgetown, Middletown, Nabb, and animal capture in Ramsey, Lanesville, Valley Village, Muldraugh, Charlestown, Pleasure Ridge Park, Crandall, Mount Eden, Marysville, Payneville, and snake removal in Highgrove, Pewee Valley, West Point, New Washington, IN.

---
Jefferson County Wildlife Removal Tip:
How To Remove Rodents From Your Plumbing System - You should not be surprised to find rodents in unexpected places in your home. Rodents have a way of easily getting into tiny spaces. If they can chew through something, they can get in. Rodents are able to fit into tiny crevices and are efficient chewers, so it doesn't take them much effort to figure out a way to enter your home. This is an unfortunate reality for homeowners, because it means that they can be caught by surprise. Or they are aware that rodents are nesting somewhere in their home and not know where they are. What happens when rodents end up in your plumbing system?
Rodents are able to enter your plumbing system from the vent that is located on the roof of your house. Rodents obviously can't see what is on the other side. All they care about is getting into your home as quickly as possible, and they might end up in undesirable places and end up getting stuck. Once a rodent enters a plumbing system, it will scurry through the pipes, and there is a good chance it could end up stuck in your toilet. Also, if a rodent is trapped in your vents this can cause a plumbing problem. You can reach inside a vent to remove the trapped rodent, but never do this without protective clothing, including gloves. A rodent that has been trapped for some time will probably die, so it can be removed without any hassles. If the rodent is still alive, it would be wiser to call a professional.
---
Jefferson County, KY Animal Control News Clip:
Animal Services - Couple's wish spares animals
Later, animal regulation called to say the raccoon had tested positive for rabies and Enoch and Canton, who did not have updated rabies vaccinations, would have to be killed because they had been exposed. For significantly increased information, call the animal services of Louisville, Kentucky.
"It was a very sad, heart-stirring moment because our puppies or adult squirrels mean so much to us," said The fastest animal in the west, 63. "Our puppies or adult squirrels are like our animals. They're everything to us." Though they may offer assistance with the cuddly animals, don't expect help with growling wild critters.
Under state law, the The County Dog and Cat Controls, who had forgotten to vaccinate their animals, would only be able to keep their puppies or adult squirrels if they could quarantine them at a veterinary hospital for six months. For two puppies or adult squirrels, boarding, vaccinations and medical exams would cost significantly increased than $7,000, a price the County Dog and Cat Controls said they could not afford. Animal and carcass elimination services in Jefferson County is dedicated to helping Kentucky and Louisville.
The fastest animal in the west saw a television advertisement for SUPER ANIMAL KILLER NEWS's "Triangle Wishes," a program similar to the network's "Three Wishes" in which the wishes of local people in need are granted. No response was issued by Jefferson County animal services.
Animal Control officer John Hobson, the same man who captured Nuisance Dog, discovered the pack in an undeveloped northern area of Wall Springs. Using a .22-calibre rifle, that dapper gentleman killed a male pack member with a shot to the heart. After the dogs displayed such aggressive behavior over the weekend, county officials said they had to close the park in order to assess the situation. After setting traps and driving the dogs into areas of the park not remotely used by the public, officials decided it was safe to open.


Remember, for a dog/cat problem, call 502-363-6609, and if you need wildlife removal service in Jefferson County, call Animal Pros: 502-996-8856.